The Body Shop: Modern Gent's Shaving Kit
At Christmas I received a wonderful Body Shop Shaving kit from my thoughtful wife.  The kit comes complete with a: maca root shave cream, shaving brush and the companion maca root razor relief after shave.
The shave cream comes in a generous 180 g bowl.  The cream itself looks somewhere between a cream and a soap.
The brush looks and feels like a proper badger hair brush, but there is no visible indication as to what the brush hair is made of.  Since this is the Body Shop, one would have to assume it being made with badger hair probably doesn't make sense as it would involve a nasty haircut for the said badger.  The Body Shop prides itself on not testing on animals and/or using animal derivative products.  With so much testing results being in the public domain, one would have to agree that there is little need to retest known products and compositions all over again.
As you can see in the pictures, the kit presents itself very well.  Clearly it was geared for the Christmas shopping season.  Perhaps a small note on products being packaged together: at this time of year there are countless "sets" being offered by every company out there, but sometimes the grouping of the products may not be that good of a union for your specific need.  Considering the Body Shop product offering for men, this set is a proper selection of shaving products.  They are the key items I would have picked up separately anyways.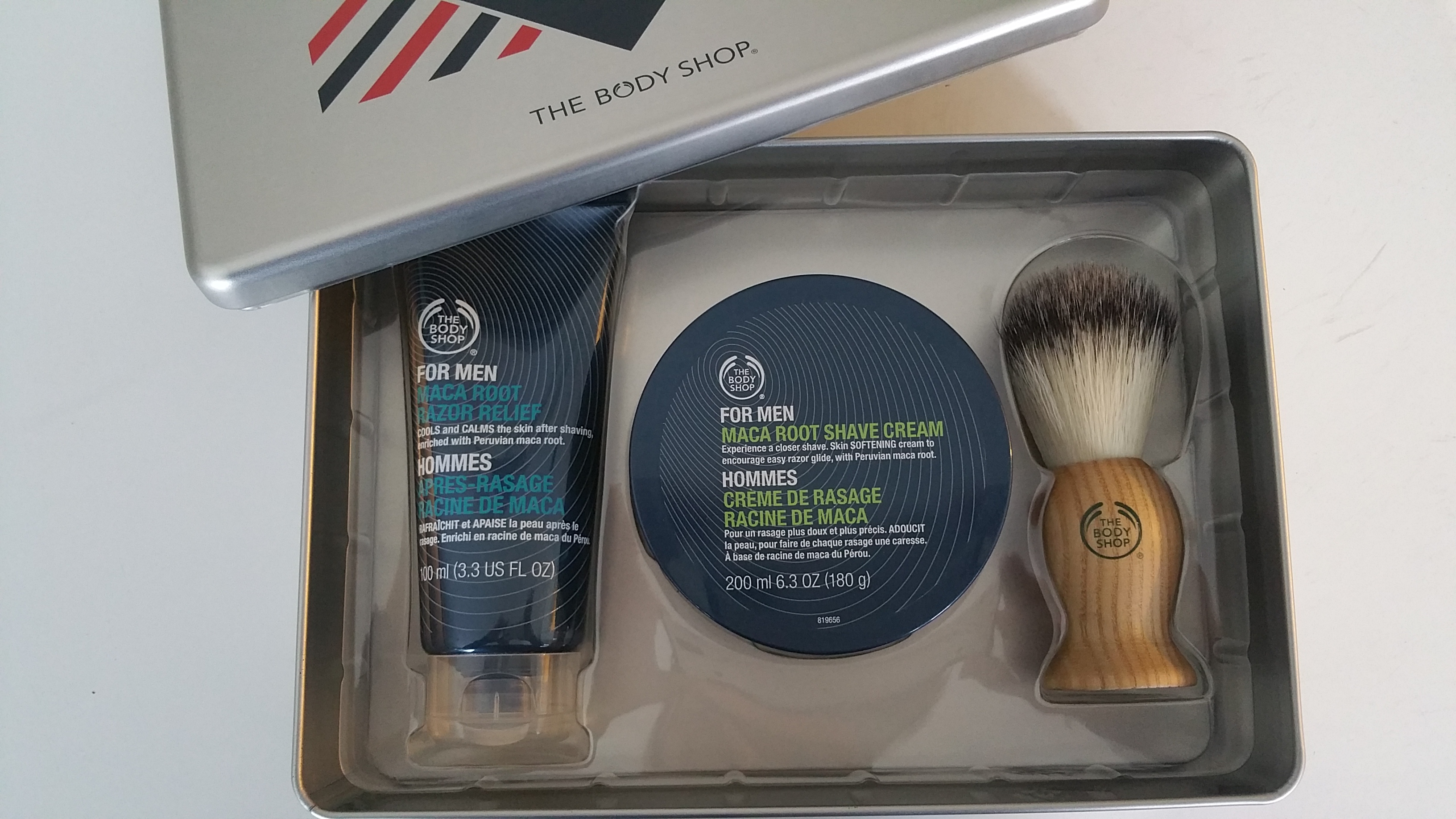 After today's shower I was due for a shave.  My last shave was about 3 days ago when I had last used the Wilkinson blade that left me raw.  A few days were needed to let the skin heal.
TEST STAGE:
State: Out of the shower
Razor: Merkur 180
Blade: Derby
Pre-Shave: None
Shaving Cream: Maca root shave cream
After-Shave: Maca root razor relief
Onto the shave!  I wet my badger brush and plunged it in the shave cream to get a good portion.  I then applied it generously while making sure to cover all of the shaving surfaces.  The cream has a nice soapy scent.  Nothing wild.  Once applied the cream made me feel insulated and I started shaving.  As far as lubrication, it did a very good job.  I was somewhat worried that this cream would be too thick and that it would be hard to rinse out the razor.  Not at all!  It rinsed very easily.  Since my beard had a few days' worth of growth a few passes where necessary, this made for good test conditions.  Most of the cream was wiped away during the first passes, but simply applying a bit of hot water was enough to give the remaining cream a bit of a second life. Overall, the shave was quite comfortable.  Actually comparable to some of my other top products: LEA, Billy Jealousy and Brickell.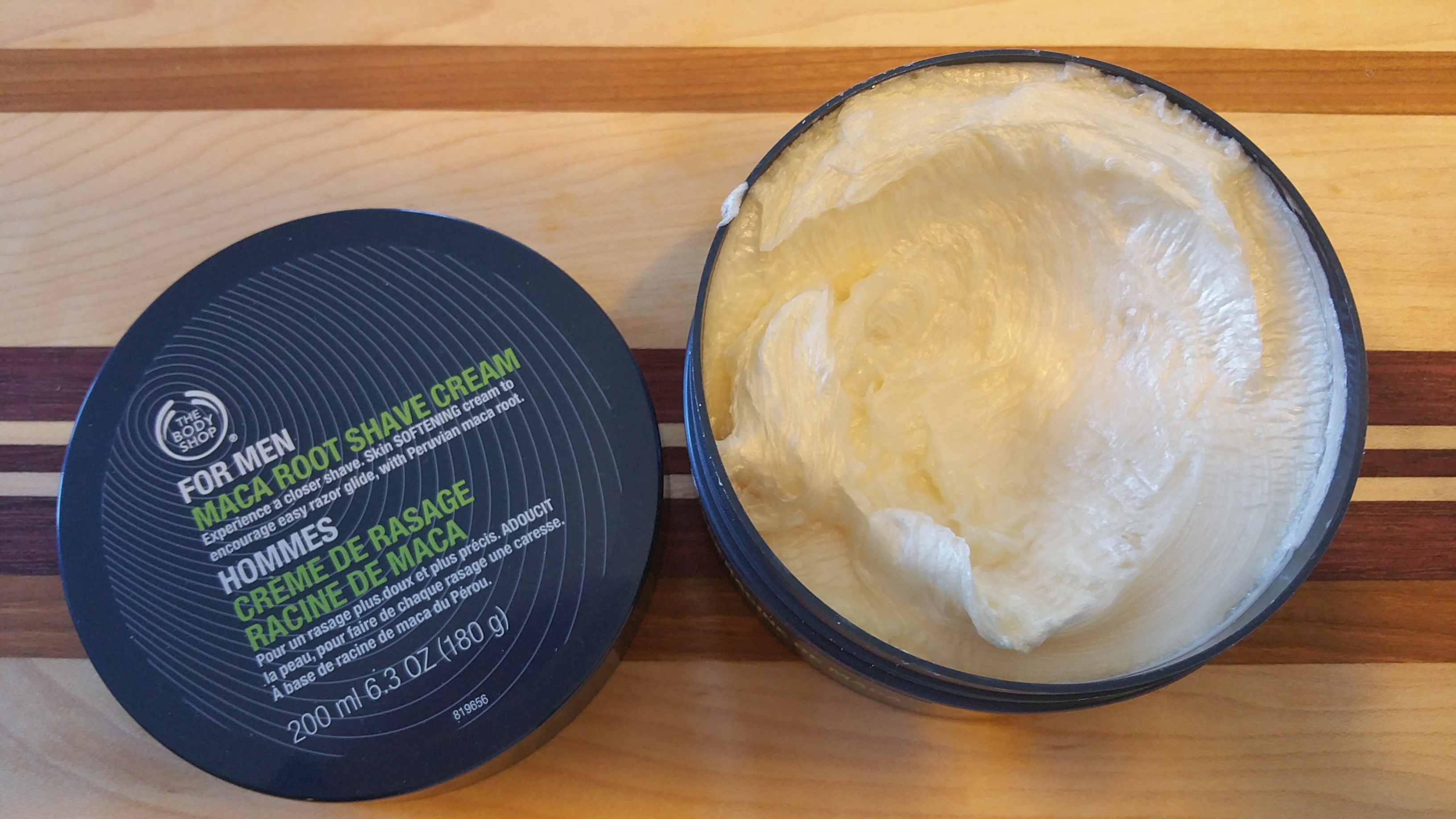 Wiping the remaining cream off of my face with a hot wash cloth was easy enough.  My face was not irritated at all from the cream.
Note that I tried this cream without using any pre-shave as I wanted to get the exclusive "Body Shop" experience.
I do have to confess that I had a few nicks.  Since I had two bad shaves using the Wilkinson blades, I am inclined to think that my skin had not fully recovered from those shaves.  This did make it worthwhile to test the after shave which was next.  The after–shave offered a slight cooling effect and maybe a slight tingling on initial contact.  The tingling was very mild and not uncomfortable whatsoever.  I mention it as it felt like it might be soothing the nicks.
The after-shave itself is a cream.  What comes out looks fairly thick, but that is an illusion as this cream is incredibly liquid once massaged into the skin.  I squirted maybe the size of a nickel and that was too much.  I had to wipe some off my hands.  It was absorbed very quickly and left my face feeling fresh and smooth.  Since I had a few nicks, I applied another coat of after-shave to sooth my face some more as well as to remove the small bloody spots.  The second coat did the trick. Razor Relief – yes!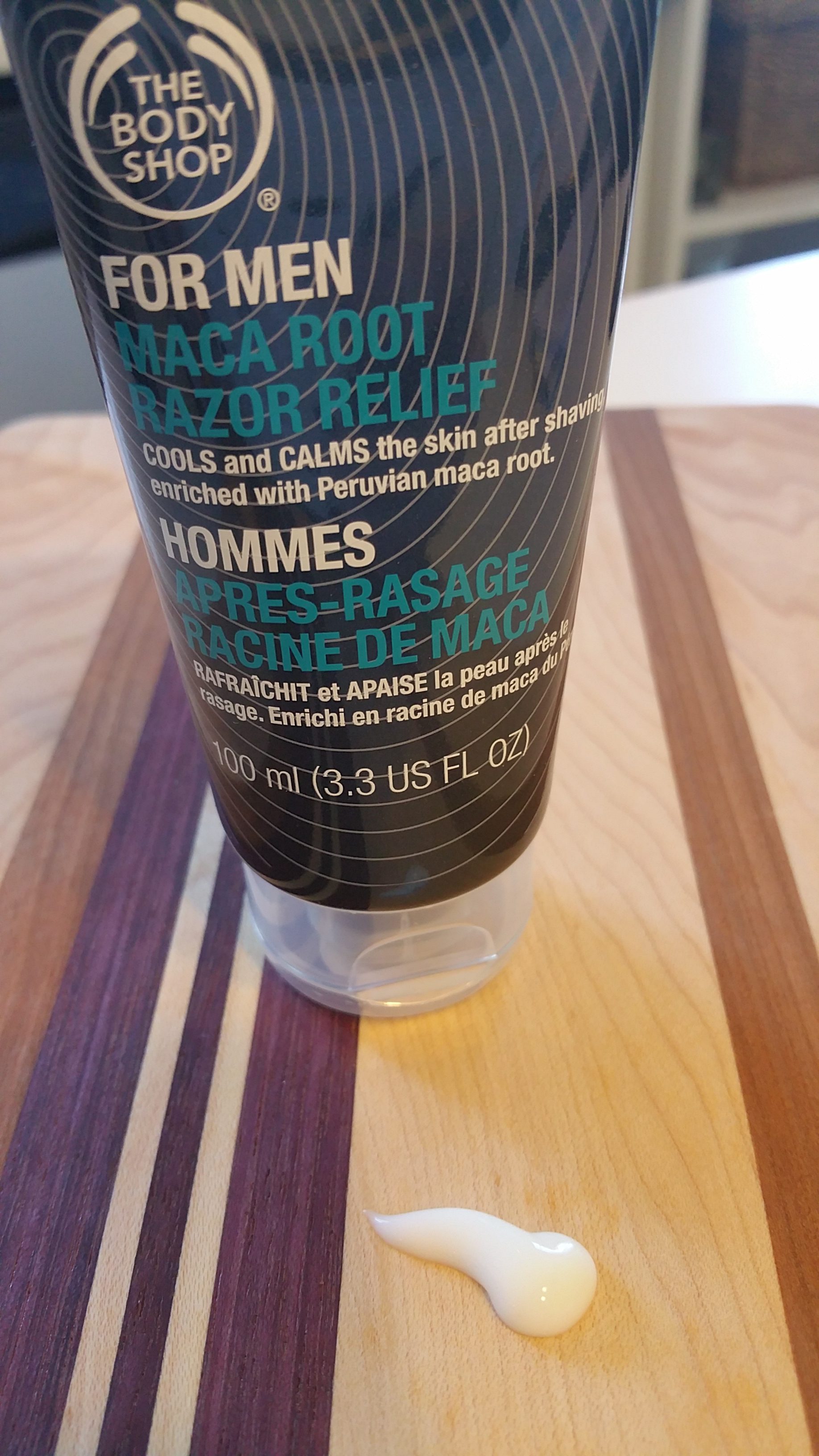 Overall, these two products are top notch and are comparable to other high end shaving solution.  Obviously, these are only available at The Body Shop. 🙂