The Holy Black: Glorious Modern Vintage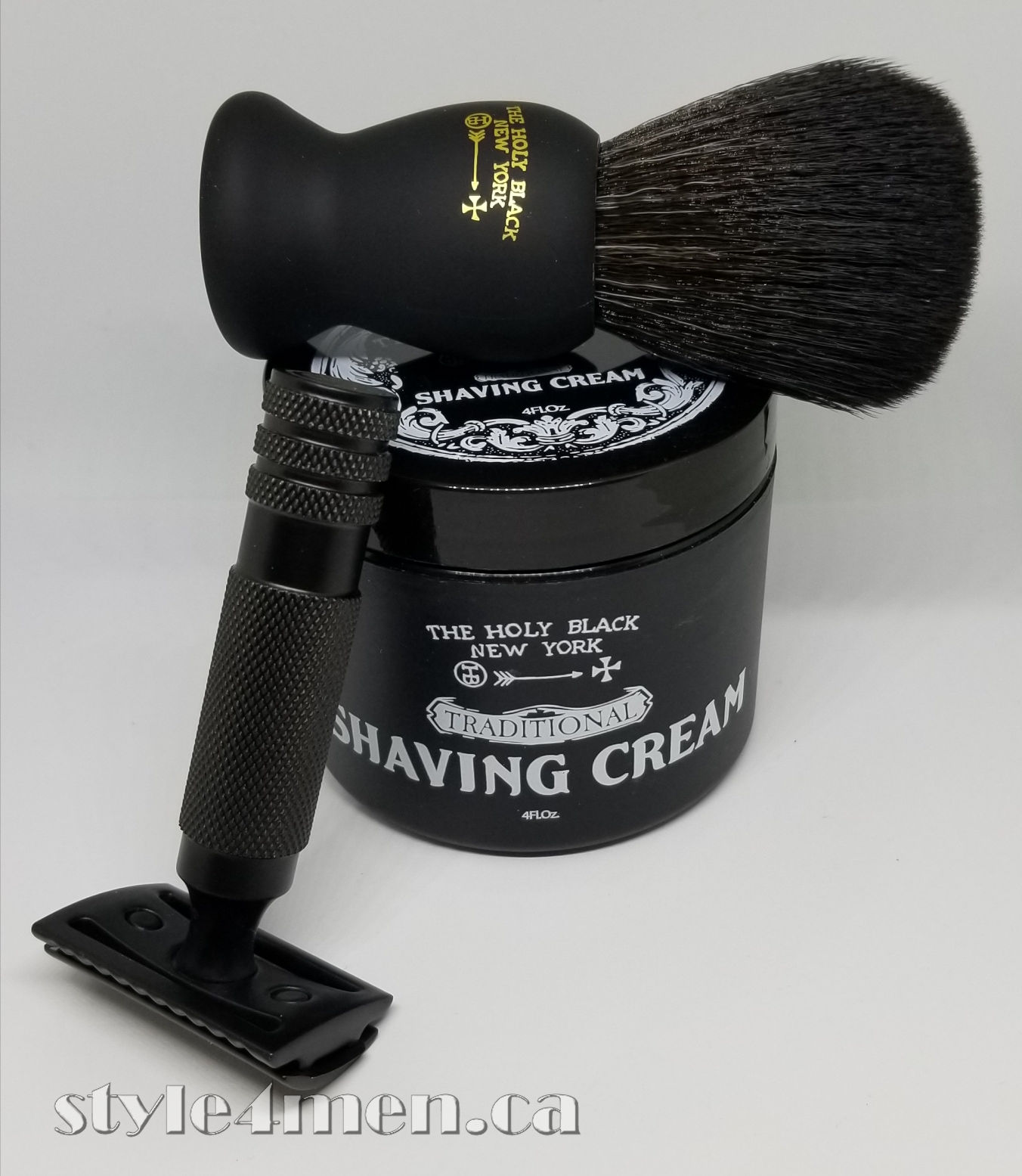 There are many fun things that come with Style4men.ca.  One of them is finding out just how passionate the community that comes with it, really is.  A good friend of Style4Men.ca reached out around Christmas to let me know about this awesome grooming company he had come across in his own research; "The Holy Black".  Not having heard about this brand before, I checked them out on the spot.  What a nice space they have carved out for themselves!  Think 1800's America: a time of challenges and hardship as the new world was still being discovered and shaped.  The site and whole product line imagery is a full breath of memorabilia.  The Holy Black finds its inspiration in a time where black gun powder was perhaps more important than shaving cream in a man's daily activities.  The name "Holy Black" is a direct relation to black gun powder.   The site totally speaks to memorabilia cravings as well as to one of the direct missions of Style4men.ca which is to; explore and embrace how things use to be.
In this still fairly new 21st century, looking back is something allot of us are doing.  It's a way of gauging where we are, where we came from, what was done and quite possibly where we are heading.  This is perhaps a deeper statement than expected for a grooming product review site but the relevance comes from the fact that Style4men.ca is focused on wet shaving and hair pomades; both things that are certainly from a past time.  It's about the current generation rediscovering how the previous ones did things.
Having been seriously impressed by The Holy Black site and product presentation, the next thing was to see if their products were as slick as their presentation and contact was made with The Holy Black.  A big shout-out goes to Stefan for his positive response and thank you for trusting us for this review.
Here is the Holy Black promo video.  I think it says it all.
Since The Holy Black has a wide product selections,two reviews will be done.  This first review will cover the shaving gear and second will cover the hair pomades.
The shaving items we will cover in this post are:
Safety Razor
Shaving Brush
Shaving Cream
In the second review we will cover The Holy Black pomade offering:
Pomade: Firm Hold / High Shine
Matte Clay: Firm Hold / No Shine
Super Max Pomade: Max Hold / Max Shine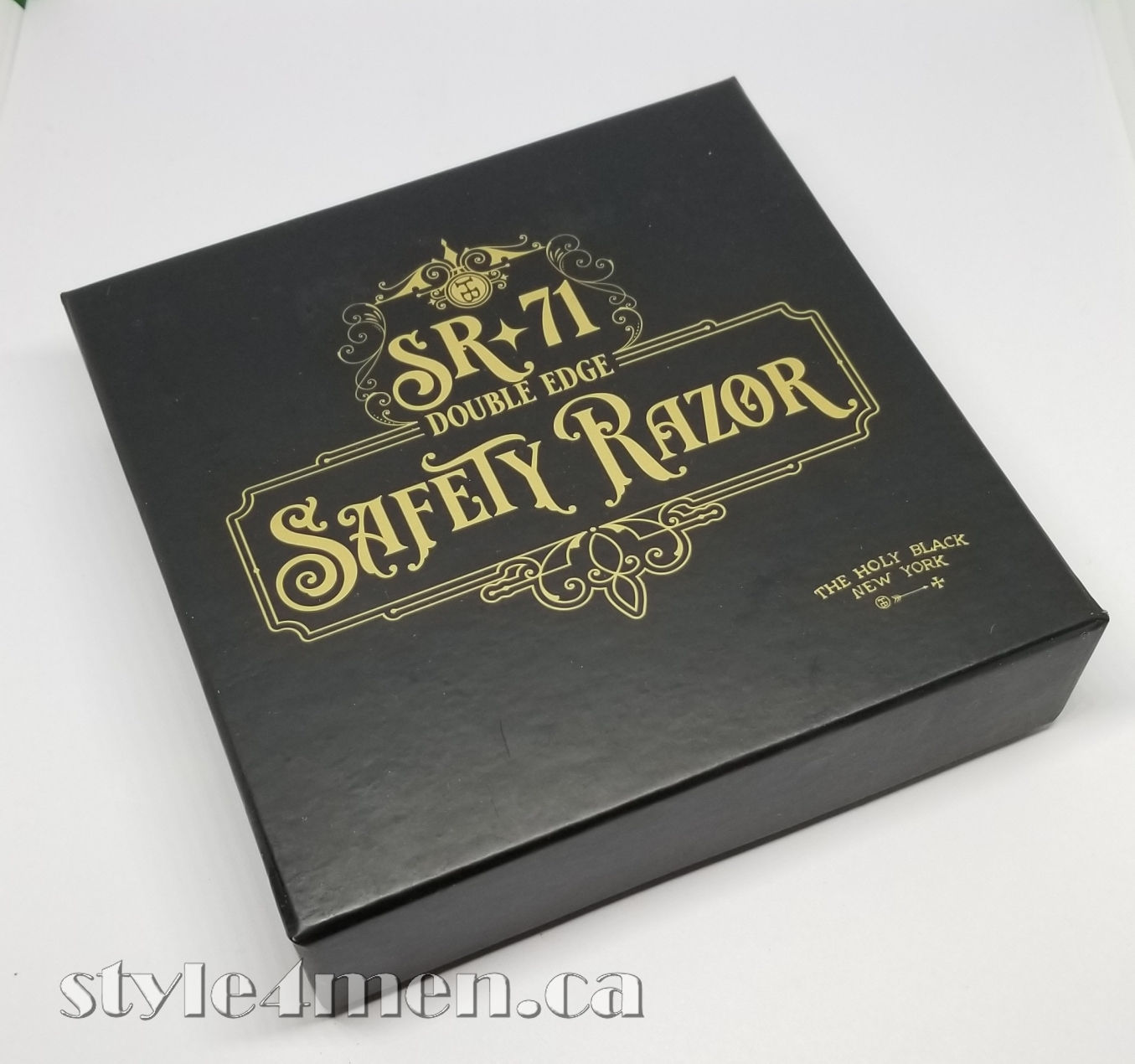 We will start with the Holy Black Safety Razor.   This razor is the nicest safety razor I have had the luxury of manipulating.   There are very few "black" razors out there and this one stick out with its completely matte finish and thick handle.  It is in fact a very heavy razor weighing in at 134 g.  As a reference my Go-To Merkur 180 with the thicker Rockwell 6c handle comes in at only 84 g.  The handle is quite thick which gives the razor its weight.  Lastly, the finish on this razor is perfect.  There are no rough edges or any indication that the manufacturing process was rushed.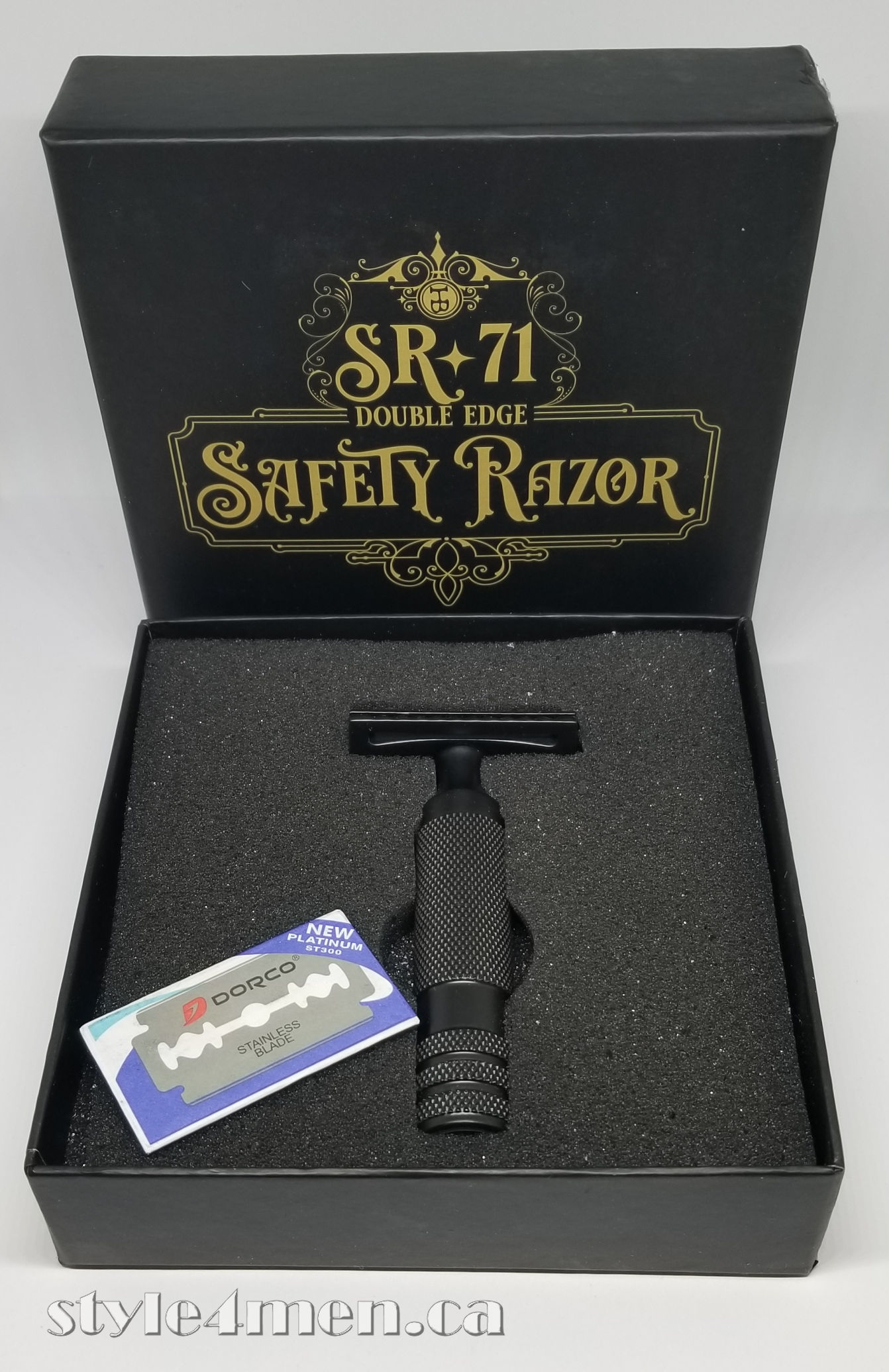 On an instrument such as a safety razor it is not always obvious as to where you might be able to put your brand name.  Most newer players are simply etching their brand logo on the razor head.  Simple and easy!  Not the folks of the Holy Black.  The branding is done on the head of the handle.  Since the handle shaft is so thick there is room to work with.  Original!  To sum it up, this razor is very inviting.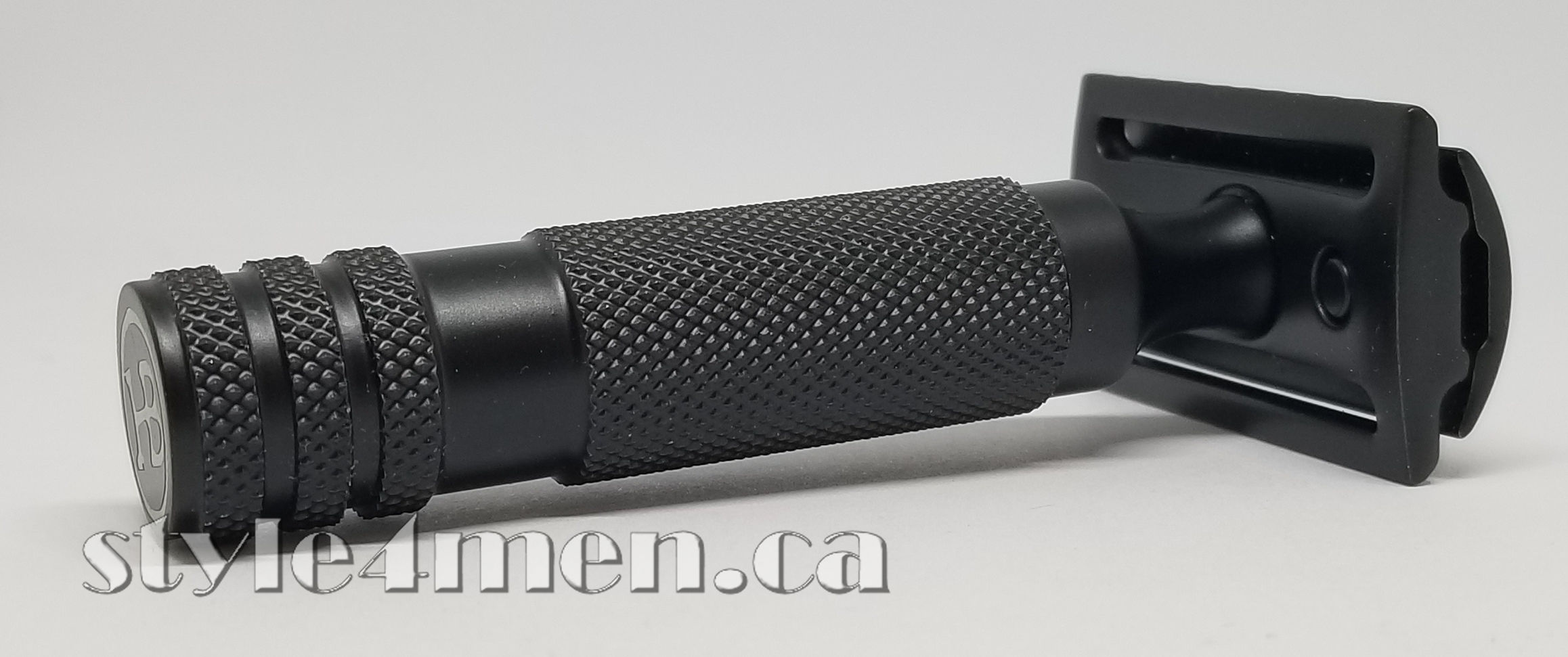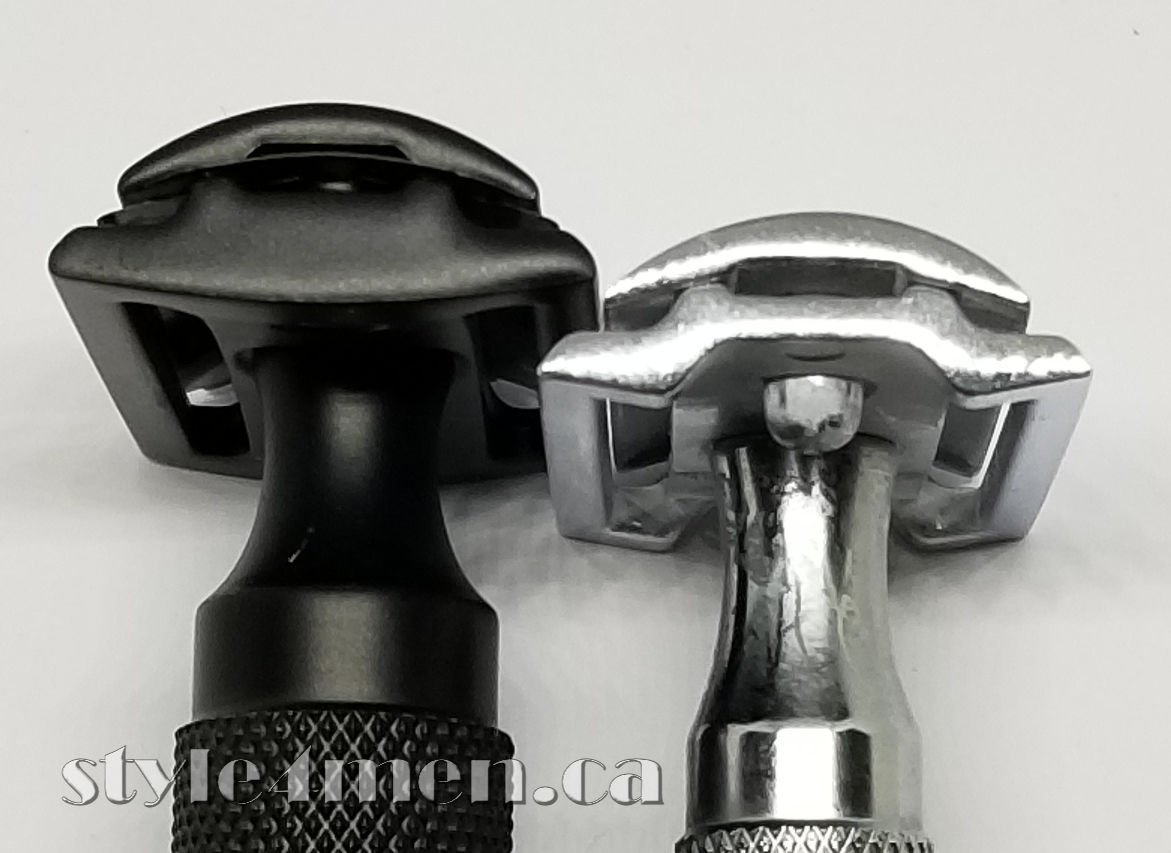 As any wet shaver will agree, when selecting a safety razor, its weight is a major decision factor.   At 134 g the SR71 is a unique instrument.  The HB razor is constructed in a very traditional manner and is composed of 3 pieces.  This is both simple to care for as well as being a durable approach. The blade angle and exposure is perhaps the biggest consideration or element that will determine that quality of your shave experience.  But this is not necessarily something that is easy to gauge until you actually shave with the razor.
Having had a rough shave experience with the Urban Beard Razor recently, the angle and blade exposure requirements are quite present in my mind.  When comparing it to my trusted Merkur 180, the blade placement and angling looks identical. At a glance you can see that the blade is squeezed into a curved and secure position.  Very much in the same way it is placed in the Merkur 180.  The last consideration is the blade exposure and supporting comb guide for the said blade. The more blade is exposed, the more aggressive the shave.  If you are shaving 4-5 days of growth, it goes without saying that you will need more shaving power than if you are a daily shaver.  Being a daily shaver, I need a razor head that has very little blade exposure.  The HB razor is such an instrument.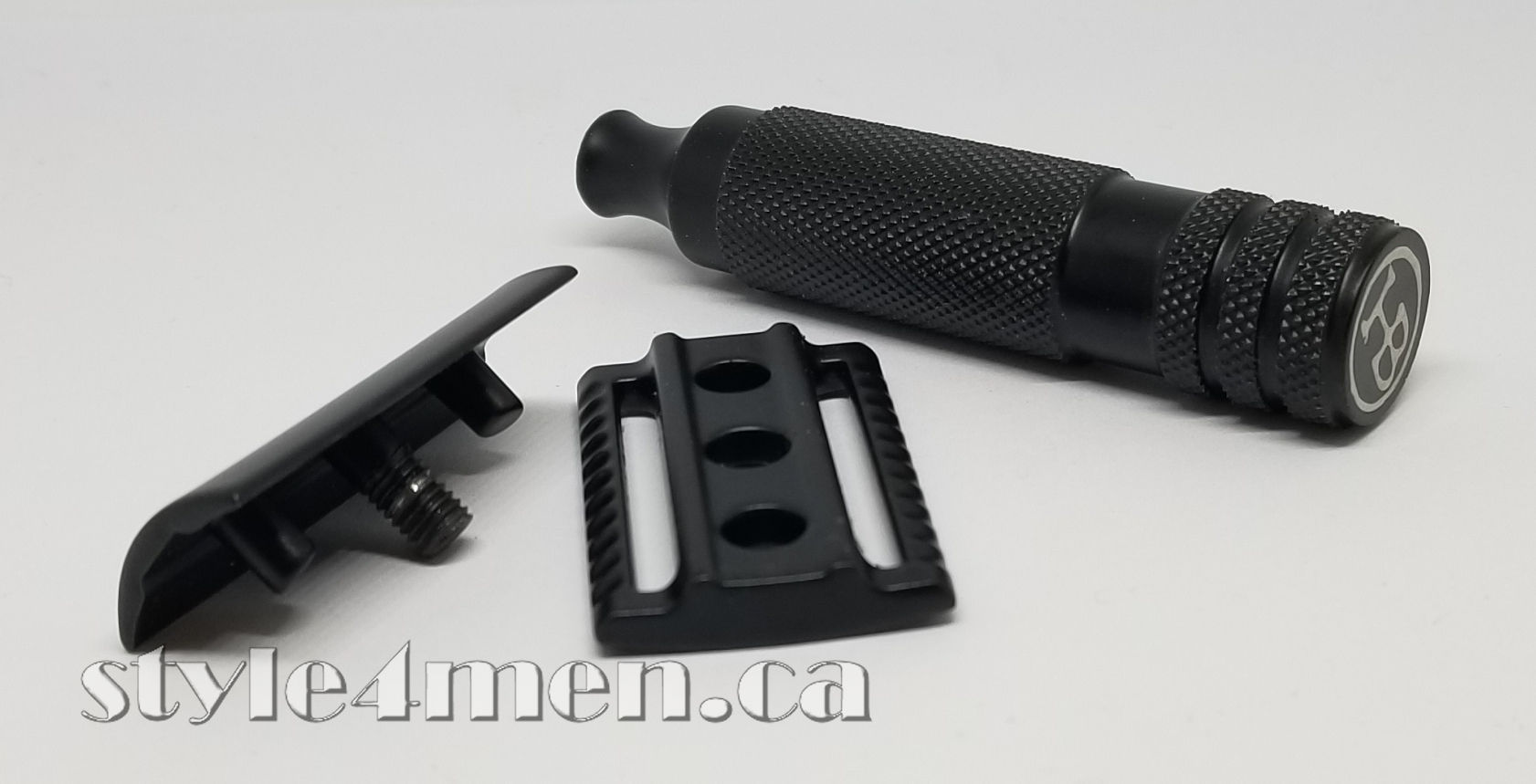 Working with the HB razor.  Being some 50 g heavier than my customized Merkur 180 (I am using the Rockwell 6C handle), this means that you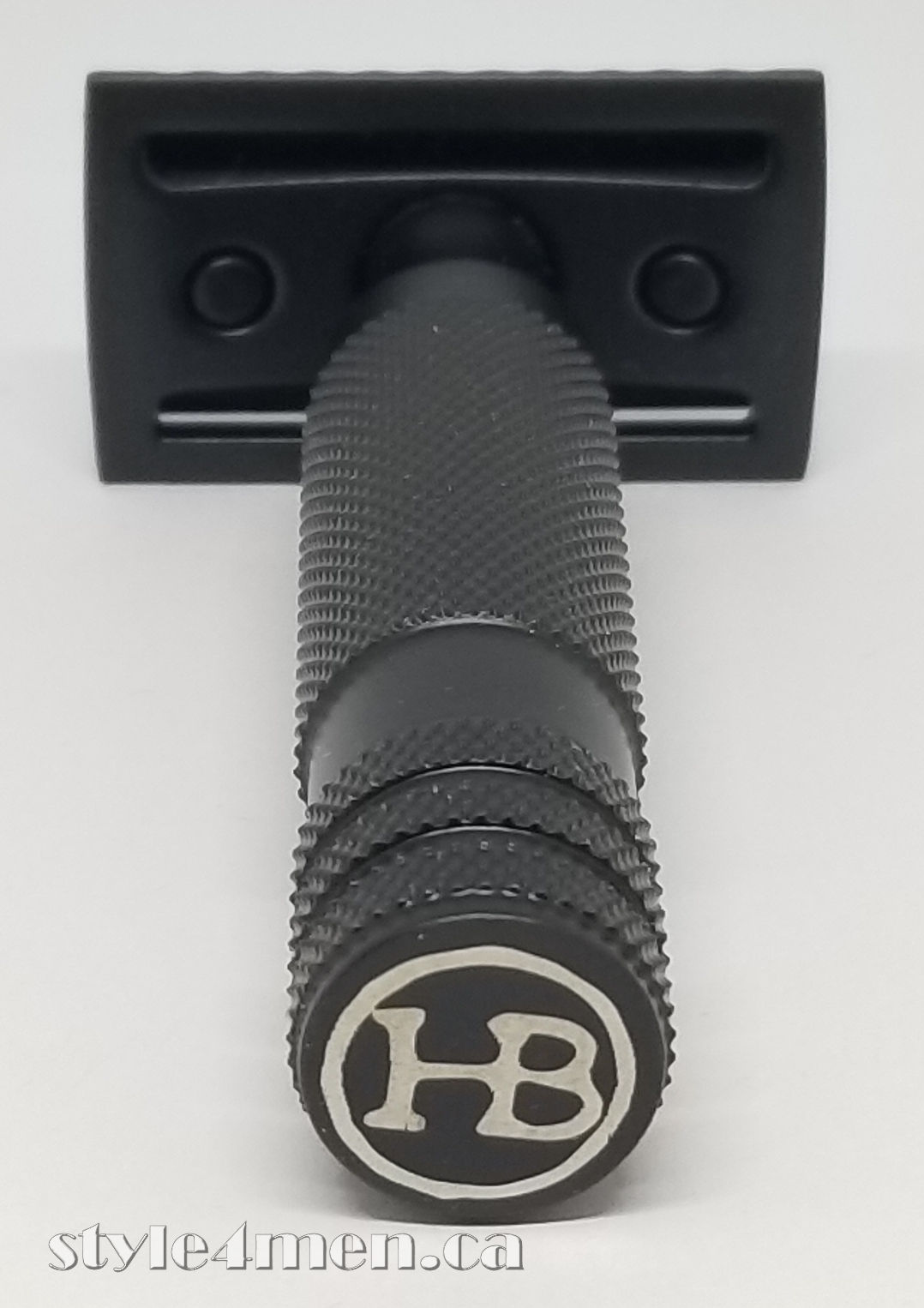 do not have to put any extra pressure when making contact with your mug.  When working with a safety razor, weight is a very desirable quality.  The natural weight of the razor will exercise the pressure against your skin while shaving.  The goal is to avoid applying any extra manual pressure which would lead to nicks and cuts. With a heavy razor your job is in fact more about reducing the weight-pressure ratio on your mug.  You will obviously need to get yourself familiar with this particular weight so not to experience any unpleasantries.
TEST STAGE: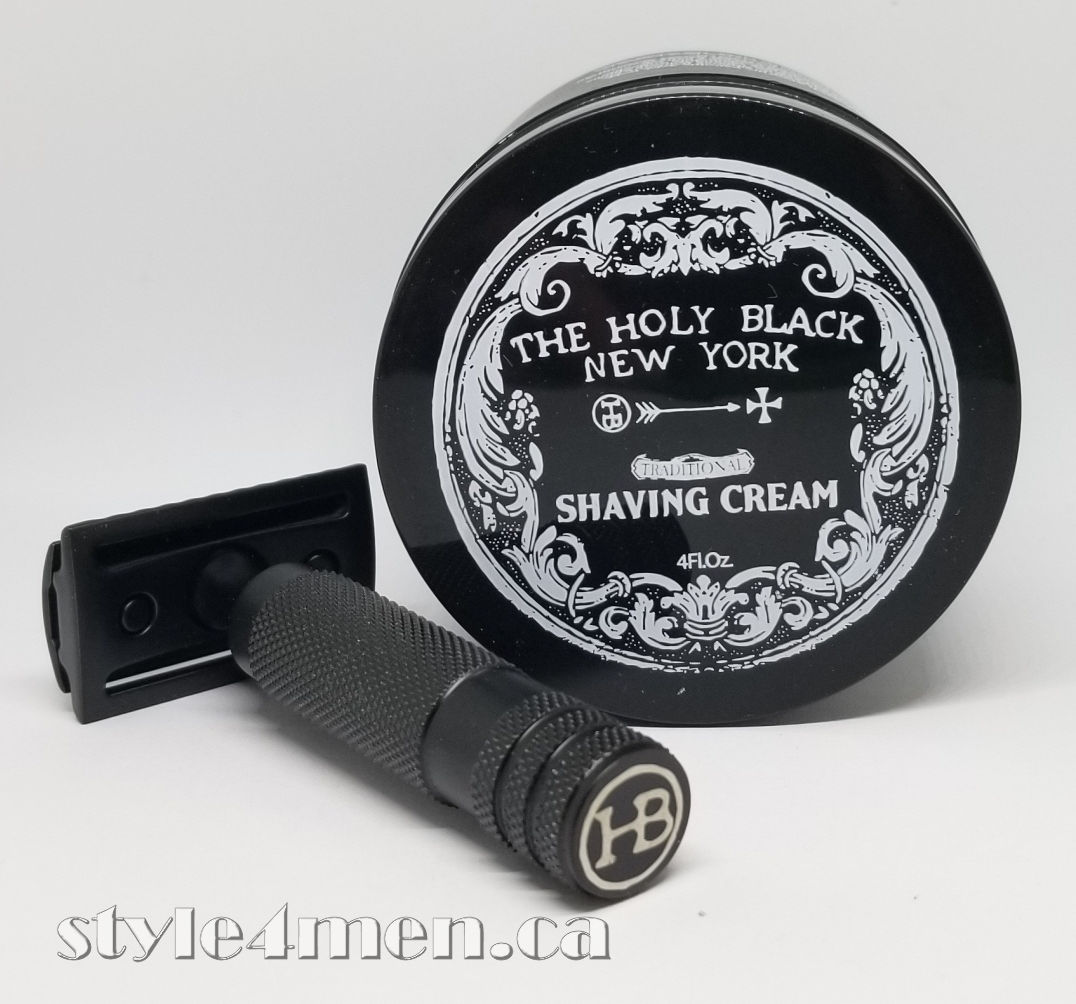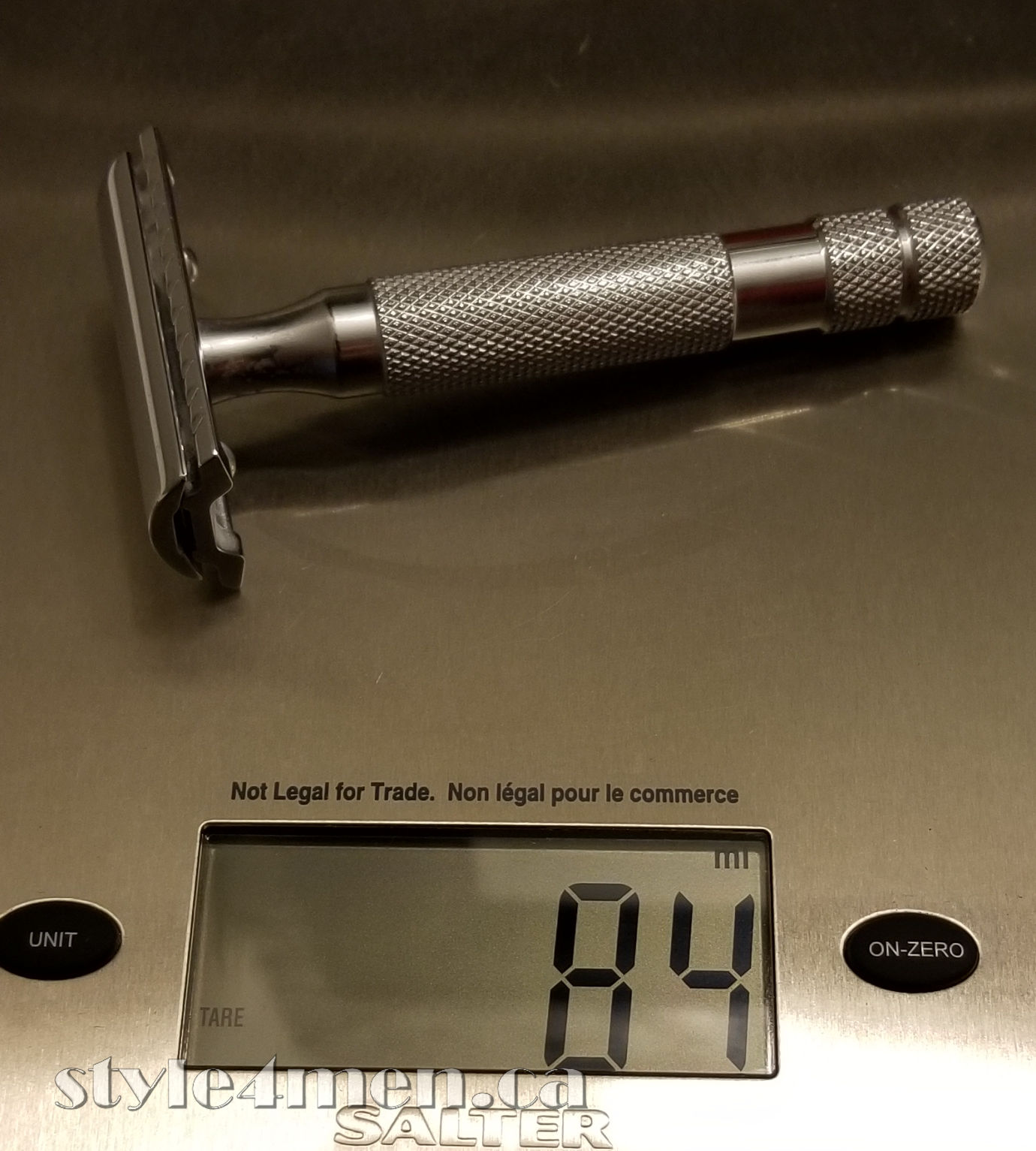 Here the Merkur 180 with the Rockwell 6c handle weights in at 84 g.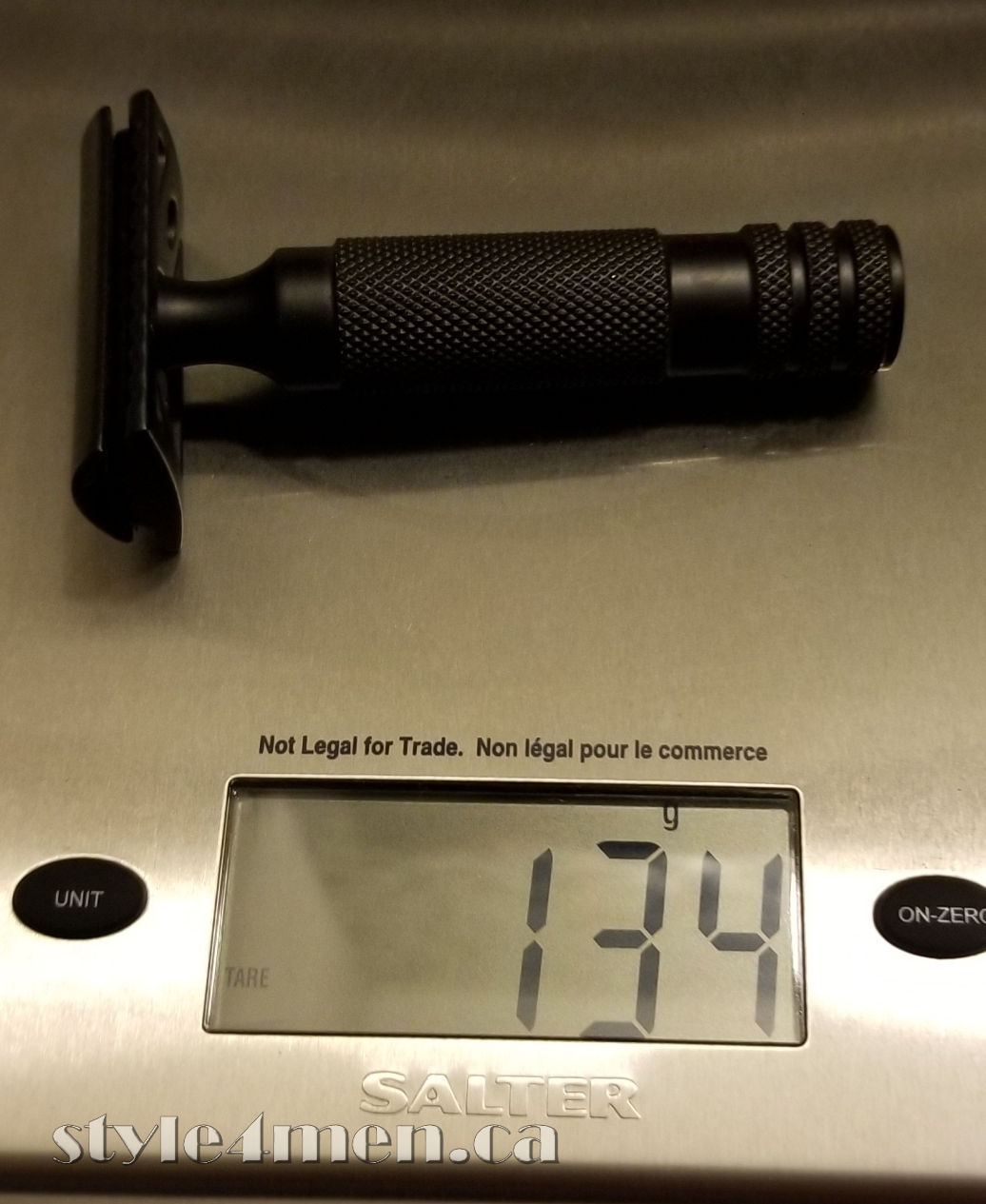 The Holy Black SR 71 registers at 134 g.
The Holy Black Shaving cream is a unique looking products.  It looks like a whipped soap.  The texture is slightly thicker than a cream on initial contact, but soften immediately when working it onto your face.  I scooped out perhaps the size of a quarter and this was sufficient to cover my beard area.  The HB makes a very stylish looking shaving brush which we discuss a bit lower, but for the first shave I went at it with my fingers only.  The coverage is very nice and feels a bit thicker than soap but perhaps not as thick as cream.  It's somewhere in between.  In retrospect, applying this cream with the brush would probably be best.  Because of its soap like properties, this cream rinses very nicely out of the razor between passes and is equally easy to wipe your face after the shave.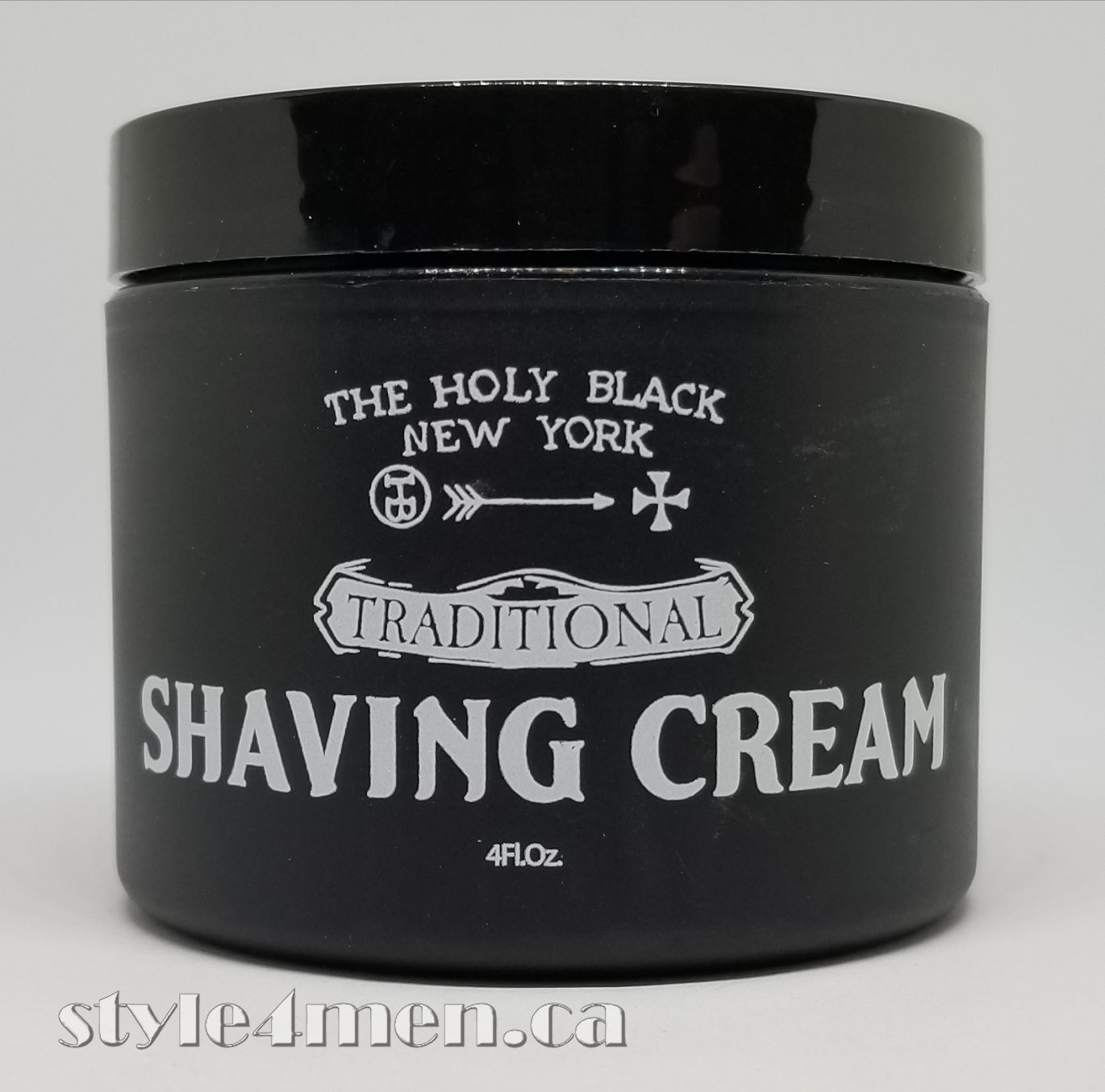 The composition of grooming products is always a concern at Style4men.ca and although, The Holy Black is not claiming to be a"natural" product, it nevertheless can get a full set of points for the players making it up the Team.  The all mighty Argan oil rock star is present along with a slew of other natural oils: Lavender, Tea Tree, Avocado, Sweet Almond, Rosemary.
Scent-wise, it is a refined aroma where lavender is perhaps the dominating participant.  Think classic soap scent.  It is mild and I have to put my nose in the jar to "really" smell it, so this will not interfere with any other cologne you might want to working with.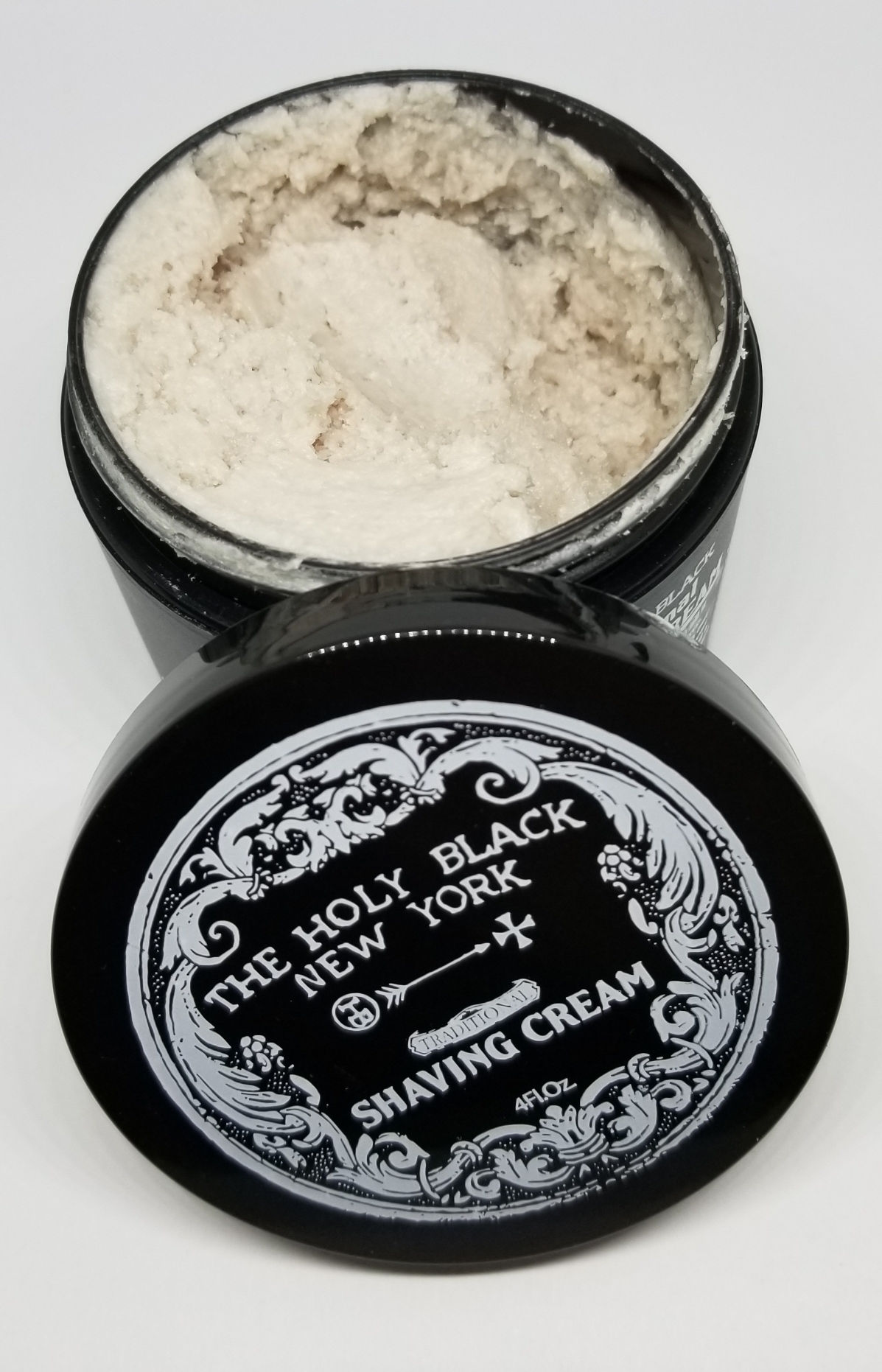 The Holy Black shaving brush is a nice looking tool with its matte black handle and black bristles.  This is a synthetic hair brush. If you have tried both a proper badger or even a boar hair brush and then compared them to a synthetic brush you might have already concluded that going synthetic is not a bad proposition no matter how authentic you wants things to be.  The main difference between a synthetic and animal hair brush is water retention.  A badger hair brush has very little water absorption qualities.  When lathering up a cream or soap, the thickness of the lather is somewhat lesser in volume and water.  This essentially changes both the insulation and lubrication  properties of your soap or cream.  When working with a synthetic brush on the other hand, the amount of water being soaked up by the bristles is considerably increased and it thus lathers up great suds.  When applying the soap on your mug you will immediately notice the increased moisture.  In my humble opinion, the synthetic brush renders a better experience.
Typically, the only one thing I enjoy less of the synthetic bristles is the slightly messy application as water will drop from the brush.  This is where the HB shaving brush came as a total surprise.  The water retention was better than an animal hair brush and better than the synthetic hair brushes I have tried so far.  Let me clarify that.  The bristles soaked the water as I was expecting, but it did not start releasing it during application like my other synthetic hair brushes do. This brush has turned out to be that sweet spot I had not yet encountered.  Soft bristles and good water retention without being messy.
Further to that, the HB brush is very stylish with its matte black finish and the slightly rubberized handle feels great in the hand.   This is the 3rd synthetic shaving brush I have worked with and I like everything about it: presentation, hair softness, water retention, handle grip and size.  At just under 4″ it is a perfect brush size.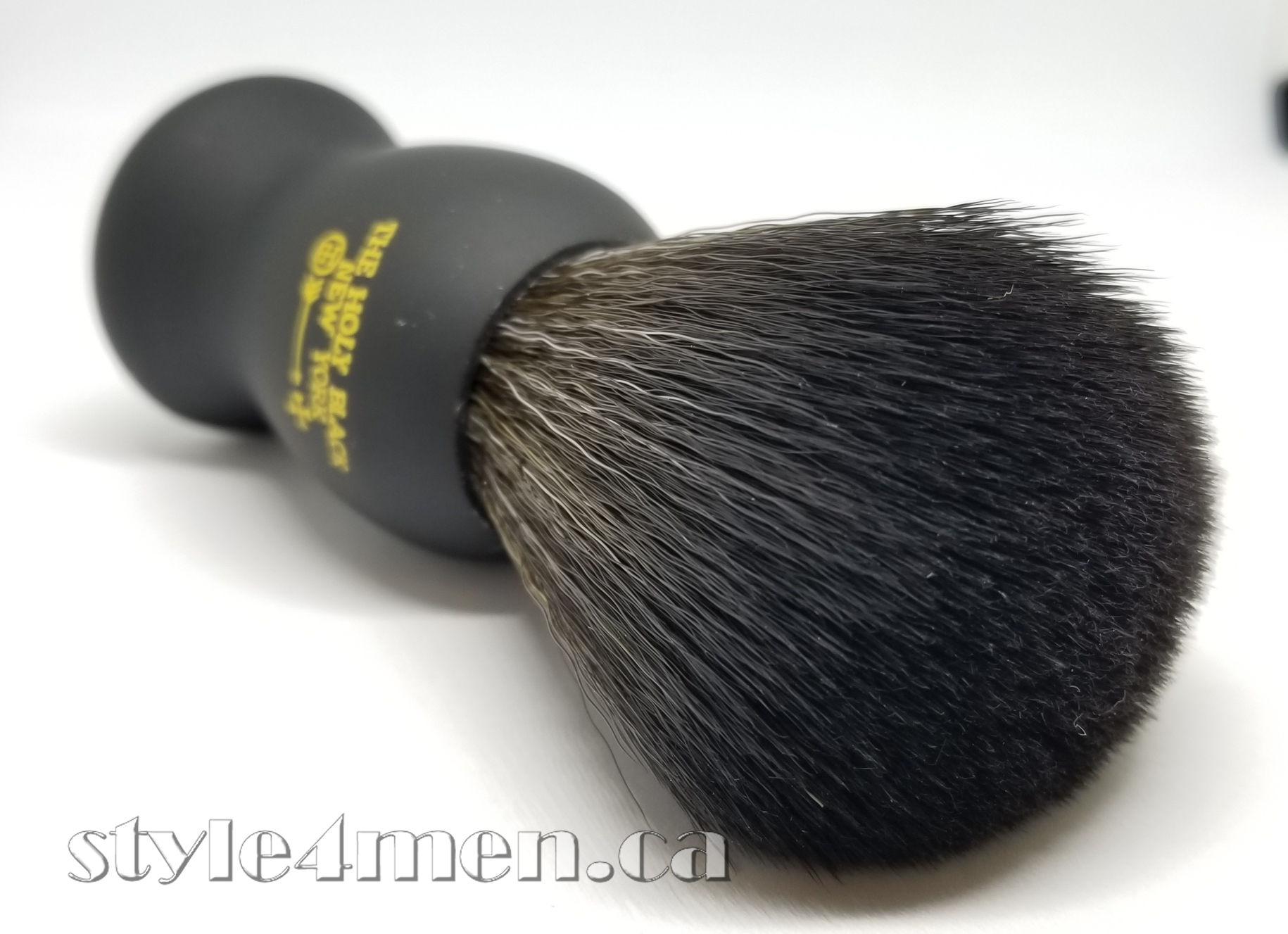 The actual shave! In order to deliver a well rounded evaluation I am basing myself on a minimum of two shaves.
You wouldn't think that an extra 50 g would make much of a difference, but on my first shave I found myself needing to be a lot more focused than I normally am.  Obviously, no extra weight needs to be added to trigger the shaving process.  If anything, it was rather the reverse where I was countering the weight to not over do it.  I loaded the razor with one of my favorite blades, the Treet Carbon which are extremely comfortable yet surprisingly sharp.  In this first shave they actually felt sharper than what I have become accustomed too.  On a few occasions, I was sure I had cut myself.  But no! The shaving cream offered a good base for protection and lubrication.  Even though this cream is somewhere between a soap and a cream, it is still more cream than soap.  This makes it such that there is more moisture in the product and I didn't find myself having to add water on my face to keep a proper level of lubrication.  That being said this first shave ended with a few nicks, which I am entirely blaming on my lack of experience with this razor and the new weight-pressure ratio.  But the overall handling of this razor was so interesting that I was determined to get it right.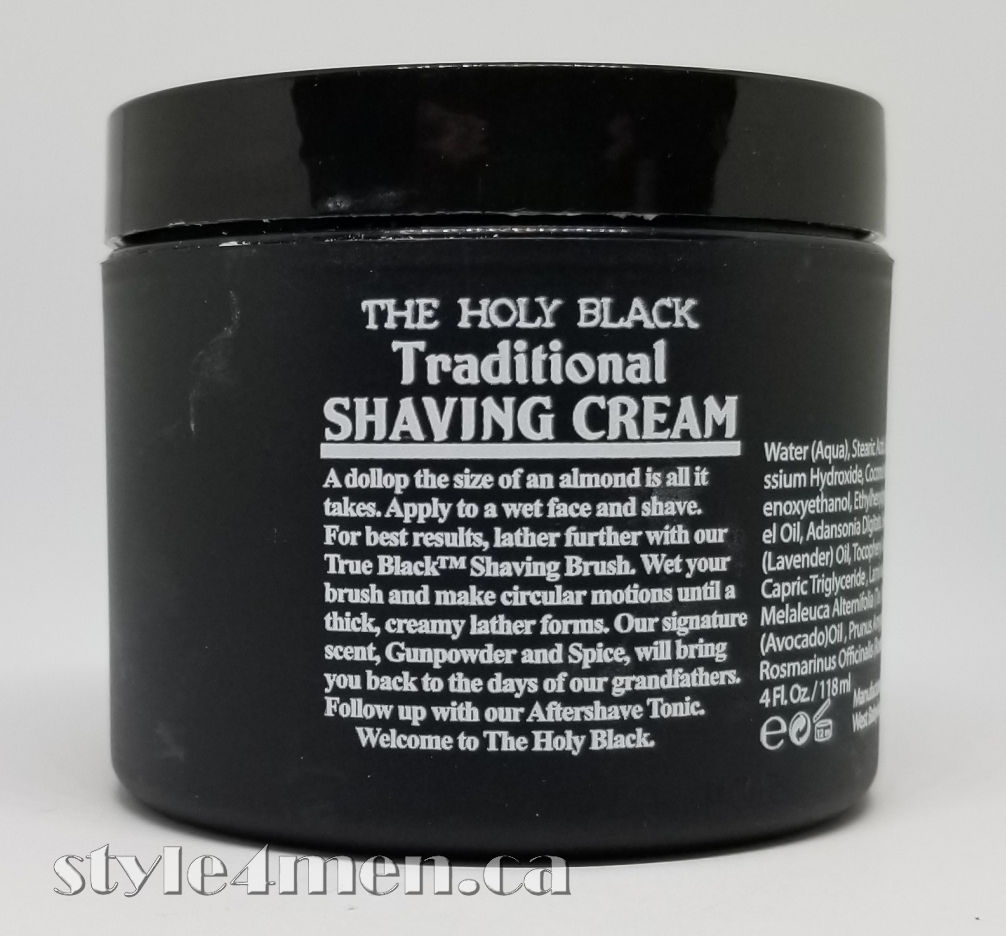 On my second shave I decided to work on my angling and also get a higher grip on the handle.  Having become accustomed to a longer handle (Merkur 180 and Rockwell 6C) I typically hold the razor further away from the head.  I opted to get closer.  With this new way of holding the razor I was blow away at the efficiency and comfort of the shave I experienced. I was shaving off 2 days worth of growth which in my case is a fair bit of hair to shave and this was a memorable shave.  No nicks or cuts and a perfectly smooth finish.  This second shave was so good that I am somewhat reconsidering my razors and technique as a hole.  It obviously goes without saying that when using a different instrument, you will most likely also have to act differently, but I wasn't expecting that much of delta with the end results. Let's just say that my razor stand is now housing the HB razor and brush! 🙂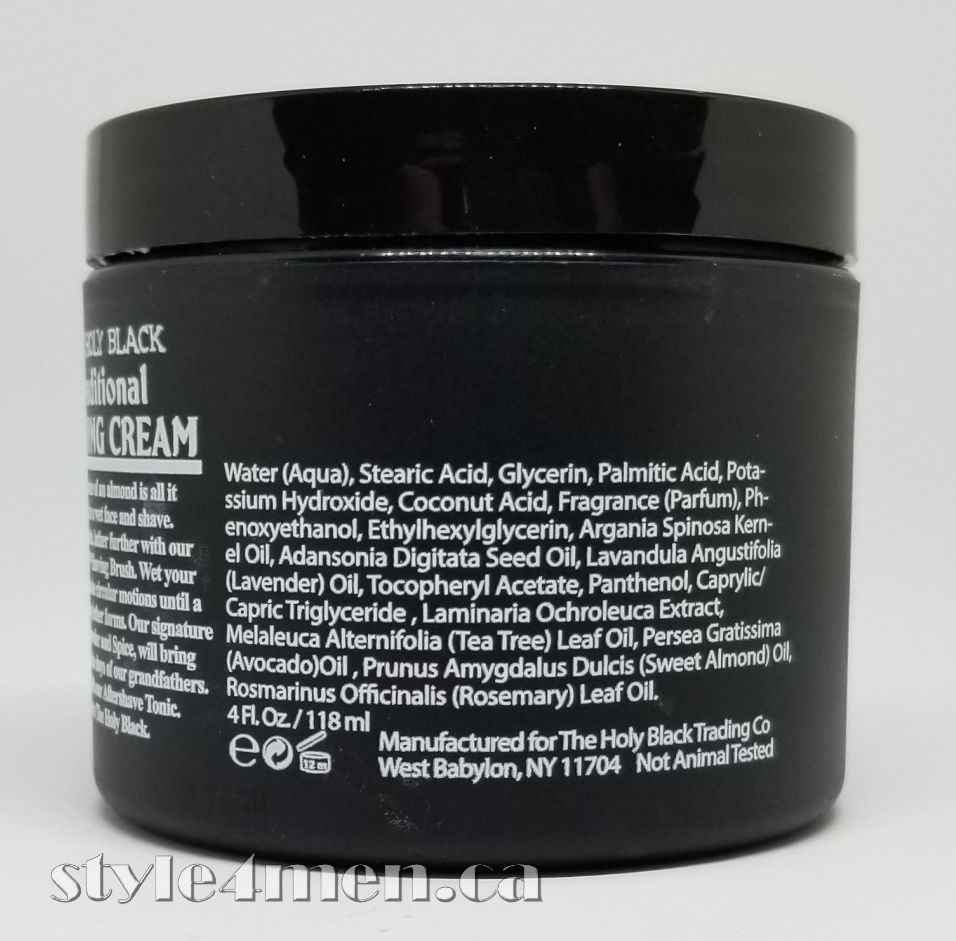 The Holy Black offers the complete shaving experience with a: razor, shaving brush, shaving cream as well as the post shaves tonic and cream.  As part of this review I did not have access the post shave products and I opted for the Dr. Jon's Defiance.  Generally speaking, I like to use products of the same brand when conducting a test because a brand usually has crafted their products to work together toward a given result. For example. a shampoo, conditioner and pomade suite.  I chose the Dr. Jon's Defiance aftershave because it has been giving me very positive results for the past few weeks and its vintage like package made me think there might be common ground there.  On my first shave I had a few nicks as a result of my lack of experience with the heavier SR71, I therefore had a bit of bite back from the after shave.  On my second shave which turned out to be perfect, everything was memorably smooth.   As I get the hang of this beast, it is becoming a favorite.  Considering how picky I am when it comes to a razor, this is no small achievement.
Overall, I am impressed with the perfectly vintage presentation of this shave set as well as with the superior shave results obtained.  In simple terms, I am looking forward to my next shave!  I will also look into getting The Holy Black post shave solutions.  The alcohol based aftershave may be an issue since alcohol based products can no longer cross borders as freely as they once did.  Assuming I can get a bottle, I will update this post with the shave experience using the HB post shave solutions.
Thank you again to Stefan at the Holy Black for his positive response and support of Style4men.ca. 

You can visit The Holy Black and shop directly with them via this link:
Plug in the STYLE4MEN code for a bonus discount
Stay tuned for part two of The Holy Black: Pomades!