The Kent of Inglewood Preshave Balm and Hoxton safety razor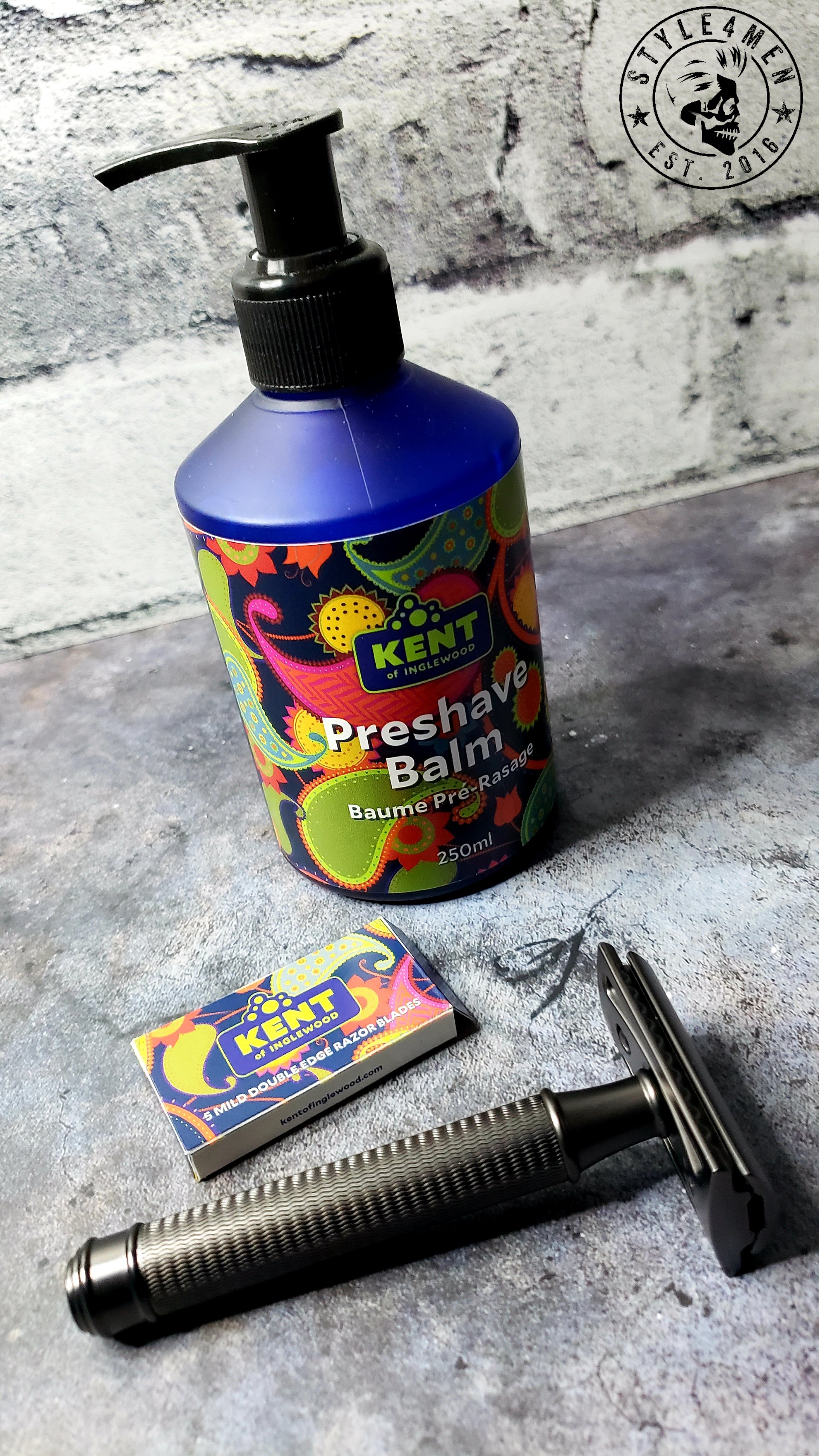 This review is about a razor and a pre-shave balm both coming from Kent of Inglewood.  The story starts some 2 years ago when I was referred to a shaving supply store in Ottawa.  When I got there, the sign on the store front indicated Knife Wear.  Inside, the shop was a blade aficionado's paradise! This place had an incredible selection of knifes and cutting instruments.   Like nothing I had seen before.  Then all the way in the back, there was a separate room which was essentially a gentleman's shave lounge: Kent of Inglewood! I was where I was supposed to be! Wall to wall razors, aftershaves, colognes, brushes, soaps, bowls, etc.… Basically everything to take you from ruffian to gentleman!
After this memorable visit, Kent of Inglewood stayed on my radar of shops to keep an eye on. A few weeks back while perusing Instagram I saw that they had launched their house brand of grooming supplies.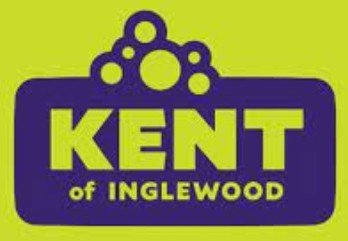 Our our exclusive "STYLE4MEN" discount code for 10% off

Here is what you can find under the Kent of Inglewood brand name:
Preshave Balm
Potassium Alum Block
Alum Matches
Mild DE Razor Blades
Camellia blade Oil
Ingrown Hair Serum
The only shampoo you need
Conditioner
The only grey shampoo you need
Grey Hair Conditioner
Intensive Hand Cream
Hand Cleanser
Konjac Body Sponge
As part of the house brand offering, Kent of Inglewood also has a razor line that goes by the name of Hoxton Shave Co.  In collaboration with Kent of Inglewood, I am thrilled to be trying their preshave balm, DE blades and the Hoxton Shave Co. razor.
Shaving like its 1918 is an art and working with the right tools and products will make a huge difference in your experience.  It goes without saying that using quality blades in a correctly angled razor is crucial.  But we tend to forget just how important the role of the supporting products is.  Items like the shave cream, brush and aftershave.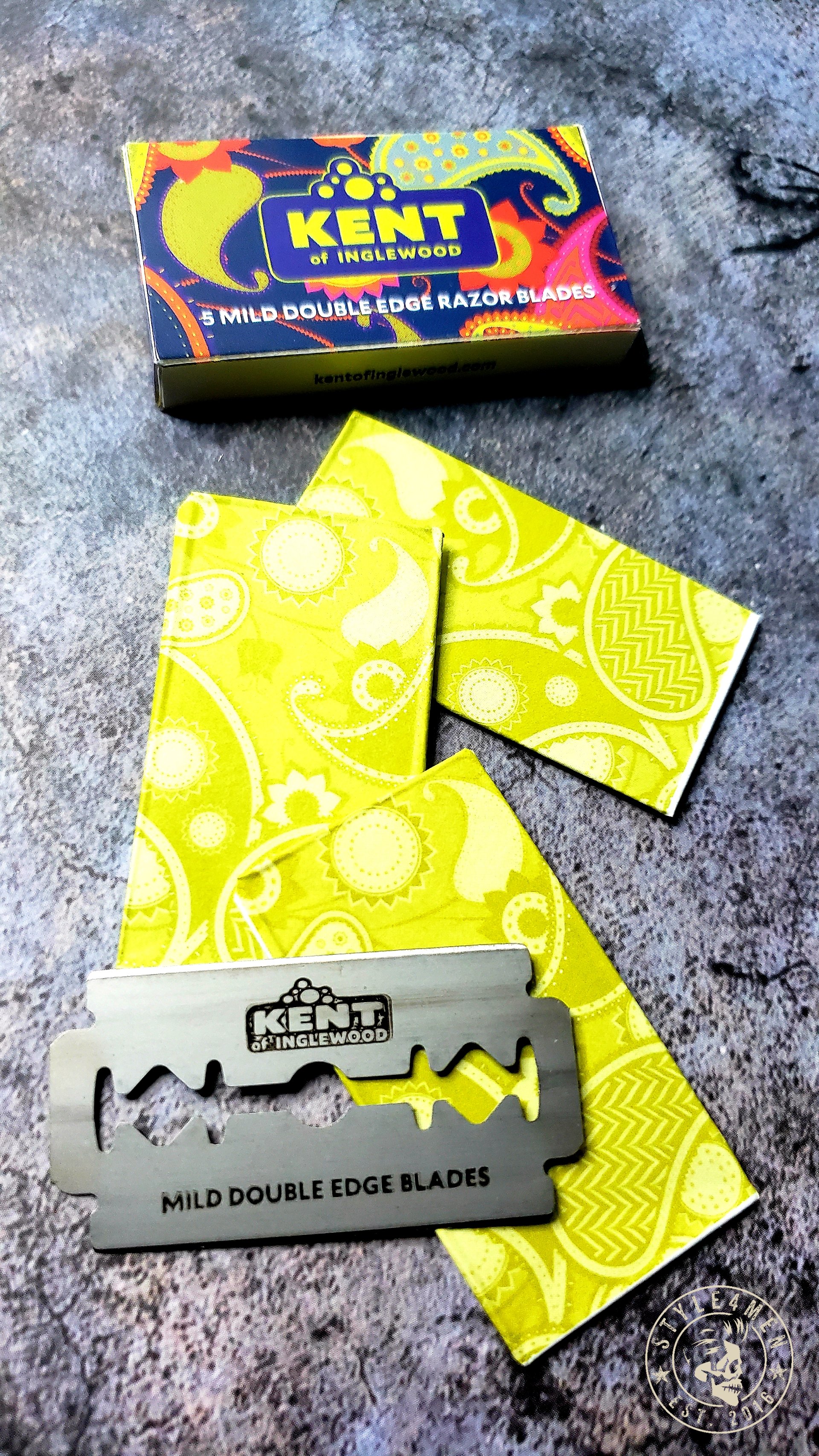 When shaving there are two main things I look for in my cream: lubrication and insulation.  In my opinion since cream is thicker than soap it generally offers better insulation while lubrication is similar between both options.
You might be perfectly happy with your current lube situation, but I would suggest that things can be even better.  The biggest eye opener I had was when I added a pre-shave to my routine.  Things went from nice to luxurious.  The idea is to augment the lubrication properties so that the blade can glide as smoothly as possible on your mug.  Using a preshave is a game changer as it increased my comfort to that of velvet.
Pre-shave comes in different forms; oil, cream and gel.  Perhaps the most straight-forward option is oil.  You can use a dedicated pre-shave oil, but any beard oil will do the trick.  Just add a few drops to your mug before applying your shaving cream or soap and experience a smoother shave!  There are also pre-shave creams like the one produced by PRORASO which also offers a nice tingle.  Last but most certainly not least, is the gel solution like the one adopted by Kent of Inglewood.
The Kent of Inglewood preshave balm is aloe vera based.  It is clear and goes on very nicely.  I used perhaps 4 pumps for my cheeks and lower neck area.  I sport a short beard and shave these areas daily. Because of the beard, using a clear gel offers nice visibility for the job.  I actually shaved with only this a number of times and enjoyed and incredibly comfortable experience.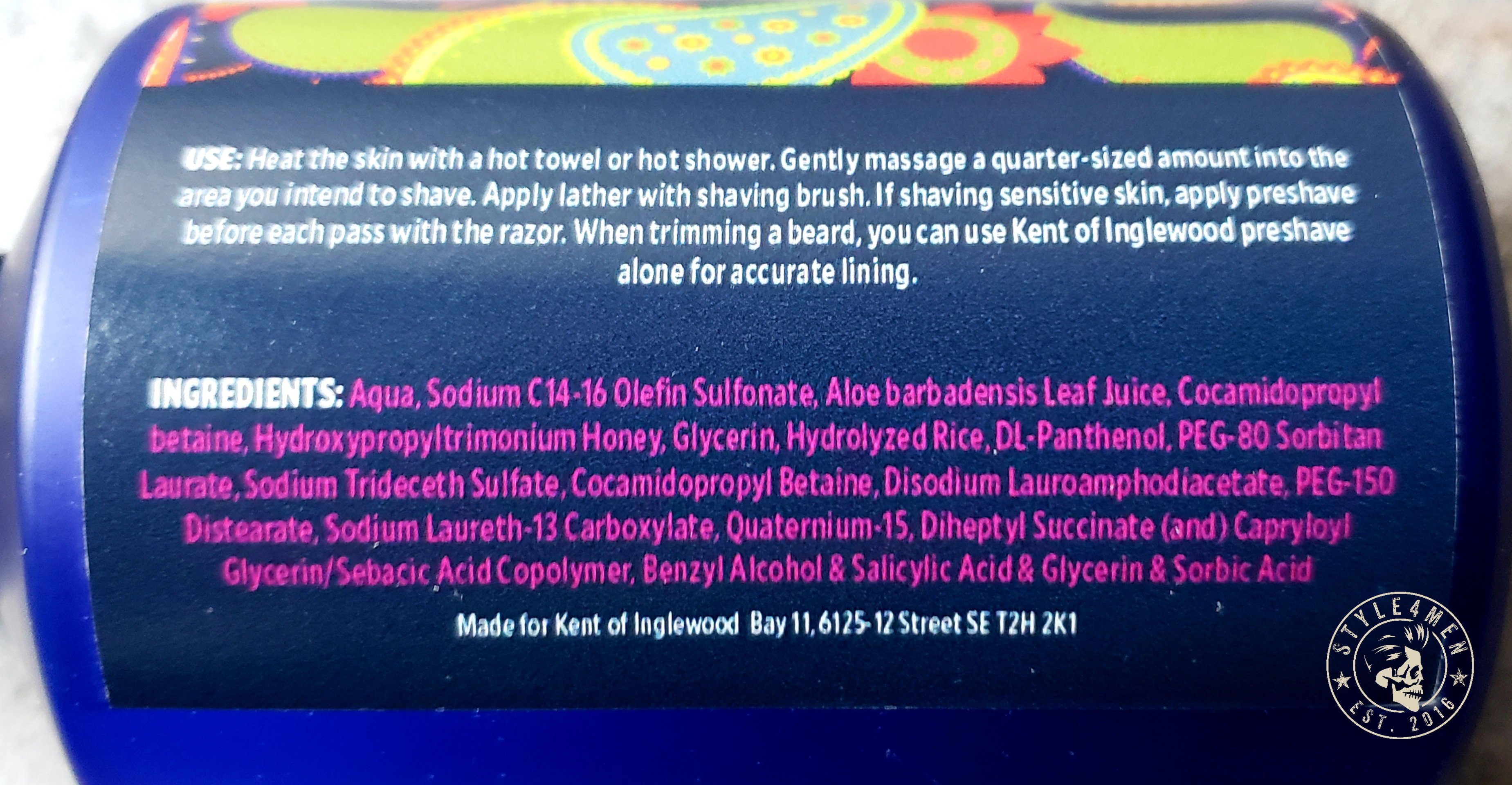 The balm was very easy to rinse off both the razor and my skin once the job was done.  It has good staying power between passes and is easily revived with a drop of water if need be.
I also partnered this preshave balm with a shave cream.  I thought that my shave cream (LEA) was pretty darn good, but this was like going from chocolate chip cookies to raspberry cheese cake – a different league.  Perfect insulation compounded with incredible lube.  The overall comfort of the shave was unparalleled.
In short, if you are enjoying shaving like its 1918 but think that there is a little something missing, you are right!  – That thing is the Kent of Inglewood Preshave Balm.
Test Stage:
The razor
As mentioned above, there is also a razor being tested, the Hoxton Shave Co. razor.  A safety razor is a number of things. Obviously it is a shaving instrument, it is a durable / long lasting tool and in many cases it is also a thing of beauty.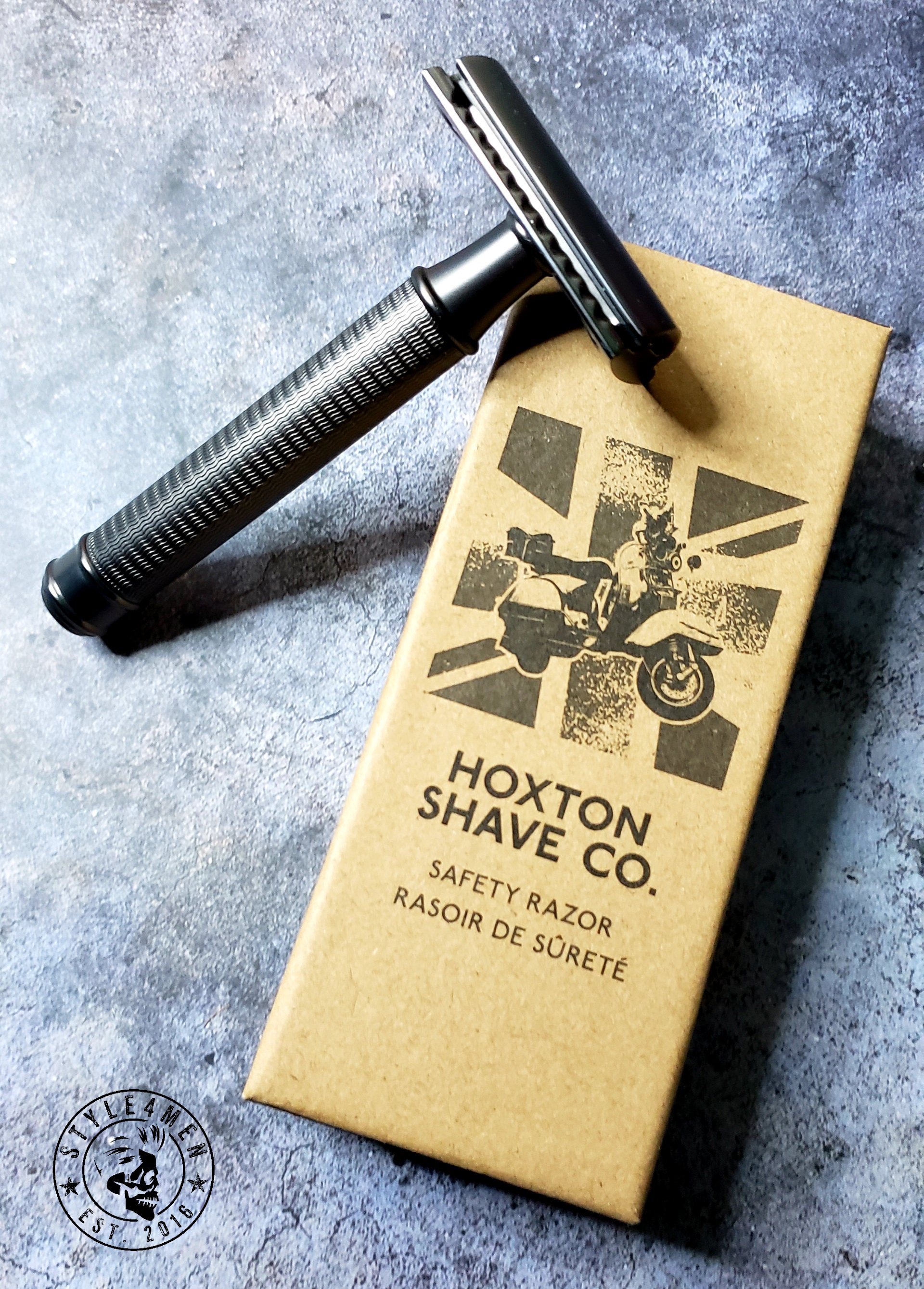 The safety razor by Hoxton Shave Co. is all of the above as well as being a very comfortable item to work with. Its weight and size fit me to like a glove.  It clocks in at 85 gr and the handle is 8.5 cm long (3½"). The handle initially looked like it might be slippery as the grooves are less pronounced but it was perfectly secured in my wet hand when shaving.
The finishing of the razor is rather interesting as it is neither grey nor copper and radiates an elegant sombre aura which appeals to me.  When something is this nice you look forward to using it and that is what I have been doing for the last week.
When shaving with it, I noticed that the cutting angle is the standard one amongst the more agreeable razors like the Merkur and Muhle.  I immediately found my groove and proceeded to have an excellent shave.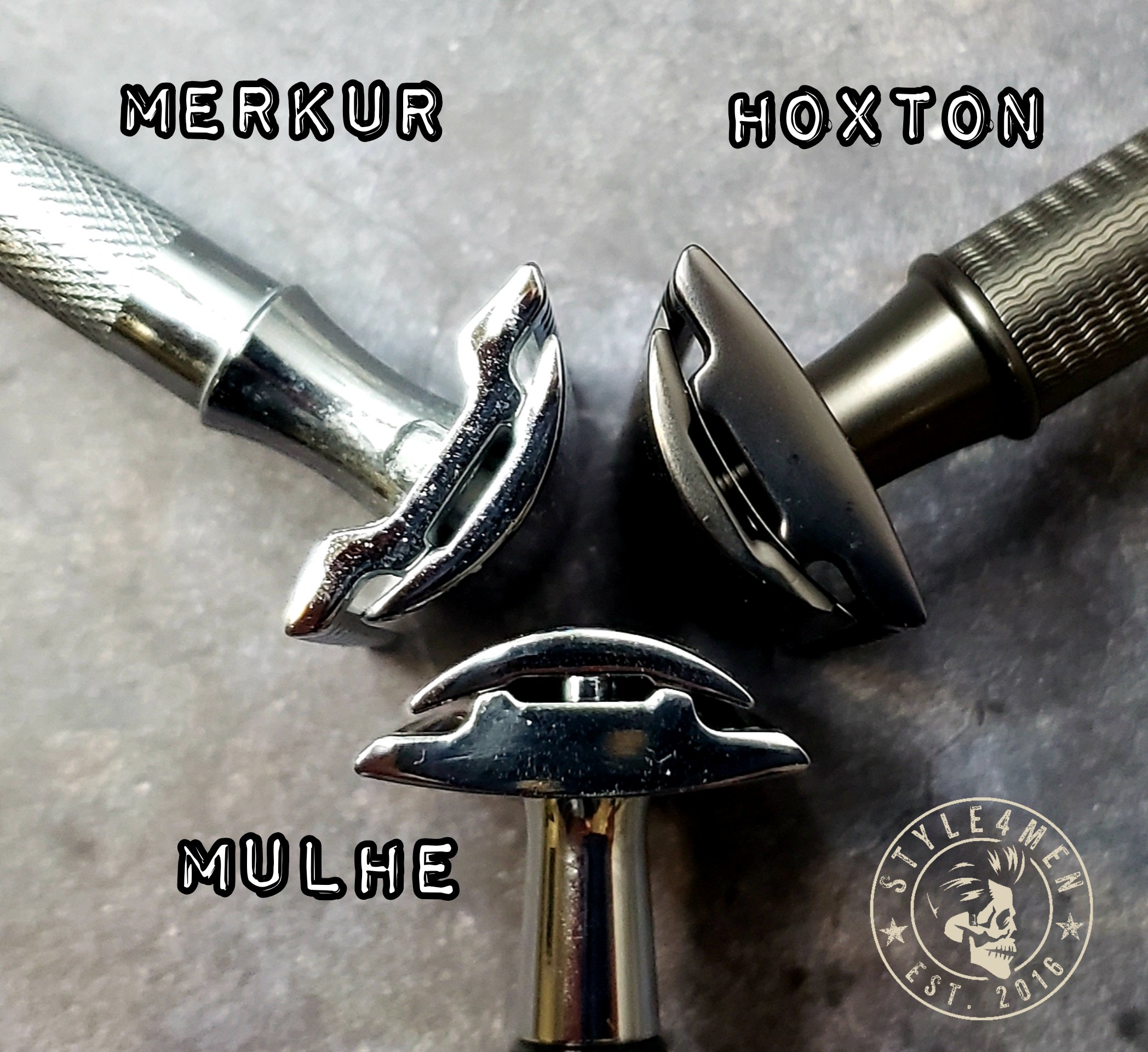 The razor head as width long openings on the base to help clear out shaving cream and hair when rinsing.  A nice and efficient solution requiring little water pressure to flush the razor out in between passes.
The razor is well balanced and because of its weight no extra force needs to be added to get the right pressure.  The blade angle and exposure make this razor easy to work with.  The experience shaver will enjoy it while the newbie won't be overwhelmed.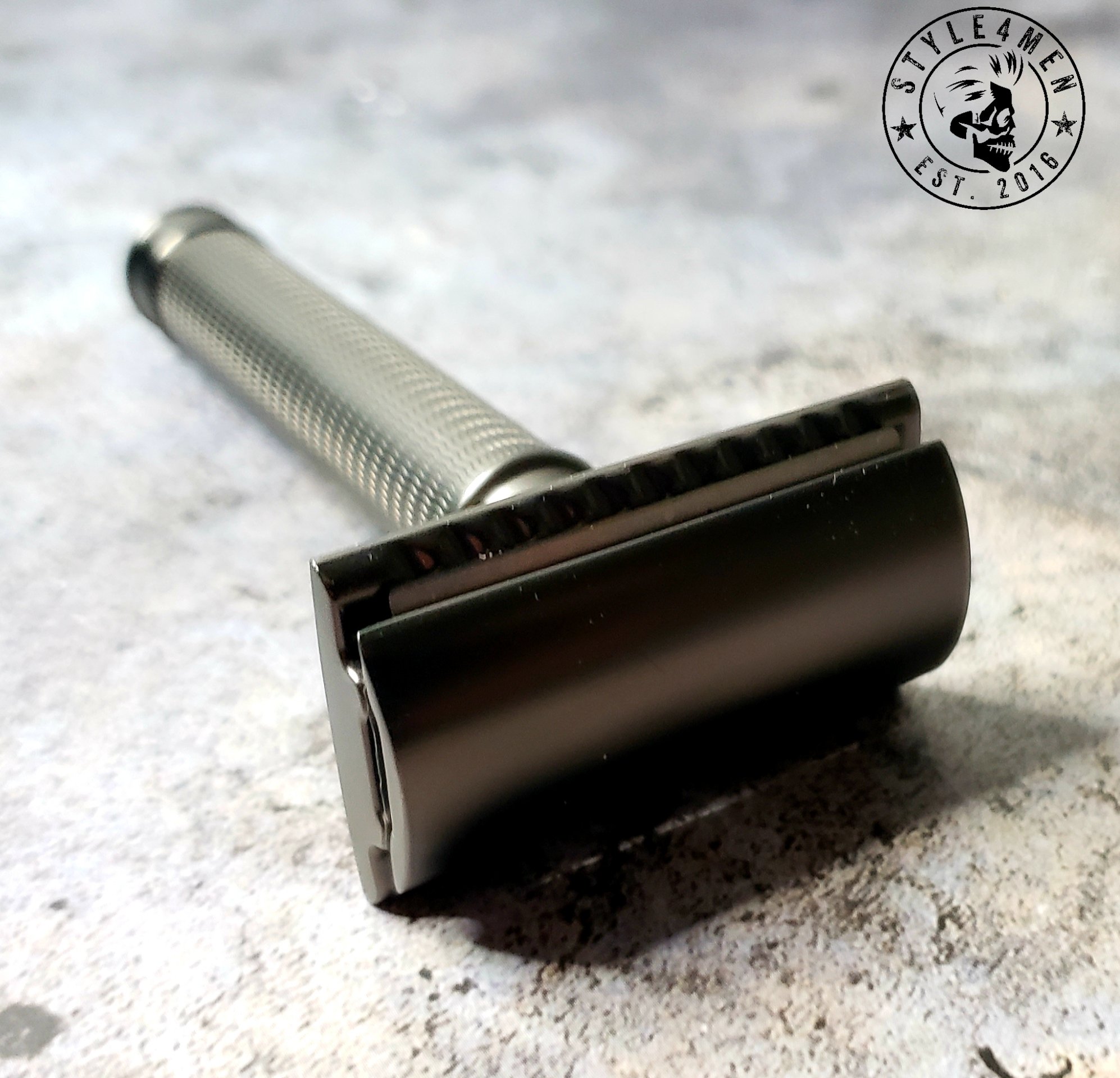 To sum things, the preshave balm by Kent of Inglewood is a game changer that took my shave from nice to luxurious.  Adding this preshave before my shaving cream brought the comfort level to something like velvet. The 3 pieces Hoxton safety razor was an equally impressive discovery with its looks and comfortable performance.  I can see many shaves where these two will be my preferred tools.