The Marvel by Fine Accoutrements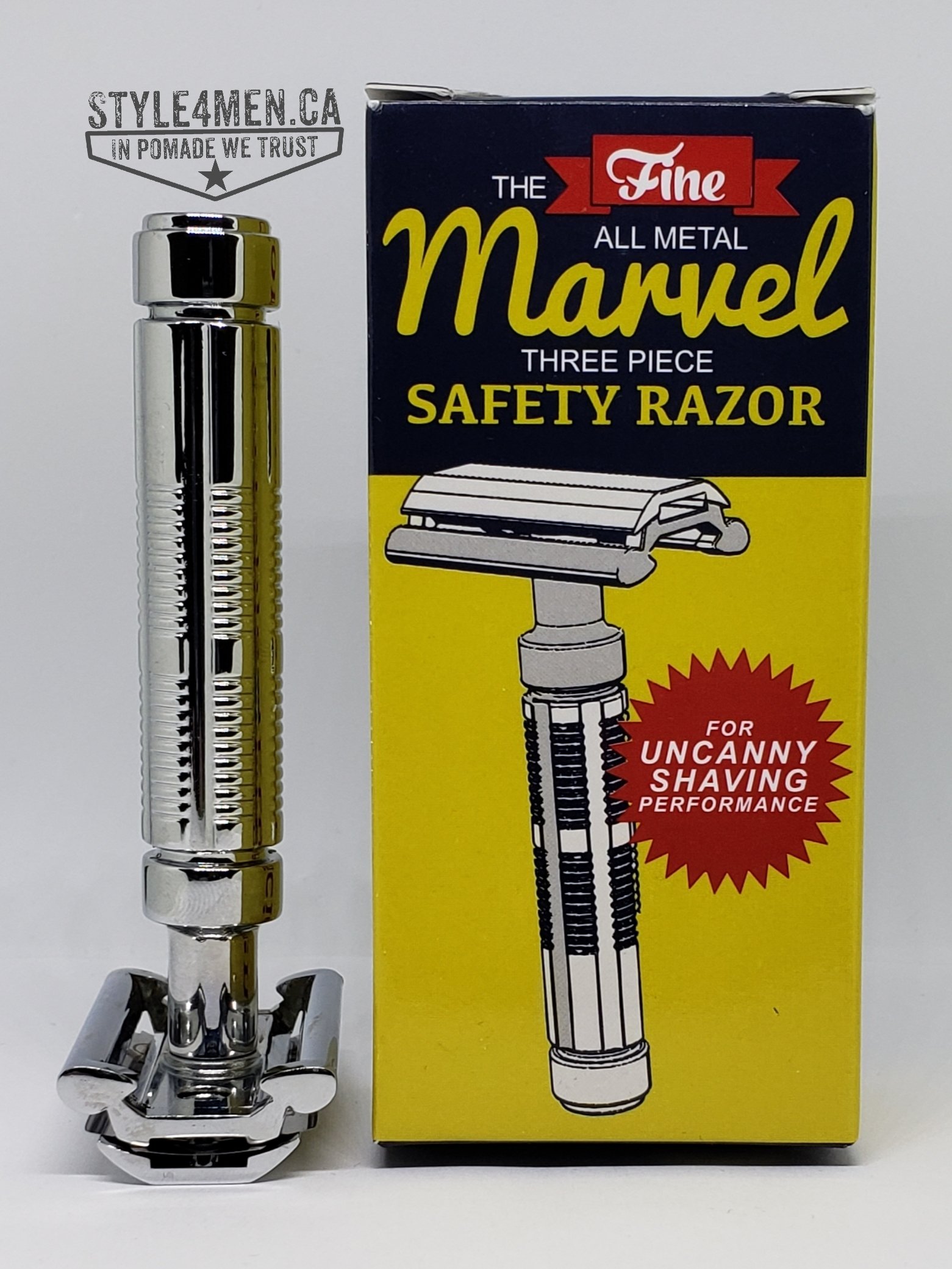 For you Style4men.ca regulars you may remember the brand Fine Accoutrements from a couples years back where we covered some of their fabulous shaving soaps. More recently we were able to feature their impressive aftershave balm.  In this post are very lucky to be welcoming the latest addition to the Fine family; the Marvel safety razor.  …and what a Marvel it is!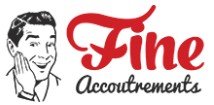 Shout out and thank you to Mr. Fine for your continued support and for making this review possible.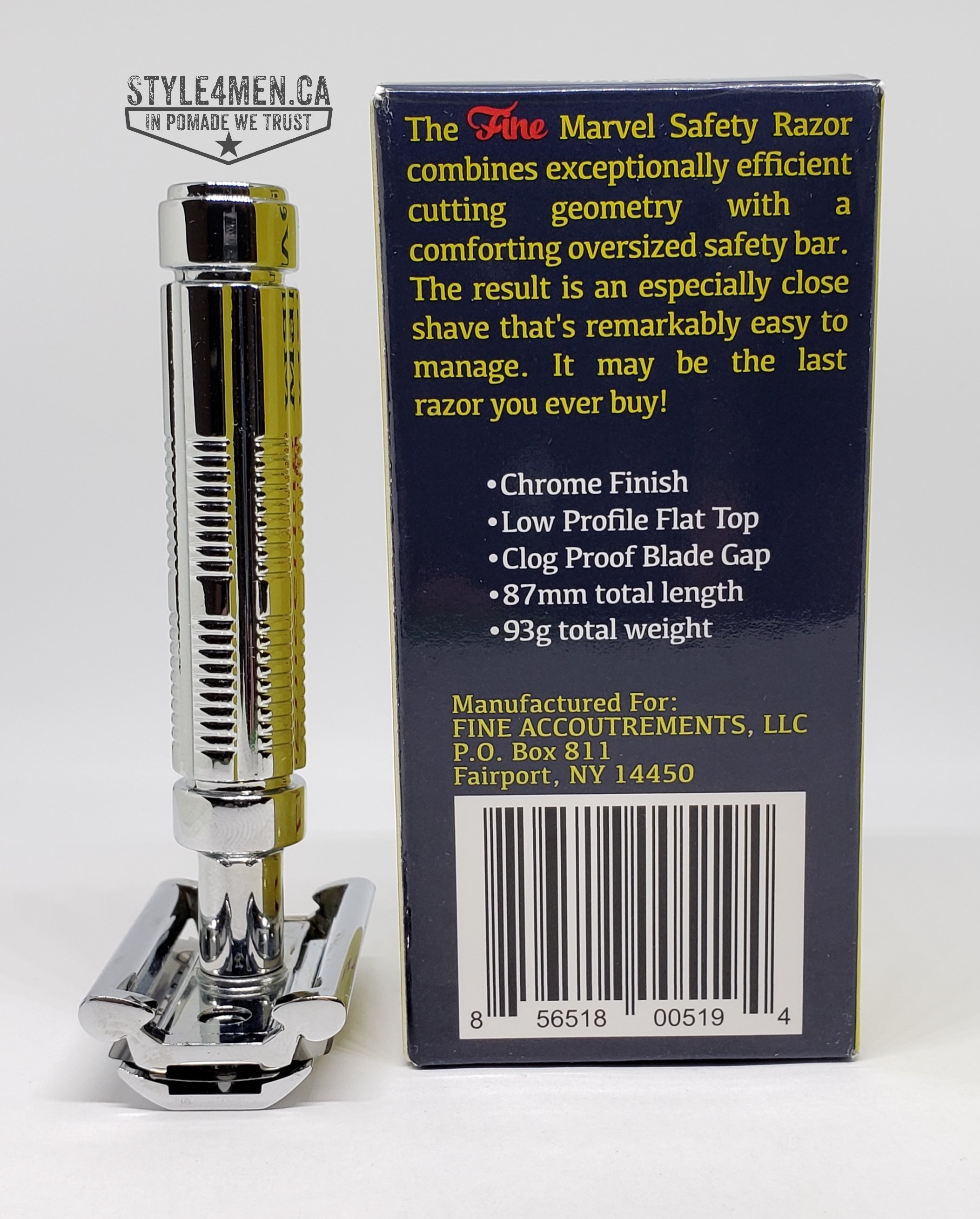 Barbershop revival or not, getting a double edge safety razor to market is not an idea that gets everybody's support.  Guys don't shave like that anymore! It's too much trouble.  It's dangerous! There are countless arguments and excuses to shoot down an old-school razor.   But, Mr. Fine, the man behind the Fine Accoutrements brand has proven that there is a demand for the tools, accessories and products to shave like its 1918, with his soaps, aftershaves and this latest razor.
We should specify that this is not the first razor coming out of Fine Accoutrements. The slant headed safety razor has been available for a couple of years already, but in many respects this is a razor for the gentleman with some if not allot of experience shaving with a safety razor. The slanted head is an incredibly ingenious idea as it allows to reach certain areas in an easier manner.  That said, by being slanted more of the blade is also exposed making it a tool commanding respect.  I use my slanted razor for shaving beards that are anything over 4 days old. The curve and blade exposure make it such that shaving a coarse and long beard is a breeze.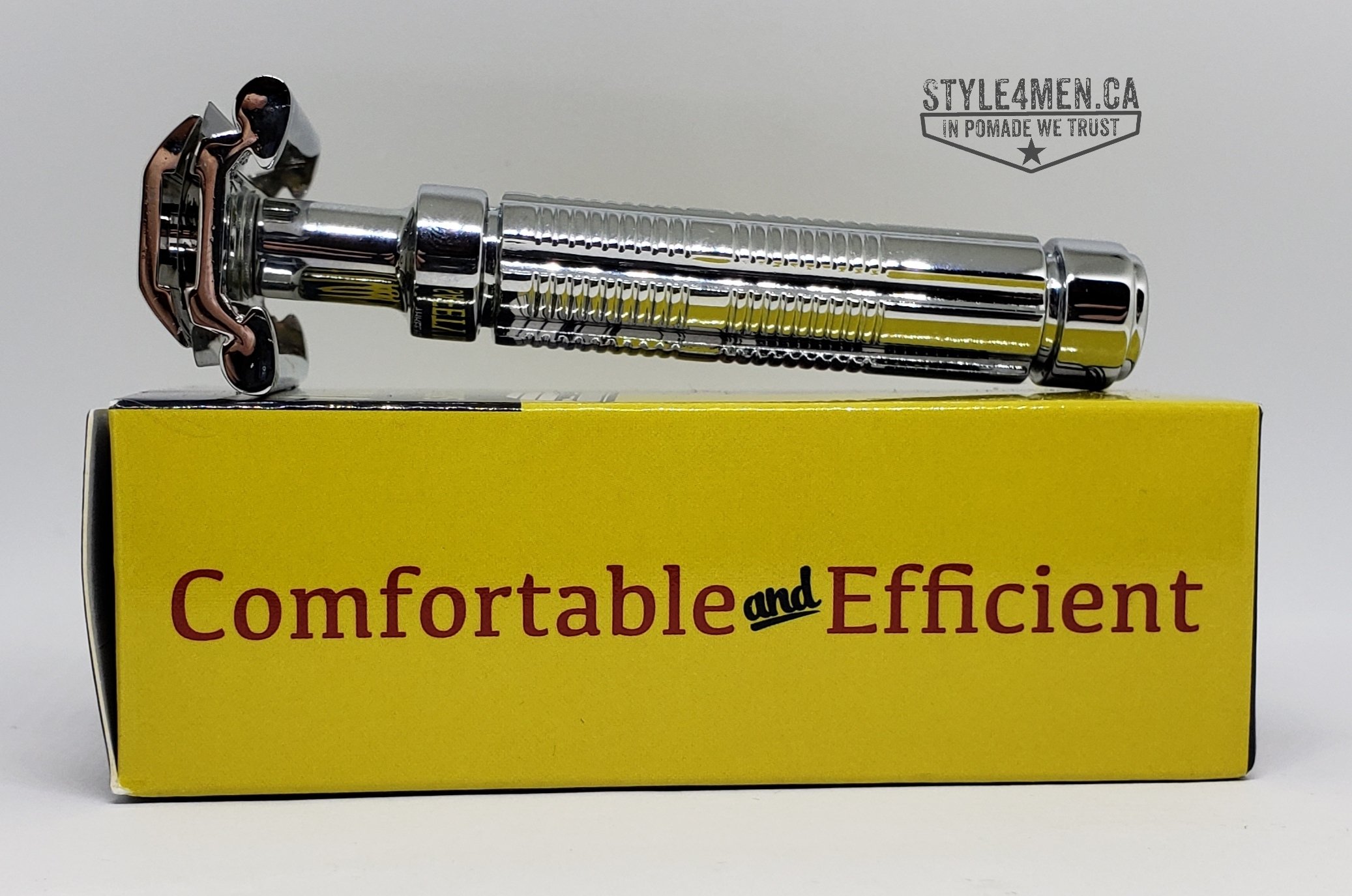 If the slant is not an everyday solution, what is?  A more conventional safety razor sporting a straight angle head which the Marvel is.  This is also a razor that will fit more men's budget at $40 as opposed to the $125 of the Slant.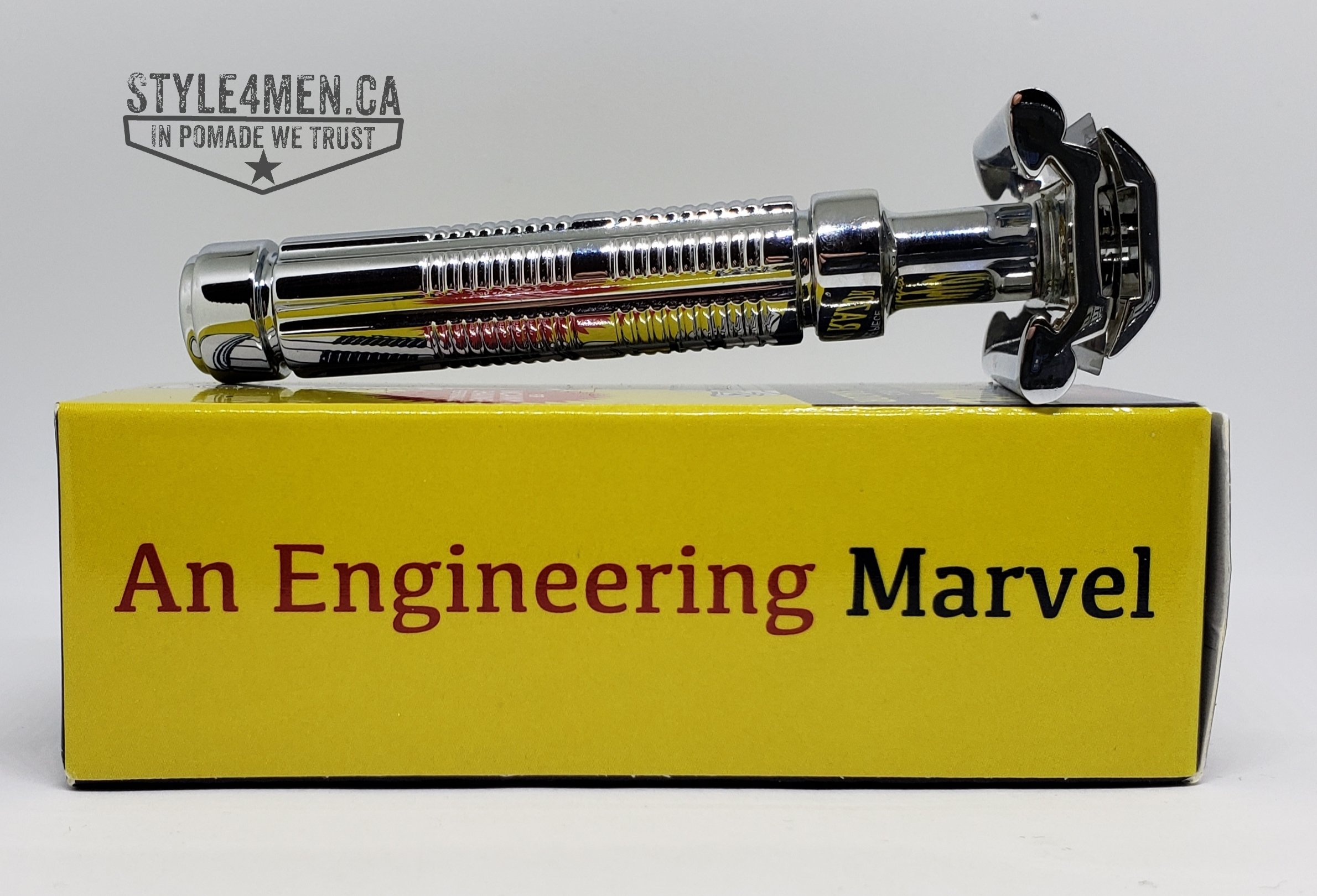 What are you getting for $40? You are getting a very interesting razor indeed!  First off this is a proper traditional 3 piece razor.  In my experience 3 pieces is the way to go as this simpler design is more durable and heavier.  We will get to the weight aspect in a moment.  The butterfly alternative is an ingenious option as it removes the risks involved with manipulating a blade, but the resulting blade angle tends to be unsuitable for coarse beard and sensitive skin which is the surface I am working with.  A 3 piece razor also tends to be able to offer some weight.  You obviously don't want a 3 lb razor, but when shaving you want a razor with some presence so that it can exercise a controlled pressure on your mug.  When working with a light razor you are left to apply the pressure you see fit and some unpleasanteries could occur.  The Marvel clocked in at 97 gr on our very scientific kitchen scale. 🙂 The 4 gr difference (the packaging indicates 93 gr) is most likely explained by my razor being loaded with a blade.
I want to talk a little about the packaging since it is straight: Vintage-Perfection!  It is a presentation type that comes right out of the decade's pasts.  Like mid-twentieth century.  I personally find it stunning and brilliant as it brought me back to simpler days where many things where packaged in this manner.  The simple 2 or 3 colour tones.  It is incredibly distinctive and it's the first thing that stood out.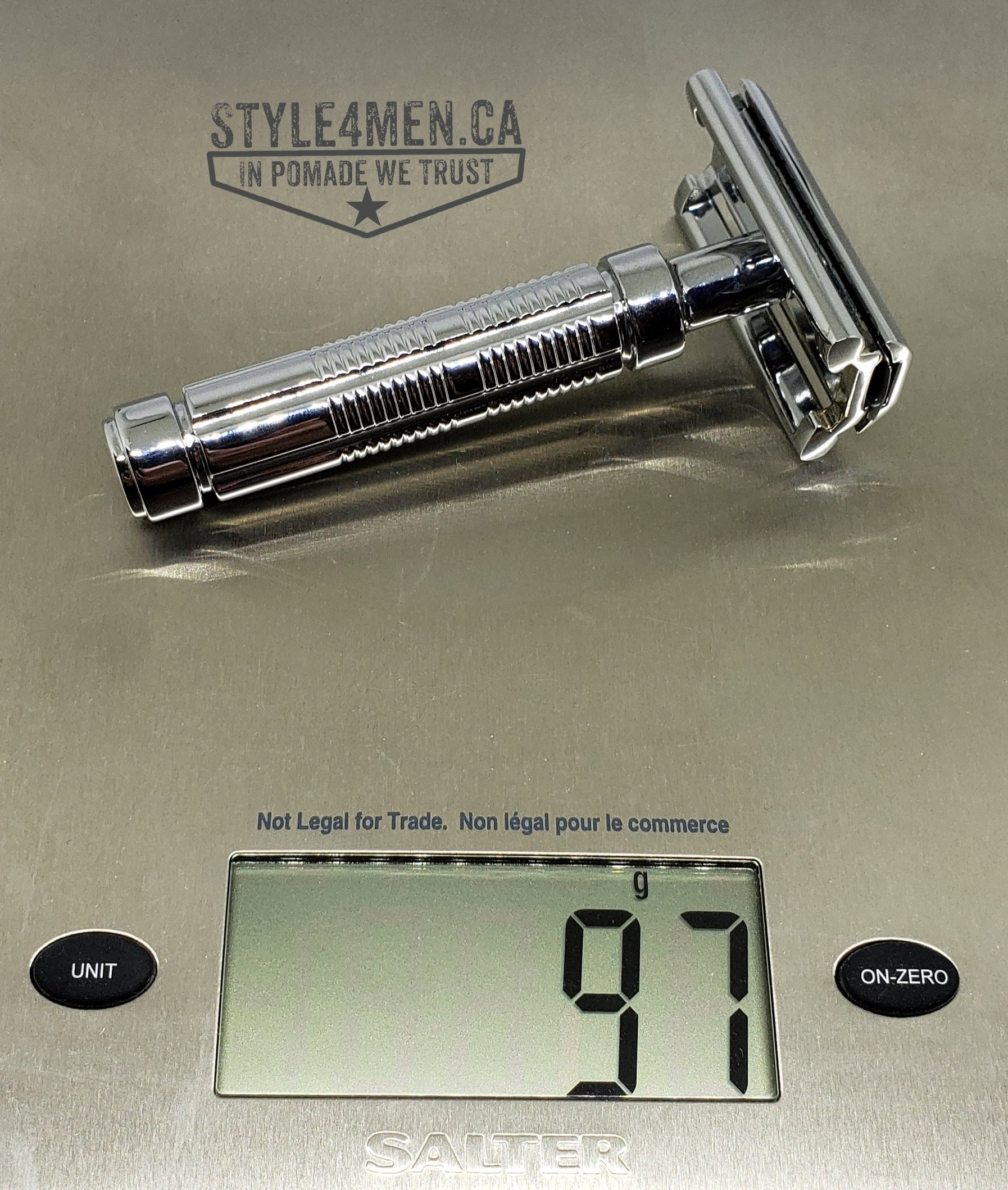 The finishing on the Marvel is, well… marvelous.  The chrome plating makes it a superb razor.  The detailing on the handle and head have a number of unique points.  On the base of the handle you will find the Fine Accoutrements "F".  The handle itself is totally original and does not remind me of any other razor out there. The head pieces are equally original where the base plate has these two cylinders like tubes.  Coming back to the handle, it is 3 ¼" which will be comfortable to most wet shavers.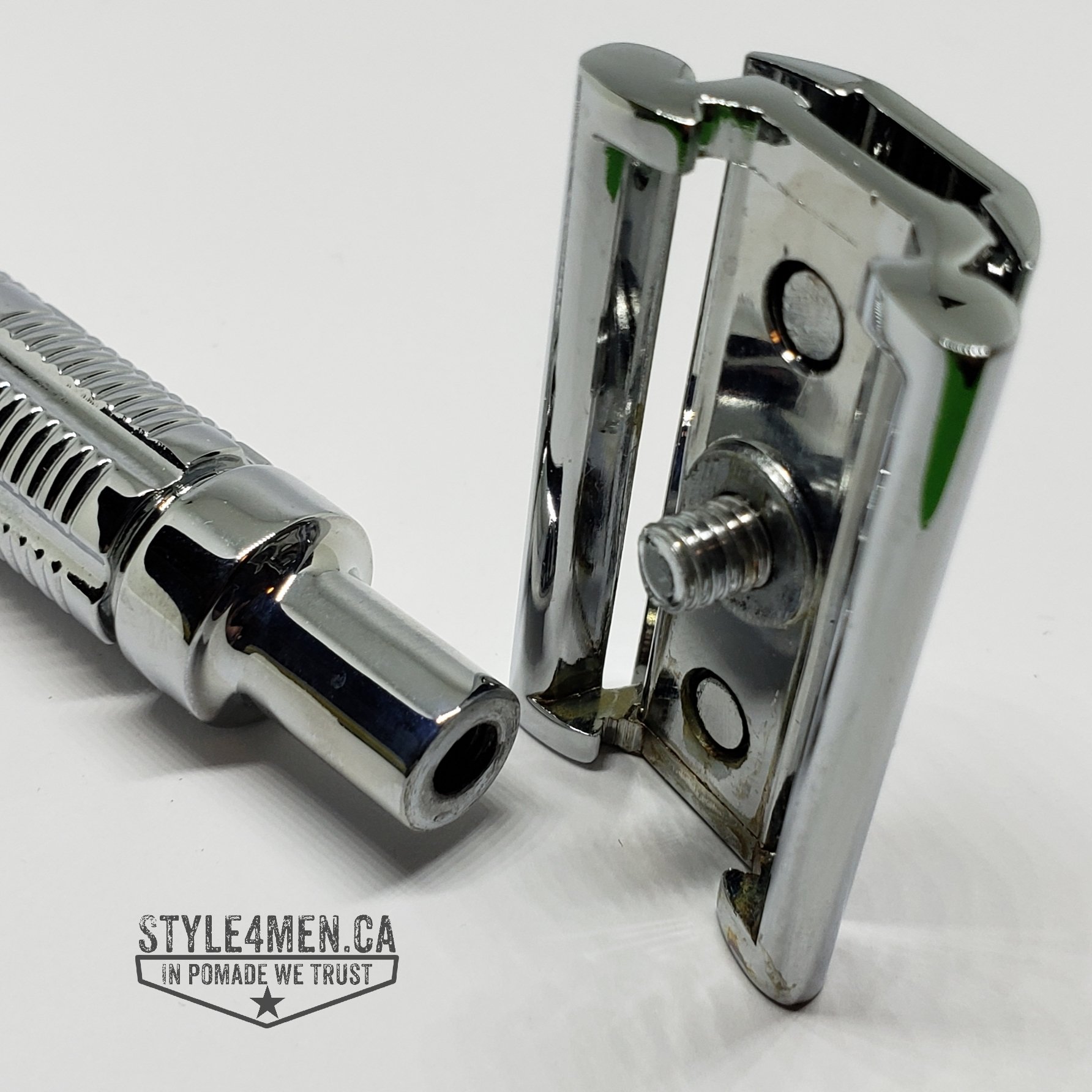 The big ticket item to establish if a razor is a fit to your face resides in the blade exposure.  The blade exposure is a two part consideration.  First, how much blade is exposed – simple enough.  Generally, this is a standard at some 2 millimeters. Where things get noticeably different is the gap between the blade and the base plate.  The bigger the gap is the more shaving can be achieved.  You will find that more beard is being shaved off in a single pass, therefore reducing the number of pass to do.  If you are already shaving with a safety razor, keep in mind that this is a different razor and you might just have to proceed differently and it could surprise you to find that you are getting the job done faster.  I had to change my shaving angle and noticed that more beard was being wipes off in one pass..  Give yourself 2-3 shaves to get the hang of it.  Coming back to the gap, if you are shaving multiple day's worth of growth this will be exactly what you want because the razor will be able to get in there and do its job.  It also won't get clogged up with beard hair in one pass.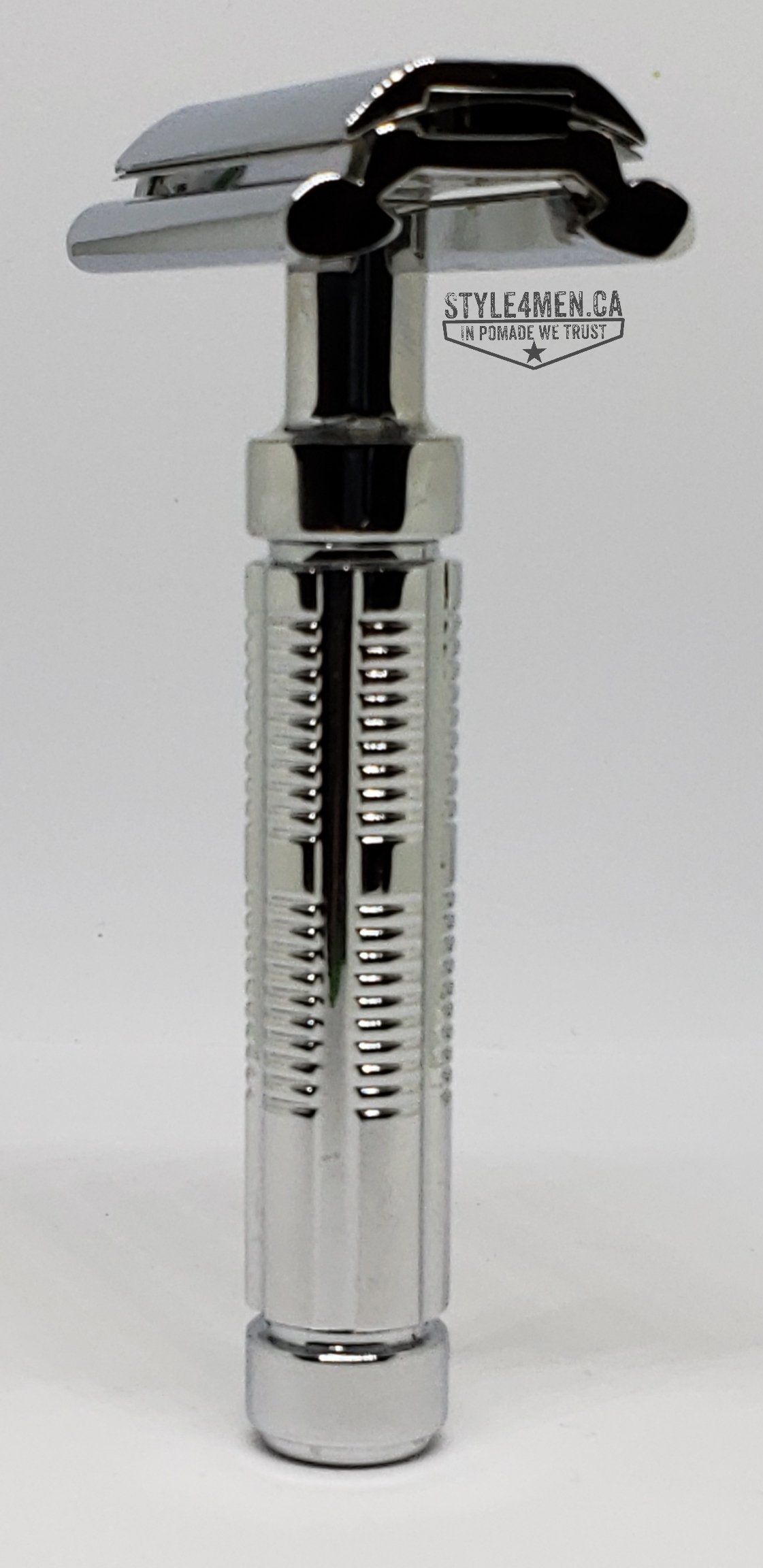 I compared the spacing of the base plate to another well-known razor, the Rockwell 6C.  The 6C is an adjustable razor where different spacing can be obtained by switch the base plate between 6 options.  Plate 1 is the tightest one and thus the gentlest of shaves.  Plate 6 is the one offering the biggest gap.  Plate No1. is perfect for the novice or little beard growth.   Plate 6 is for an experience shaver with equally serious beard growth.  On a daily basis, I use plate No 2.  To shave off more intense beards I will juggle between plates No. 3. and 4.
This information is to situate you with the type of tool this is.  The Marvel has a bottom gap comparable to the Rockwell 6C with plate No. 6. Here is where things get interesting.  Even though the gap is similar, I got a more comfortable shave with the Marvel then I would with the Rockwell using plate No. 6.  I believe that this is due to the large tube like edges offering a larger padding surface.
TEST STAGE: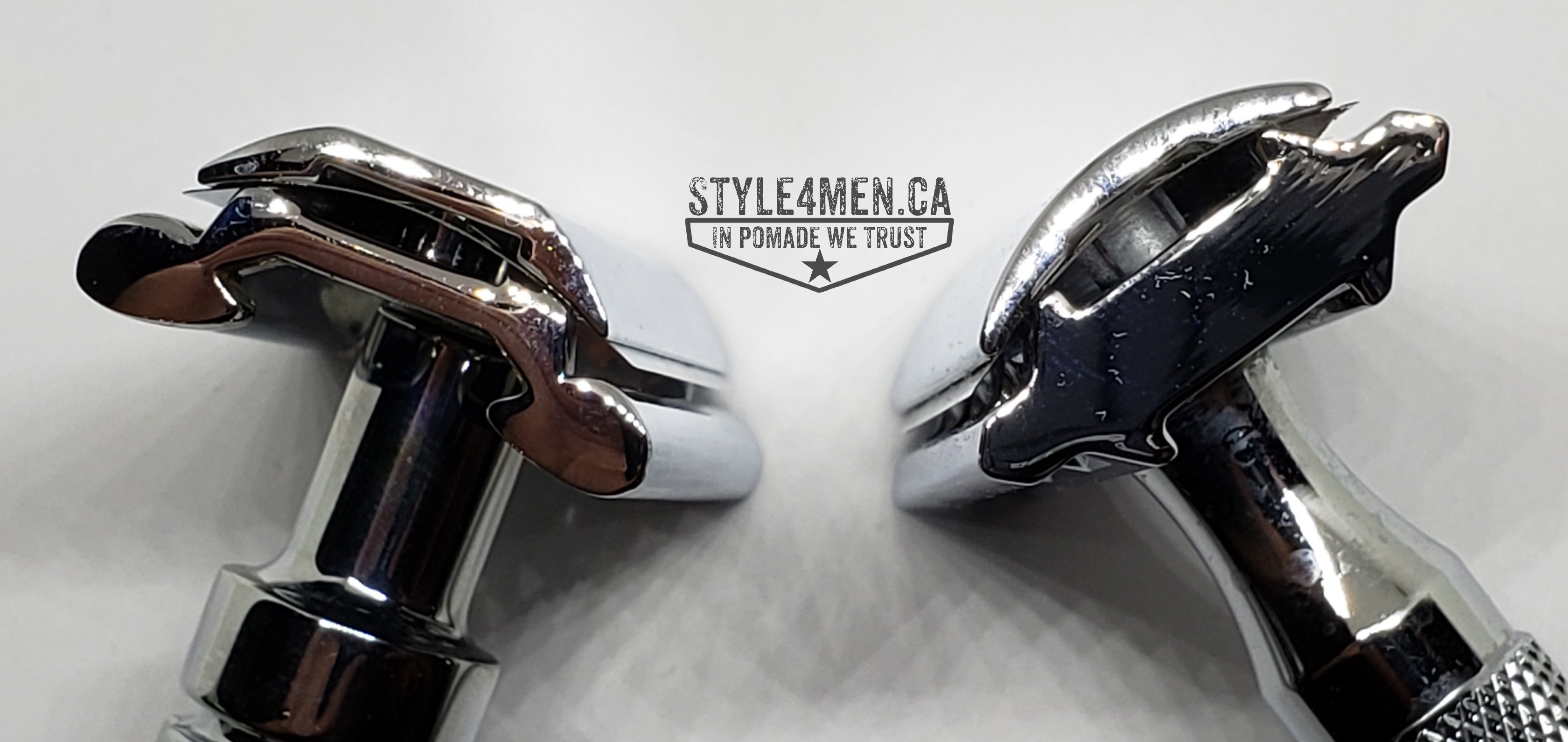 The Marvel next to the Rockwell 6C with plate No. 6
As with any safety razor, the quality of the shave and the overall experience or comfort level will depend in great part with your choice of blade and the products used.  As of late I have been tremendously impressed by the Russian VOSKHOD blades.  I find that they are that sweet spot between the Sharks and the Feathers.  The Sharks are a great starter blades but you will outgrow them, while the Feather are too sharp and very expensive at $80 / 100 blades.  Most good blades are in the $15 / 100 blades range.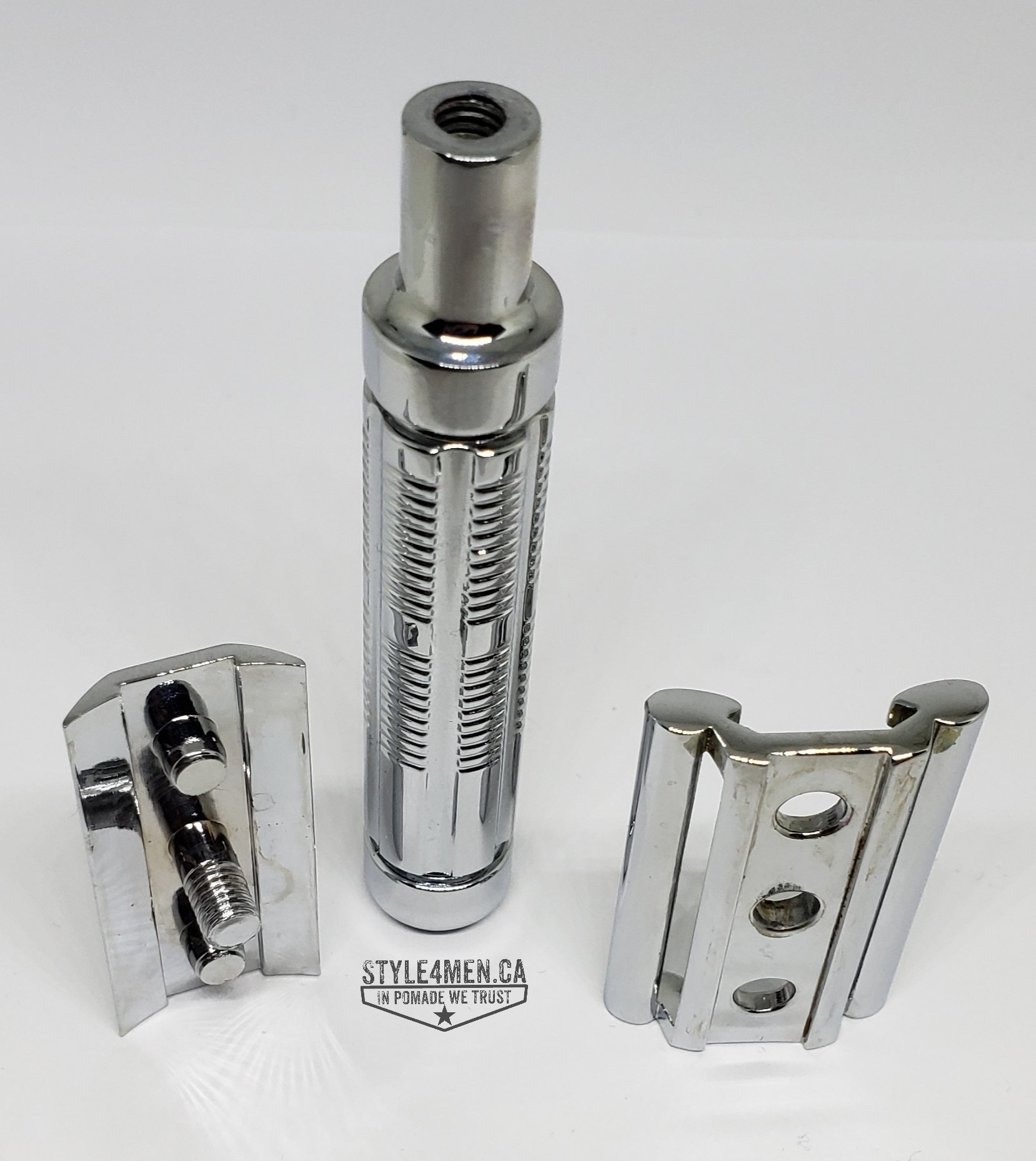 On the product front, you will get the best results using 3 products: a pre-shave oil, a good shaving soap or cream and finally the aftershave.  If you are going old-school alcohol splash, you might consider following up with a balm in the next hour to prevent any excessive dryness from occurring. When I started Style4men.ca I was not enjoying the aftershave splashes.  My opinion did a full 360 when I was exposed to some of the incredible aromas that were available.  These splashes were like no other colognes I had been in contact with. Fine Accoutrements has an awesome scent selection.
Many things can go wrong in a shave.  Working with bad products can turn the whole thing into a regrettable event.  Having sensitive skin I tend to select products that are simple in their composition and limited in their number of participants.  Less risk of a reaction with my skin and less risk of reactions between ingredients.  Natural pre-shave oils and a proper shave soap will help things in the right directions!
This morning was such a shave where all of the necessary conditions game together.
Coming out of the shower, I prepped my mug with a pre-shave oil of my making (coconut oil based), whipped up the Fine Accoutrements soap and covered my face.  Both the oil and the soap cohabited harmoniously!  Onto the shave!  Appreciating that the  razor has a bigger gap I angled it a bit more.  Even though I had a 5 days worth of growth to shave off, the razor did not clog up and was easy to rinse between passes.  Perfectly comfortable!  Not cuts or nicks.  A wet towel to remove the excess products and then a thin layer of after shave balm was gently rubbed in.  A nice refreshing kick was felt from the menthol.  Perfect!  Even some 8 hours after the shave my mugs still feels great.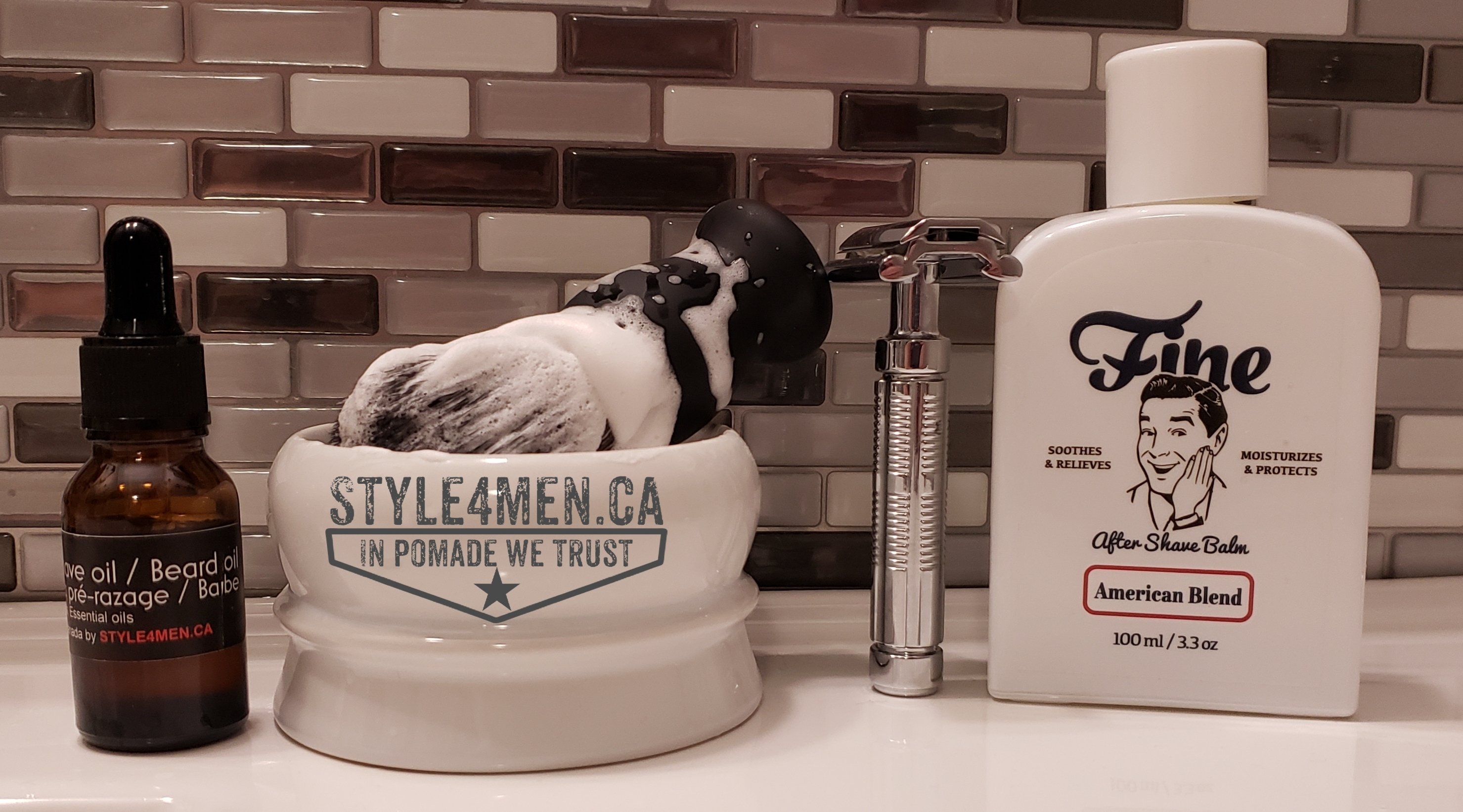 Something worth mentioning is that, Fine Accoutrements had a clear desire to produce a razor that was apart from the others and did the hard work of innovating instead of  producing a generic "stamp-my-brand-on-the-head" type of thing. Kudos to Mr. Fine for going through that process and delivering something new.
In closing, the Marvel  impressed me with its unique and original touches.  On top of its good looks, the Marvel turned out to be quite a capable player giving a very comfortable shave.  You might consider $40 to be a bargain or an expensive option depending on your situation, but  this razor could easily be compared to others that retail at considerably higher prices.  We would venture to say that the Marvel would be a welcomed addition to any wet shavers arsenal.
You can shop directly with Fine Accoutrements using this link: