Traditional Shaving Soaps by Arsenal Grooming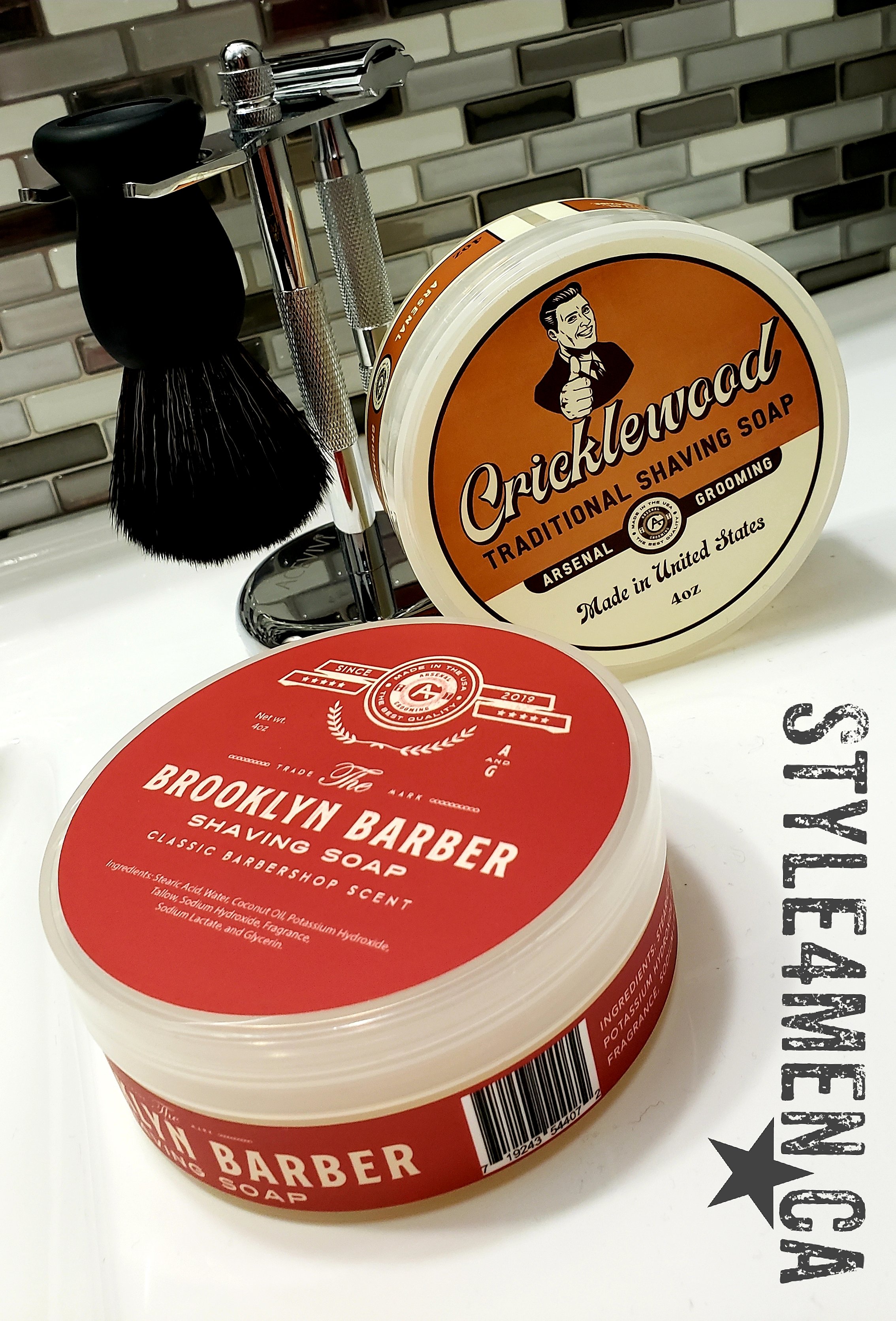 This is our first contact with the traditional shaving soaps by folks over at Arsenal Grooming. These Artisans offer an array of no less than 8 shaving soaps scents with companion aftershaves. The perfectly vintage labeling along with the original scent assortment is what drew me in.


Having shaved for just over a week with the Arsenal Grooming soaps, what did I think?!
Here is what I liked:
Soap is within a large 4 oz plastic tub making it easy to store and mess free.
There is allot of soap
Short and simple ingredient list
Pleasant scent
Suds up very fast
Easy to clean off my mug after the shave
Just as easy to clean out of my brush
Did not irritate my skin in any way
What I liked less:
Lighter texture foam
The fact that soap comes in its own tub is a key perk in my opinion.  First because it is not a given in the industry.  Second because it makes the whole experience tremendously easier.  If you have gone old-school with your shaving it doesn't necessarily mean that you want to part ways with every comforts of modern life.
Ingredients:
Stearic Acid
Water
Coconut Oil
Potassium Hydroxide
Tallow
Sodium Hydroxide
Fragrance
Sodium Lactate
Glycerin
When shaving with soap, I always use a pre-shave oil. No matter how good the soap is, its primary job is to create a lather to insulate your mug.   I turned to my own house-blend of coconut pre-shave oil .  Then applied the soap which covered my mug quite nicely.  The subsequent shave was easy and comfortable.  The soap rinsed out with ease in between passes as it did with the razor.
These days my shave is limited to the cheeks and neck as I am sporting a short beard.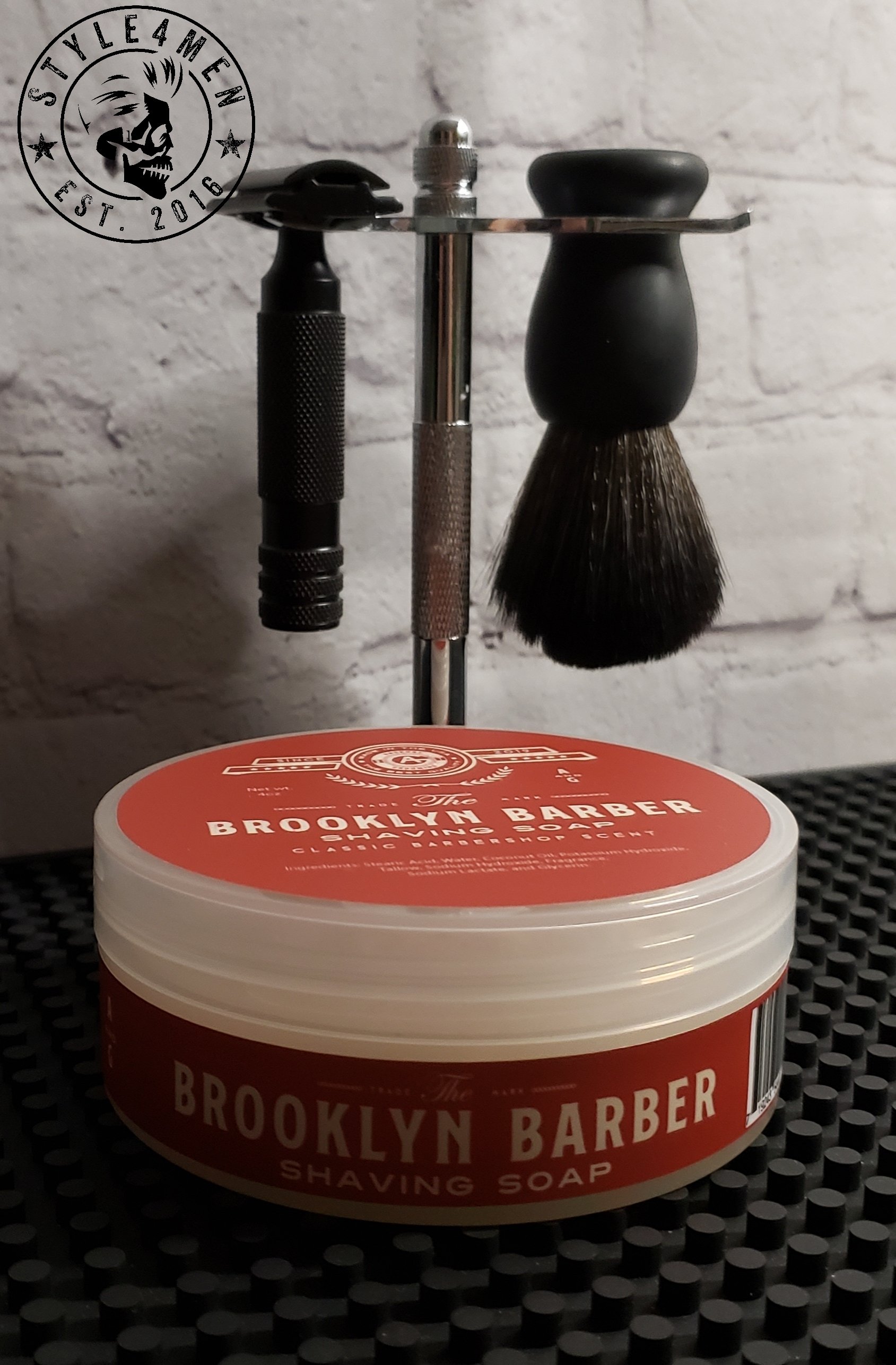 I am working with 2 shaving soaps, the Cricklewood and the Brooklyn Barber. Both have pleasant and tamed scents.  Keep in mind that you simply want the soap to smell good when working with it.  There is no expectation that this will replace your aftershave or cologne.  That said, here are my impressions.
The Cricklewood has a thicker and creamy soap aroma.  This is a clean and wholesome scent.  As per Arsenal Grooming, the scent notes are: Bay Leaf, Tobacco, Fir Needle, Cedarwood and Bergamot.  My nose can detect some elements of tobacco with a very faint bergamot.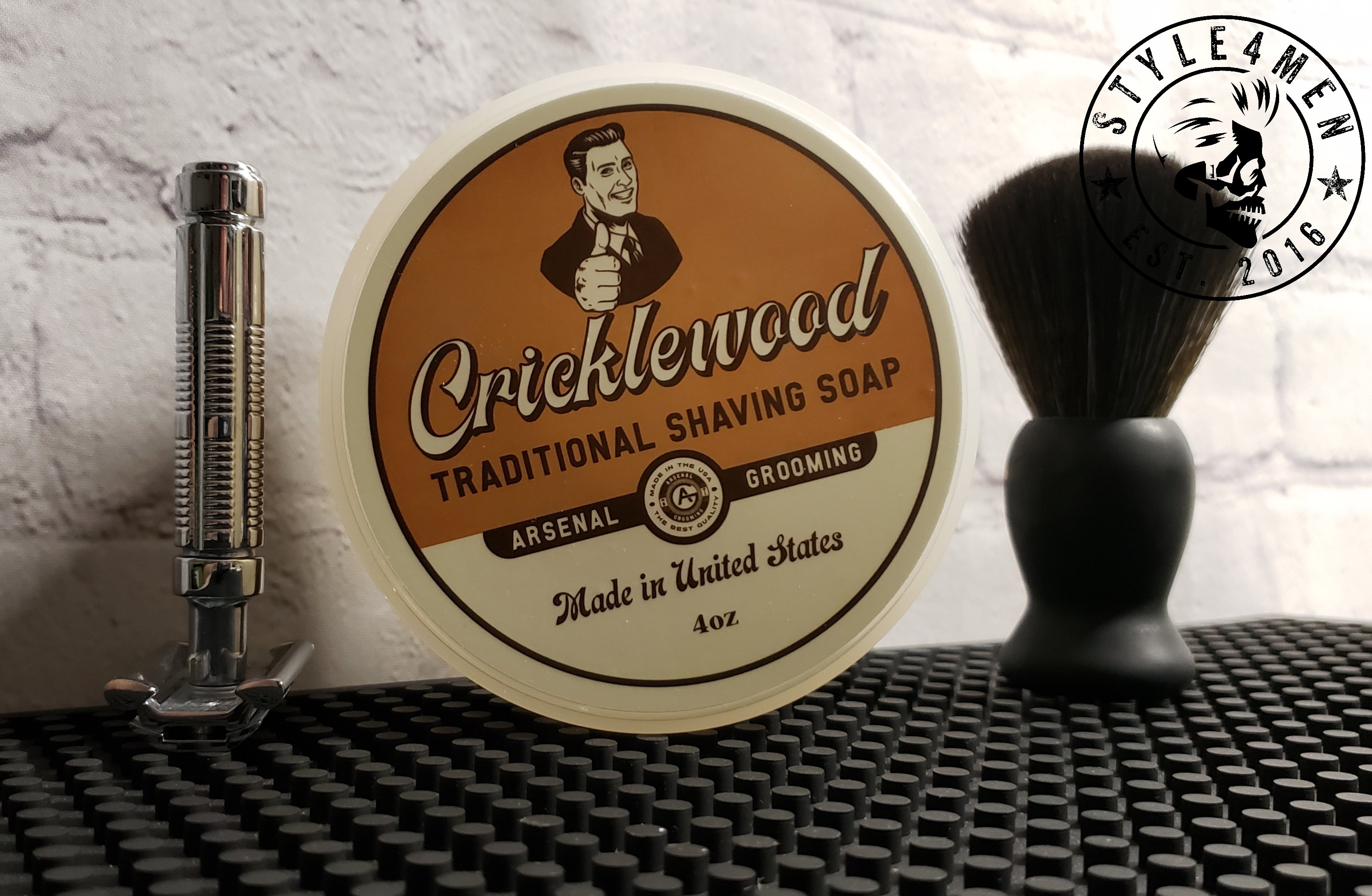 The Brooklyn Barber has a spicier thing going on that would be reminiscent of a custom bay rum barber shop splash.  As per Arsenal Grooming, the notes are:  Lavender, Star Anise, Rosemary, Geranium, Vetiver, Oakmoss, Oud, and Bergamot.  The lavender, anise, vetiver and bergamot are perhaps the more present elements.
Of the two, even considering that they are arrangement in closer proximity to one another, I enjoyed the Brooklyn Barber more.  Quite possibly just because of its "barbershop" persona which obviously speaks to passion for all things "Barbershop".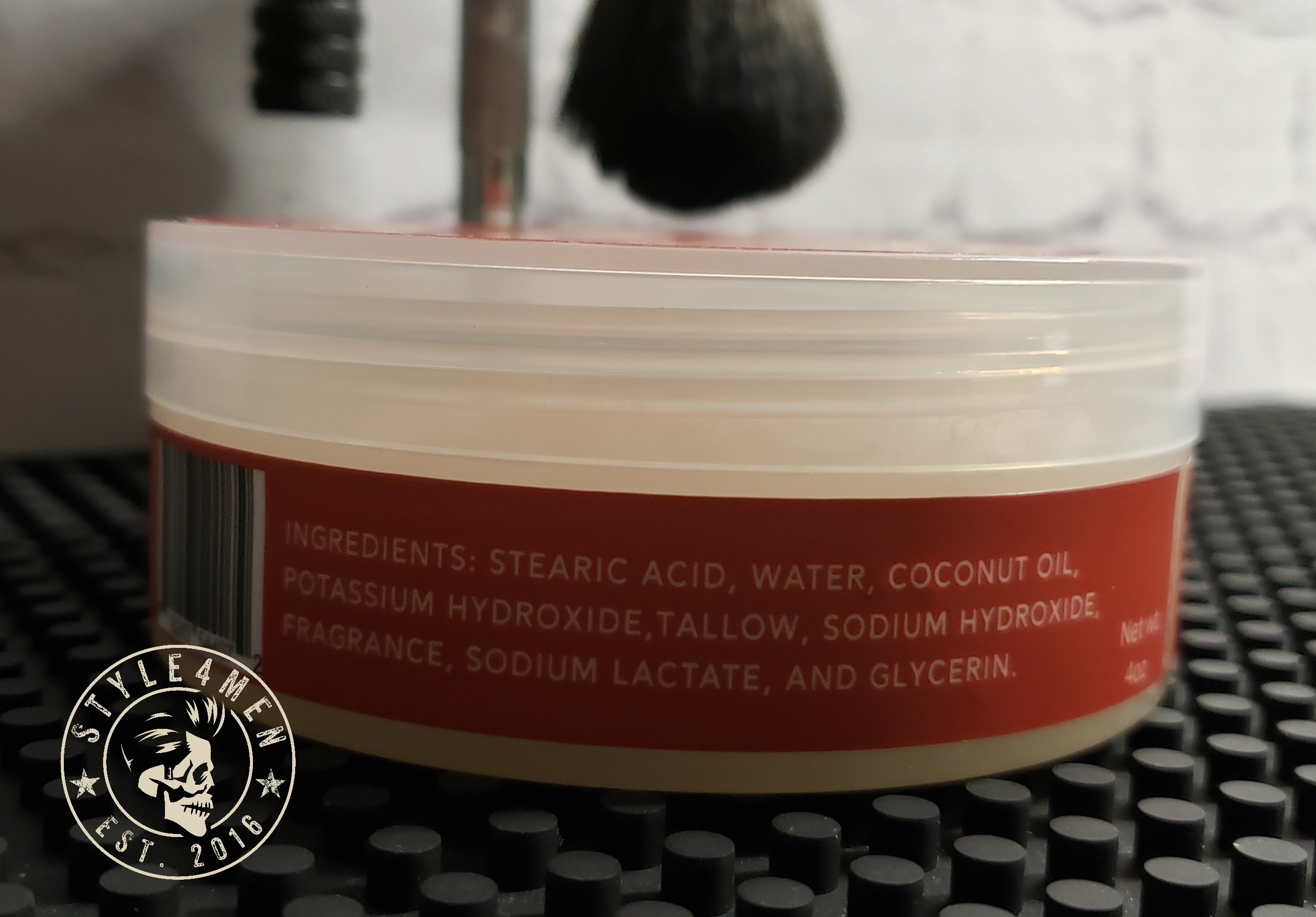 Now I have to say that Arsenal Grooming does produce the companion aftershave splashes for all of its shaving soaps, but because of the complications concerning shipping alcohol based products across our borders it was not feasible to get the said splashes. This is unfortunate because the olfactory portion of shaving mostly lives in the aftershave.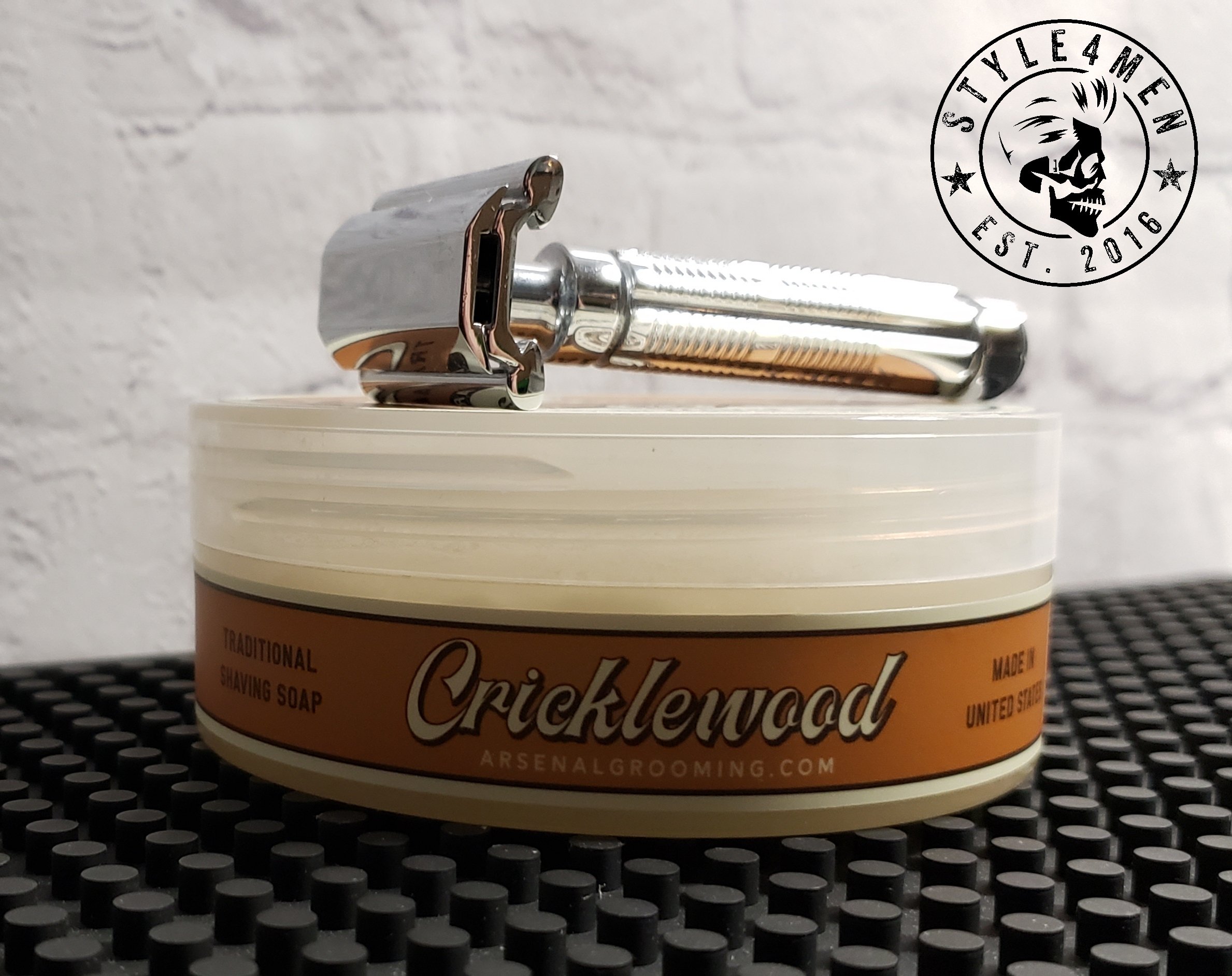 In Closing
Even though Arsenal Grooming is a new comer they are taking the game on with a real passion and jumping in with no less than 8 shaving soaps and aftershaves.  The shaving soaps are comparable to considerably more expensive brands and for a mid-twentieth century buff such as myself, the vintage labeling finishing touch seals the deal.   All and all a worthy brand to look into!
PS – The soaps have wet my appetite and I will have to find a way to get some of their aftershave splashes.