ZIRH Erase Aftershave Relief Tonic – A non-alcoholic liquid solution
I have been meaning to write a follow up to the ZIRH shave cream for a while now.  Perhaps 2 months after buying the ZIRH shave cream jar I was finally able to get my hands on their aftershave tonic at Winner's (again).  My preference is always to use shaving products together as the working companions they were meant to be.  Initially I could only get the shave cream so I had to make do and test it with aftershaves from different makers than ZIRH.  Now having both products, the review loop can be closed.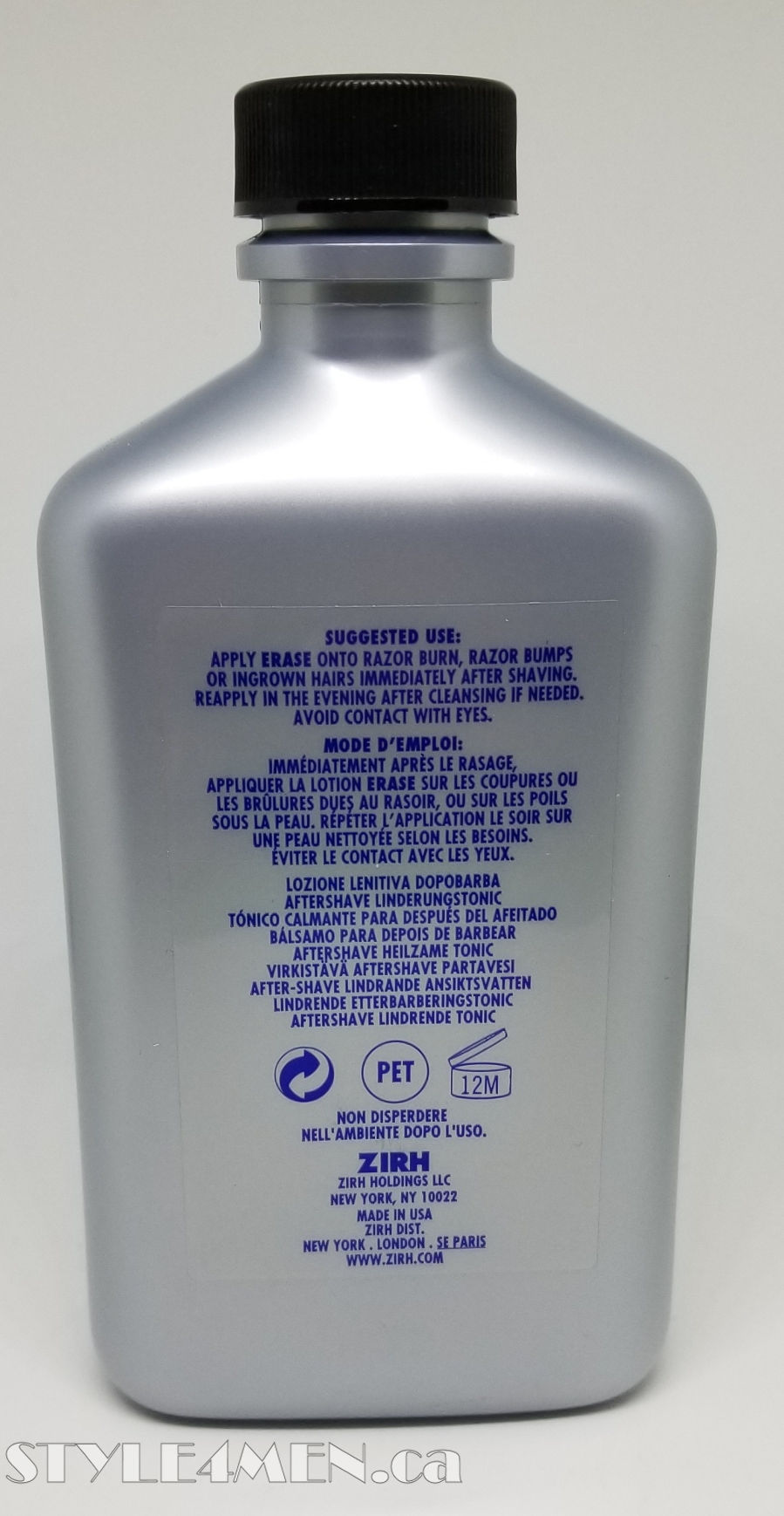 This ERASE relief tonic sells for $32 US on ZIRH.com plus some completely unreasonable shipping cost to Canada ($15 US).  And since the purchase is over $20, you are also subject to customs, making this something like a $60 + CND purchase.  That is well outside my budget for an after-shave.  The bottle was being sold for $8 at Winner's making it completely affordable and well worth trying.
Before the 80's alcohol based aftershave is essentially all there was.  Fast forward to today and the choices of non-alcohol based aftershaves are endless.  That being said, most of them present themselves more or less in the same manner, as a cream.  Finding something that is a non-alcohol based liquid is rather rare.
This aftershave tonic is thus a completely different post shave product.  We are use to, or expect a post-shave product to be a cream.  Before creams it was alcohol splashes.  This tonic fit somewhere in-between since it is neither a cream nor is it an alcohol splash.  Perhaps it is closer to the splash because it is liquid.  But that is where the resemblance stop.  Alcohol might be good to disinfect and give that cooling sensation, but science has shown us that alcohol kills all bacteria, good and bad.  It is therefore not the best solution to repair the skin after an irritating process like a close shave.
This is where the ERASE relief tonic is interesting because it is jammed packed with natural extract which get busy appeasing and repairing the skin after the irritating shave process.  Often enough I praise product makers for keeping their recipe simple and going the natural route.  The ZIRH ingredient list is by no means short, but it is certainly an interesting read.  There are a number of citrus fruit extracts (orange, lime, grapefruit) along with cucumber to name but only these.  Clearly, ZIRH is not keeping it simple but they are certainly going the extra mile to keep it natural and original.  For that, they get points.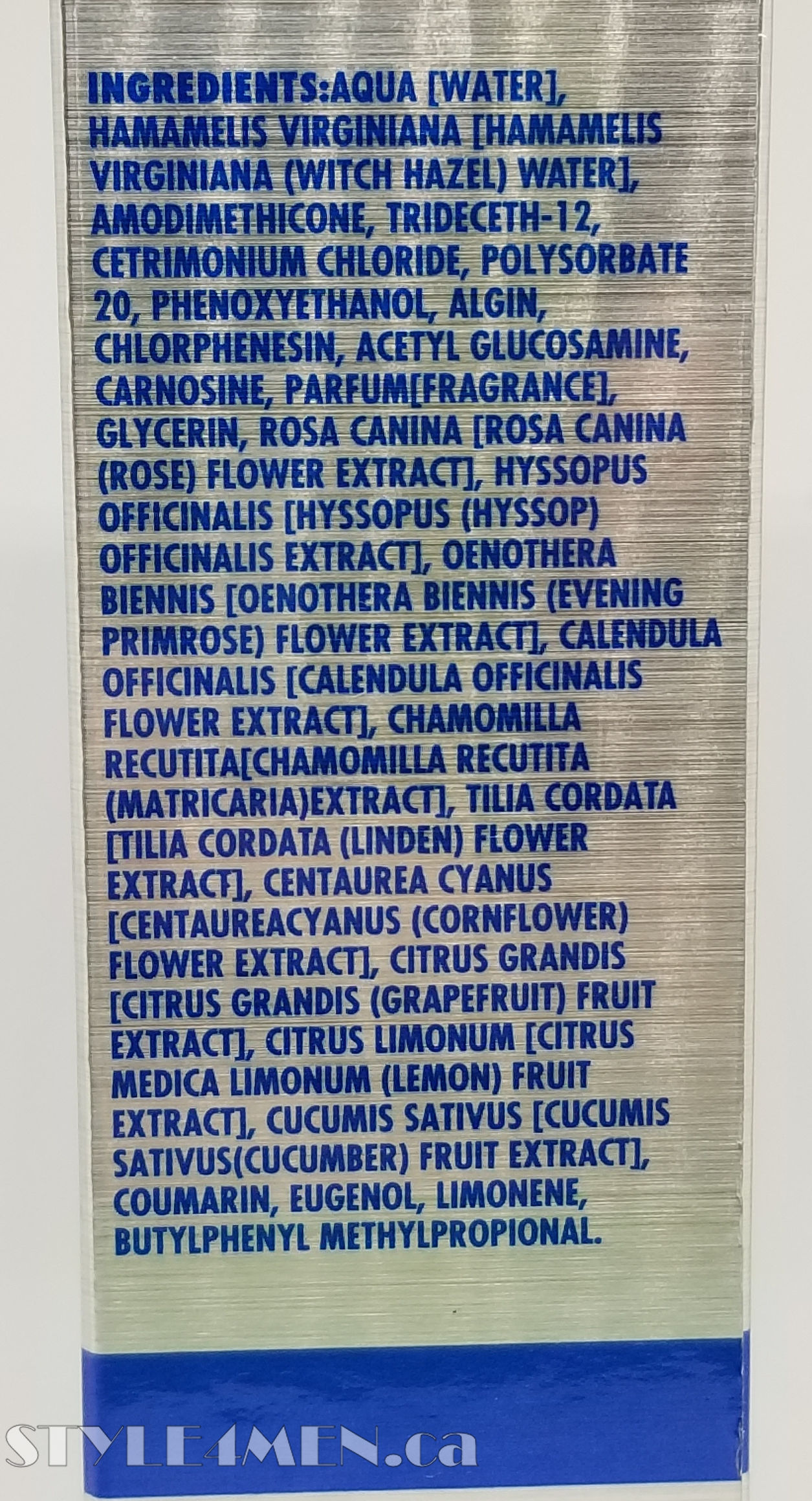 The tonic from ZIRH is interesting in the sense that it's unique in its product category.  Using a post-shave liquid that was not alcohol based was a first for my mug.
Some of the qualities I enjoy of this product:
Cleans the skin
Refreshes the skin from any burning or irritation
Dries fast
Easy to work with (not messy, slimy or in any way unpleasant)
Does not leave a sticky or oily residue
Living within my means, dictates that I wouldn't have tried this product if I had not come across it at Winner's for $8.  That being said, I am glad I did get to try it as it is a unique product.
Note that if you subscribe to the ZIRH newletter you will be made aware of their frequent sales where products are priced well within reason and if you happen to be going to the US you might also be able to avoid the expensive shipping costs to Canada.  For the rest of us there is always Winner's.
Alternatively you can also find this product on Amazon: