Hawkins & Brimble Pomade – Classic and Unforgettable in every way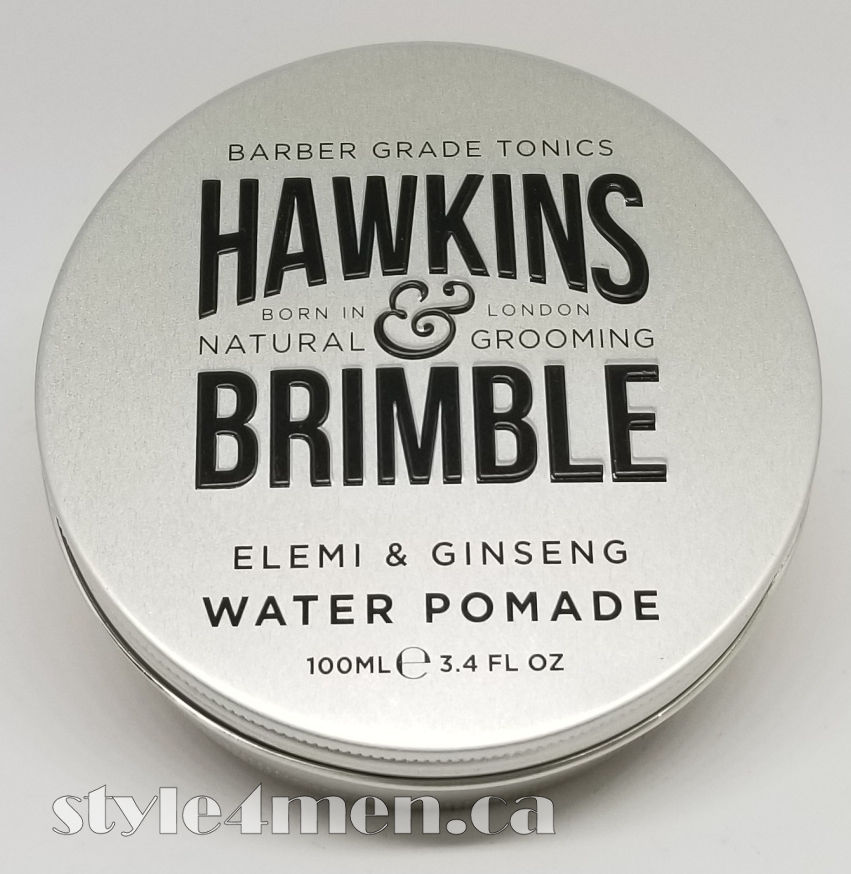 Hawkins & Brimble is a British brand that has caught my eye.  They make a number of men's grooming products from shave cream all the way to hair pomade. Presentation wise, it is very appealing in a classic manly way.  Recently, our friends at "The Modern Man" were having a sale on this brand and I decided to start the exploration with their pomade and ordered a jar.
Everything about it looked promising.  A proper metal thin jar.  Elegant letter stamping on the lid.  No skimping in a full 100 g can. A nice golden reddish water pomade.  The can was going for some 8 British pounds or just about $15 Canadian dollars with nearly free shipping to Canada, from "The Modern Man".  The next to nil shipping part always amazes me.

"ELEMI & GINSENG WATER POMADE" is how this pomade is being identified.
Water pomade – check!
Ginseng?!  In hair stuff? When searching for the string "Ginseng in hair application" you will find a few site making reference to studies that have shown positive results in using ginseng on the scalp as a means to stimulate hair growth.  As mentioned numerous time in these posts, I am no scientist, just a curious guy who can read.  But if ginseng can help preserve my hair or even help me grow some new ones – I am in!  Note that I am already taking ginseng as a supplement with breakfast for its long list of other benefits.
Elemi?  This is something I known nothing about.  Again, we turn to the Oracle and ask the question.  The folks at Organicfacts.net list a number of very cool benefits, but nothing that seams to specifically fit in the hair space, except for maybe it's stimulating properties.  I am reaching here, but if it stimulates the blood flow, it might also stimulate the hair follicles in the same process.  That being said, elemi would appear to have great credentials and we should consider ourselves lucky that it was invited to this get-together.  As for the specific purpose of elemi in the pomade, we would have to ask the folks at Hawkins & Brimble what they had in mind.
As for the other ingredient, it all looks pretty standard and I am happy to report that there are no parabens mentioned.
Coming back to the container; as stated above, it's a nice aluminum can holding some 100 ml.  There are a number of brand out there who have started to produce smaller sized pomade jars.  I can understand the need to stick out in a tough market.  But doing so by reducing your product size is somehow suggesting to your perspective customers that what is inside will stretch longer and/or is of such higher quality that we can only sell you this much for that price.  These are deceitful tactics and I am glad to report the Hawkins & Brimble is NOT doing that.  It's a proper 100 ml can selling for under $20.  Don't think for a second that this is not a top shelve product.  After using this pomade for the last 3 days, it is quickly becoming one of my favorites.  So good in fact that it might even dislodge one of my current top five.
But I am getting ahead of myself.  Let's start from the beginning.  This pomade went under test 4 days ago.  Applying it to clean and dry hair.  The pomade was firm on contact but let itself be scooped out with no resistance.  It actually required no relaxing whatsoever, just spreading and it went in the hair nice and smooth.  The texture was almost smoother than I expected and I feared for a brief moment that it might not have the necessary stickiness to offer proper hold.  Nope! In two shakes, my hair was styled and stayed in place.  Considering how long my hair is, this was somewhat unexpected.  Within about an hour a few strands did fall down and I touched up with a bit of my favorite hair spray – Marc Anthony's Argan oil.  This kept its style for the next 12 hours without feeling crunchy.  Coming back on the texture, it is very light and allows for decent height and good volume.  In fact this is turning out to be a perfect pomade for a quiff or a pomp.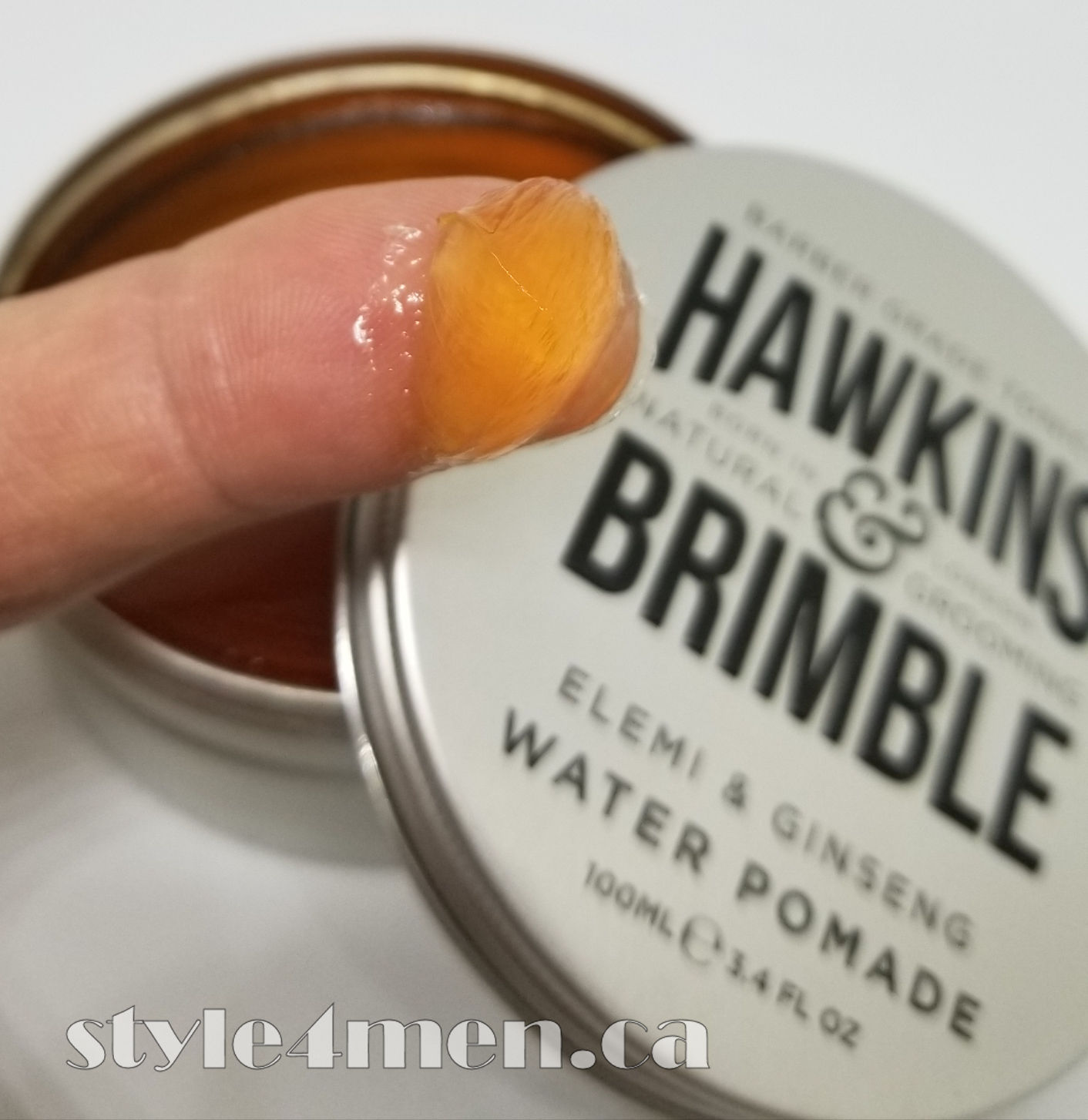 The overall feel in the hair even with a touch of hair spray to lock it in is surprisingly nice.  You can most certainly tell that there is product, but your lady won't be disgusted if she slides a hand in there.
The fragrance is not necessarily original as you will recognize it immediately as something your nose has encountered before.  I can't quite say what it is and I can only state: manly and classic.  It is pleasant and discreet, so there are no concerns sporting other fragrances.
If I was asked to compare it to another pomade out there, I would say that it reminds me of the following products:
And not necessarily in this order. 🙂
Here is the rating on a scale of 1 to 5, where 5 is a perfect score and/or the level of shine.
Hold: 5
Shine: 3 (Using hair spray adds more shine raising the whole this to a 4)
Texture: 5
Feel in hair: 5
Facility to wash out: 5
For my taste and my hair, this is a perfect pomade.  Easy to work with.  Really holds.  Washes out without a fuss.  The quantity and price point also make it a very economical choice.
Use these links to shop for this product: