SHAMPOO BAR + SOLID CONDITIONER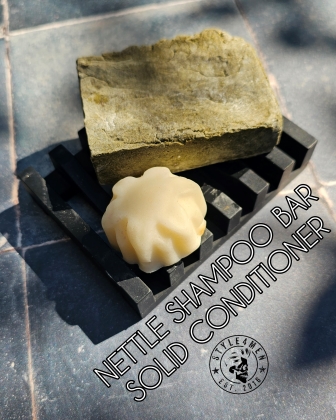 A few weeks ago I reached out to the community looking for suggestions for natural shampoo and conditioner bars.
Why am I looking for such products?
Google this:
"Common chemicals in shampoo and conditioners linked to hair loss?"
Then look at the ingredient list on your bottles.
So here we are.
Among the suggestions that came back for natural bars, one was from Mauve Creation with who I have worked with before.

Danielle is a local Artisan/Soap Maker with a rather impressive range of grooming products for both women and men. I love what she does.
Into the shower for a hair wash!
NETTLE SHAMPOO BAR
• Rinse hair
• Gently rub the shampoo bar to create some suds (nearly instant)
• Wash
• Rinse
SOLID CONDITIONER
• Gently rub the little bar on your hair
• Massage in and let sit for 2-3 minutes
• Rinse
RESULTS
Having used a few natural soap bars on my hair to date, I knew what to expect. The majority of shampoos and conditioners out there coat your hair with silicones and other gunk to make it look and feel heavier.
Basically, when washing with a natural soap all that extra coating is removed and your hair feels incredibly light. It is almost disconcerting at first, but it feels good.
I loved how gentle the Nettle shampoo bar is and yet I felt like I got a deep cleaning. No excessive dryness which makes the hair all tangled and squeaky.
…and I haven't even used the solid conditioner yet.
By the time I was rinsing the solid conditioner out I could start to tell that my hair was in a new state. Like a full reset in the most natural of ways.
After the blow dry, it was obvious how good this was on my mope. No dry scalp, very fluffy, and soft.
TAKEAWAY
Incredibly easy to use. After a week and half, my hair feels amazing!
OBSERVATION
Since all that build-up was washed away, my styling products behaved a bit differently. Basically, I am working with better volume and texture right out of the gate.
PS – The next thing I will be looking for is a natural leave-in conditioner.