Grooming essentials by Mucky Ducks
September 23, 2019
Aftershave
,
Shampoo
,
Shaving
#aftershave
,
#CanadianBrand
,
#FaceWash
,
#Muckyducks
,
#Shampoo
,
#ShaveCream
,
#Toronto
,
#Unboxing
,
#Video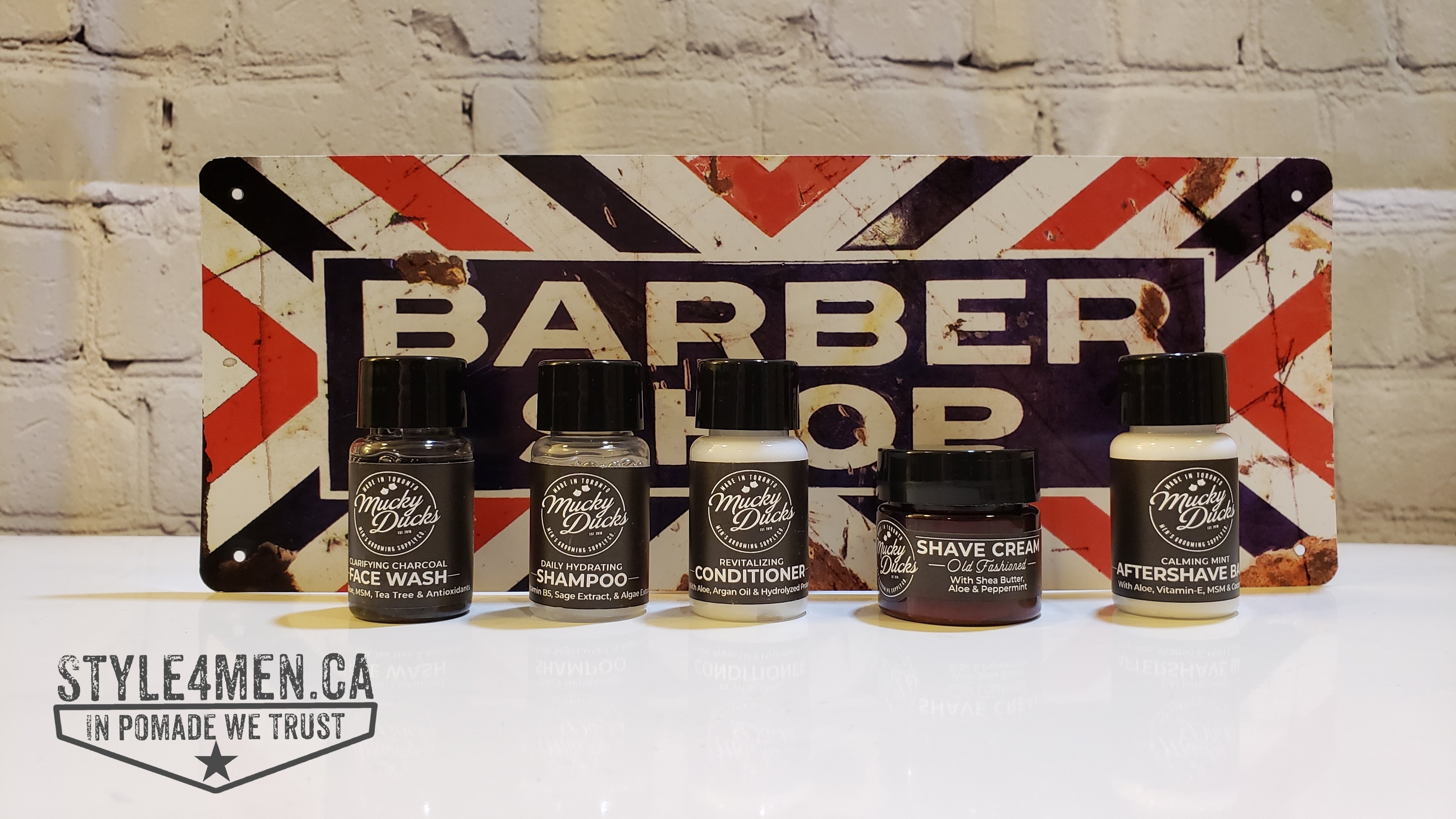 ADDENDUM August 2020: I am very sad to report that Mucky Duck is no longer.  Our favorite Duck was victim of the Covid-19 pandemic and had to close up shop.
Today we are featuring a few grooming essentials by the guys at Mucky Ducks.  Their products selection and presentation caught my interest and the fact that this is a Canadian business made it a "must feature"!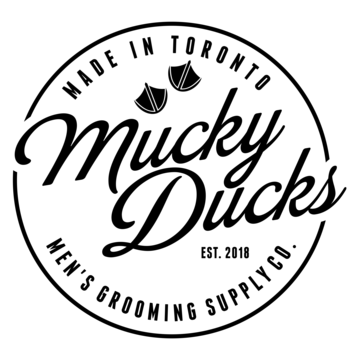 Use our unique 10% discount code with Mucky Ducks: STYLE4MEN
Mucky Duck has recently launched a sample set or an introductory pack.  I personally enjoy this approach as it is a quick and easy way to try lots of products.  I also appreciate a brand that has a wider range of products as it makes my shopping easier.
This kit holds 5 products:
Shampoo
Conditioner
Face Wash
Shave Cream
Aftershave Balm
Mucky Ducks also offers a full range of hair styling products.  Yep! That was the first thing to catch my eye. 🙂
The introductory kit is free, but you have to cover the shipping.  That worked out to $12 in my case as I wanted it a bit faster. But… the Mucky Ducks are banking on you loving their gear and you will also get a $10 voucher for your next purchase thus offsetting your shipping and making it as close to free as can be!
With no further ado, here is my little unboxing of the sampler set:
Shave products and face wash
As part of the Mucky Ducks sampler kit, I am testing things out in a task-centric approach.  For this first test, I focused on the shaving portion using their shave cream and aftershave balm.  I actually also used their face wash in the shower beforehand.  In my humble opinion, a face wash can also be considered a pre-shave solution as it removes dirt and smooths your mug in view of the shave to come.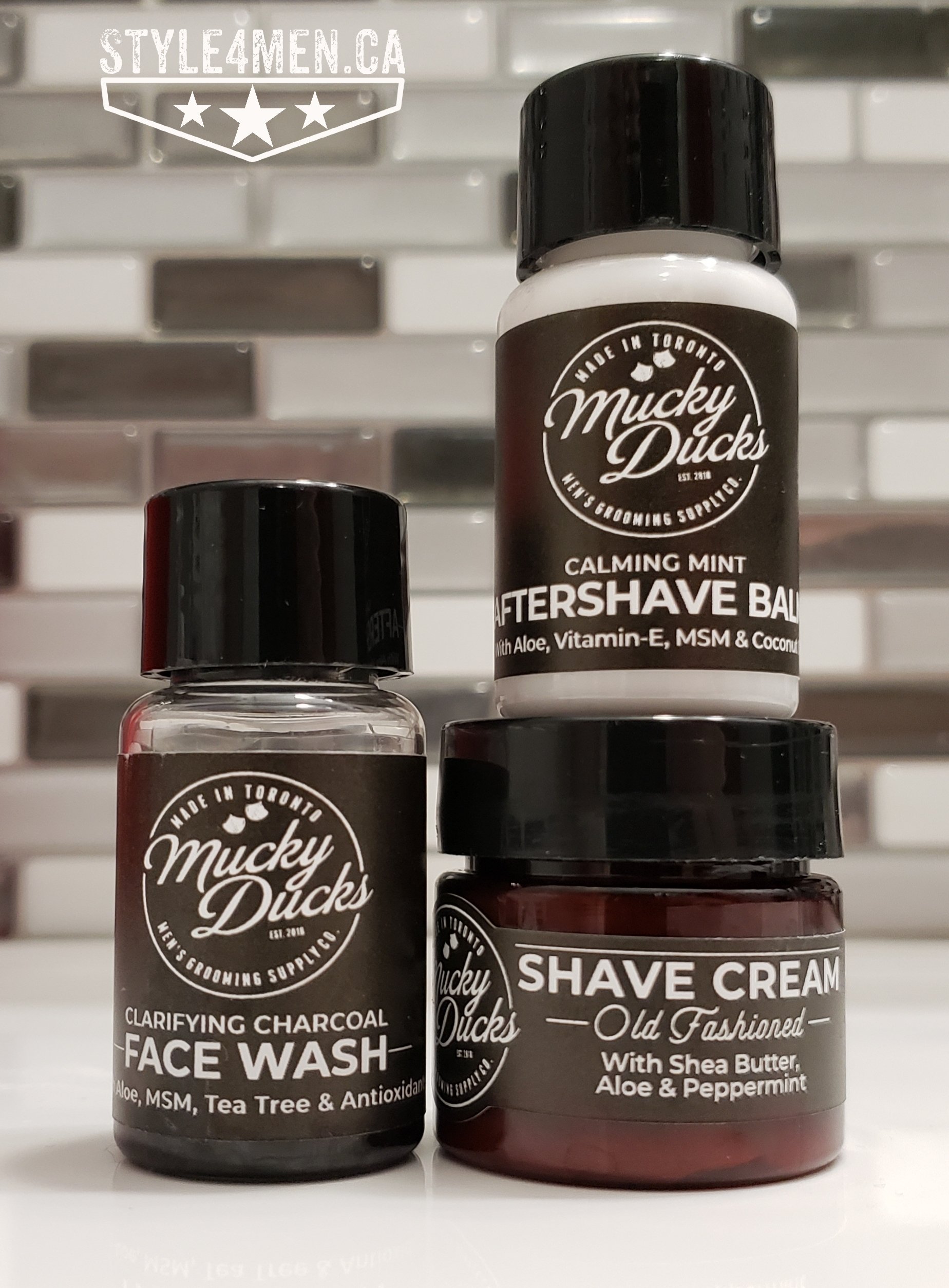 With that being set, let's start with the face wash. The product is a black liquid.  When opening the sampler bottle, keep in mind that the bottle's mouth is big.    I was expecting the solution to be thicker and poured out too much.  Since it is a charcoal base product don't be surprise to see a black liquid.  Charcoal base cleaners are the rave at the moment and for good reasons. Charcoal is a very smooth abrasive that pulls the crap out of your pores leaving a clean and comfortable feeling.  Using a proper face wash is an important tool to include as part of your overall grooming.  Plainly put, you face is exposed to everything, every day very much like your hands.  My guess is that your hands get more cleaning action than your face.
This face wash is very smooth.  There is no exfoliating agent here.  Exfoliation is when there are gritty elements in the solution. Think Mechanic hand soap – that's the extreme version.  The solution rinsed off very easily leaving nothing behind but a perfectly comfortable sensation.  Note that the face wash produced a slight cooling sensation.  Very pleasant!  That's probably coming from the tea three.  That's the thing; the ingredient list for this product has an impressive roaster of essential oils.  That's 50 bonus points from us!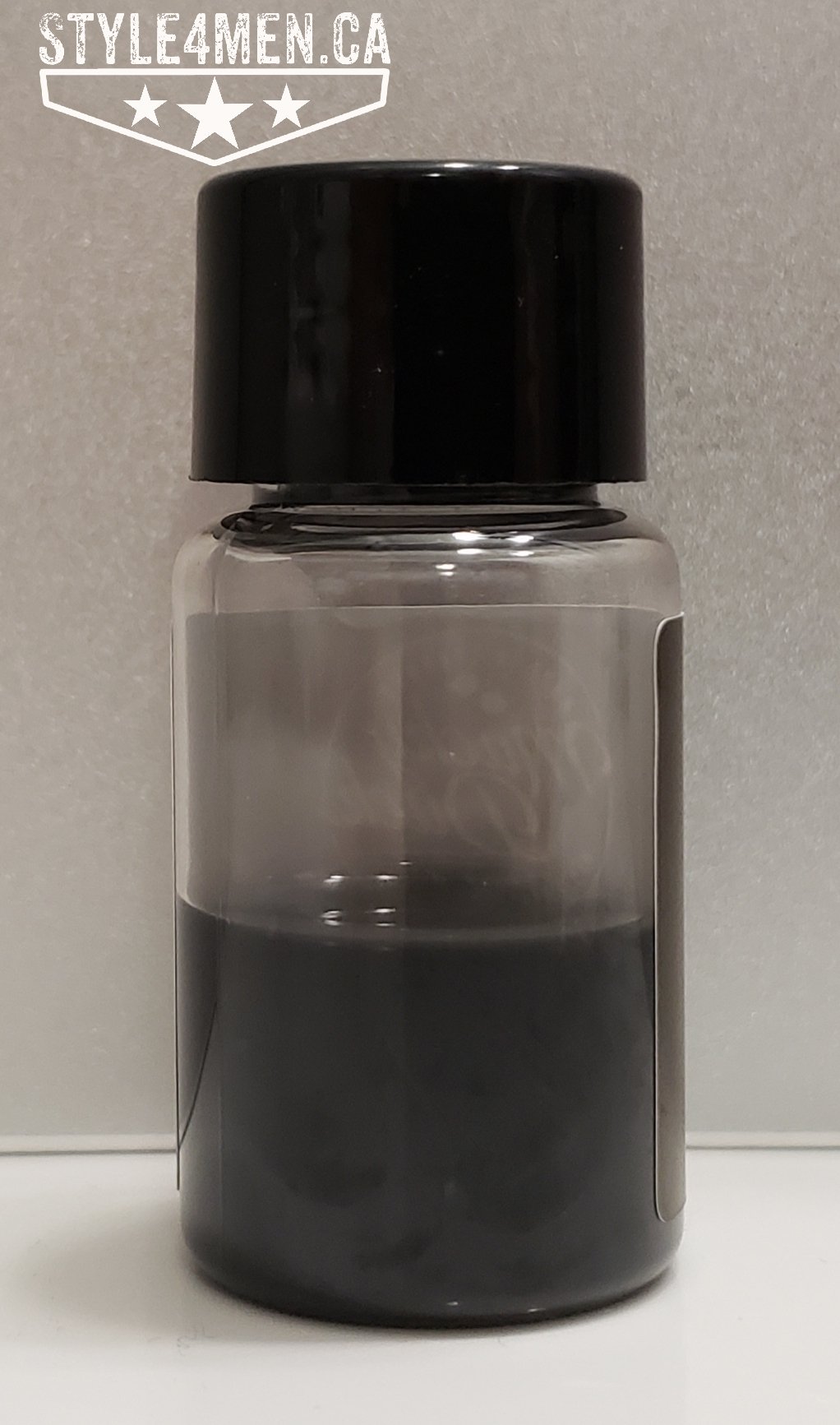 Up front, I am thinking that this little sample bottle is not going to cut it!  A proper adult size bottle is going to be needed!
Out of the shower, it's now time to shave. The shave cream is like a firm butter.  Easy to scoop out and to apply.  I did a manual application as opposed to using a brush.  Note that the product will really come alive when adding a few drops of water and blending onto your mug.  It produced a nice lather.  I felt nicely insulated.  Since the job at hand was a good 7 days of growth, I figured that no matter how good of a shave cream this might turn out to be, a pre-shave oil was a must for this job.  The oil blended well with the cream and a very comfortable shave was had.  The cream has a menthol element offering a welcomed cooling aura during the shave.  It reminded me a bit of the PRORASO Green shaving suite, but with a twist and a personality of its own. Considering how much of a shave this was, I thoroughly enjoyed the cooling sensation as it amplified the transition from almost being bearded to going back to a clean shave.
The fact that Mucky Ducks does both the shave cream and the aftershave balm is a big plus in my books since you are experiencing the whole shave as intended by the maker.  Every now and then you have to explore and try different brand out and find out what works together and what works for you.  Here, that grunt work is done.  And yes, the aftershave balm worked like a lifelong mate to the shave cream.  It's a perfect finishing touch.  Since the first product is a cream there really isn't any drying happening and to be continuing with a balm, again you are embracing hydration.  It's a totally smooth job.  The balm again has that slight menthol vibe happening which is great.  It lasted almost 25 minutes.
If you are usually finishing the job with an old-school aftershave splash, you won't be missing that cooling sensation, albeit considerably more tamed.
In closing this was an impressive duo (trio if we include the face wash). These products work well together and worked well on my skin.  You will definitely know that you are working with a top shelf set.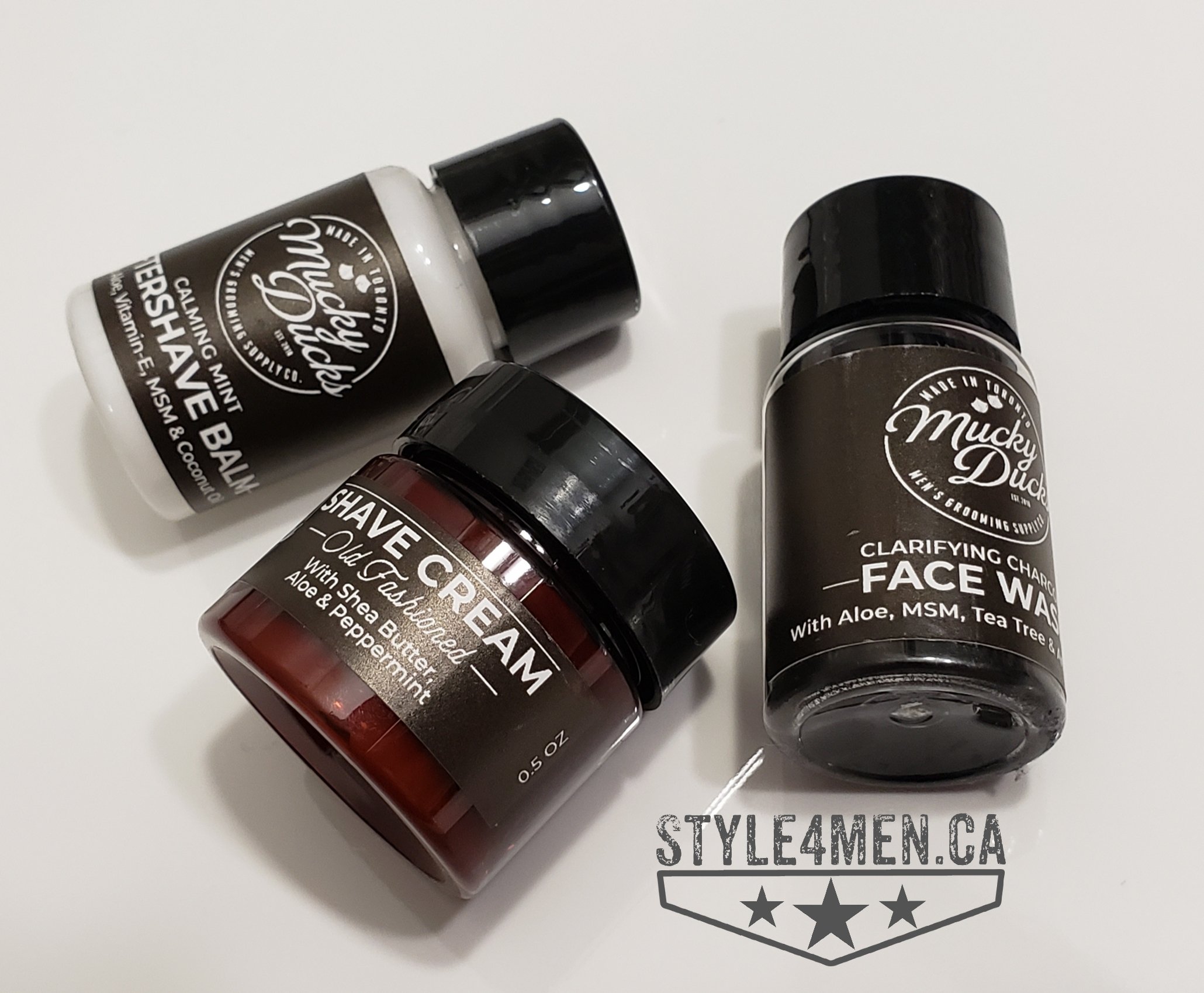 Stay tuned for more detailed reviews covering Mucky Ducks products.
Use our unique 10% discount code with Mucky Ducks: STYLE4MEN