Shaving in total comfort with Prospectors oil and Suavecito's aftershave
Shaving time this morning was a fantastic moment.  I got to try 2 new products which totally impressed: the Prospectors citrus pre-shave oil and the Suavecito Premium Ivory Bergamot aftershave.
First things first!  These goodies came to us from the folks at Ultimate Barber Supplies in British-Columbia (Canada).  Thank you for your continued support of Style4men.ca.  You guys rock!  Shout out to Kolby for making this happen.  If you are shopping within Canada, Ultimate Barber Supplies has an impressive catalogue of the stuff we love.  All sold in Canadian dollars and shipped from within Canada.
I will start with the Prospectors citrus pre-shave oil.  You might already be a wet shaving enthusiast and you might even have already tried other pre-shave solutions.  Clearly, you are ahead of the game and know about how much of an experience improver this is.  It's a bit like eating chicken wings without the buffalo sauce.  Once you have it with the sauce, there is no turning back!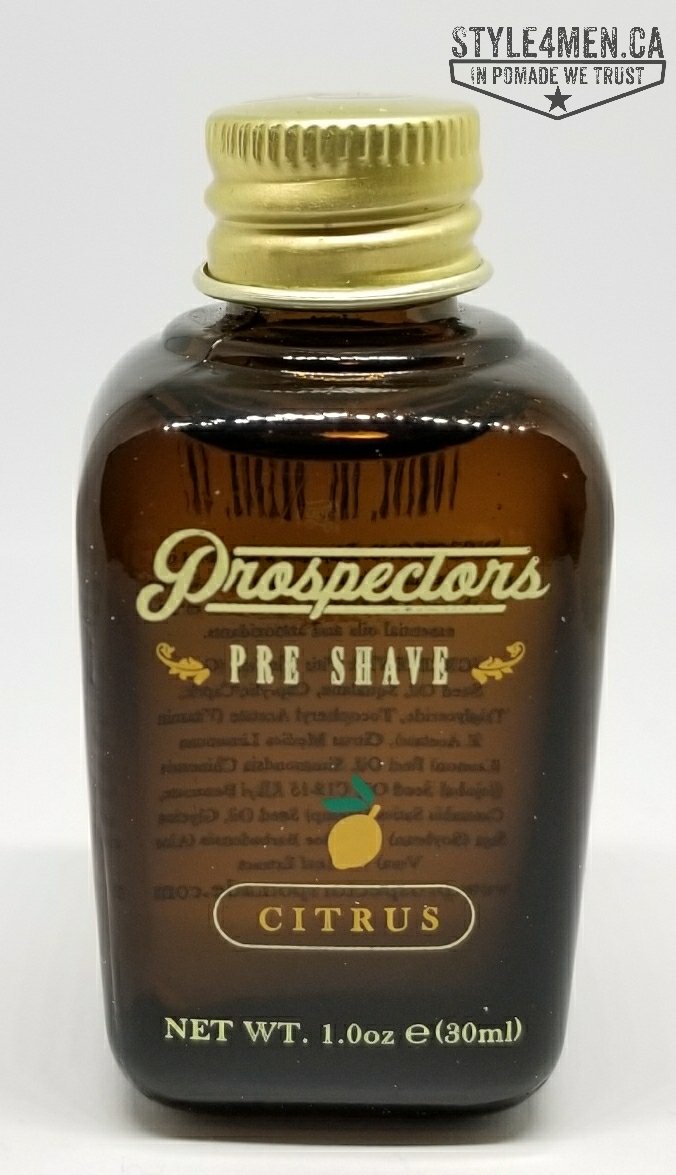 But you might be saying to yourself:  I don't want to get my face and fingers all oily!  I hear you!  A good pre-shave oil will be easy to work with and easy to dissolve.  As a reference point, the very common and fabulous tasting olive oil is a bit resilient to wash off.  Your hand will feel a bit oily.  The oils used to make beard and pre-shave oils are lighter and nicer to work with.  The recurring oils you will find in such products are: sunflower seed oil, grapeseed oil, coconut oil, argan oil, aloe vera oil, jojoba seed oil.
It's important to consider how hard shaving might be on your skin.  You are obviously shaving off the beard as well as a thin layer of skin.  If you are finishing this shave off with an old-school alcohol based aftershave, you are seriously drying your mug out.  This is where using a pre-shave oil will change everything for you.  Up front it will help the blade glide on your skin in a much smoother fashion than what you have grown accustomed too.  Secondly, the oil will nourish and rehydrate your skin.  Finally, since it has a little staying power it will offer a some protection from the alcohol based aftershave making the whole shaving process considerably better.  I KNOW!  What's not to love?
Products like shaving oil are tricks that the Barbers of the 20's to the 60's knew about, but has things moved to the cheaper and faster chemical solutions, these artisanal, natural  and healthy products were forgotten. The Barbershop revival of the last 10 + years has been a God sent to men's grooming in general as we now have an incredible selection of healthy products to choose from.
In my own experience using pre-shave oils, I have been disappointed and thoroughly impressed.  The Prospectors oil fits into that latter category.  It is a refined and complex oil concoction. The ingredient list clearly indicates a goal to bring as many benefits to your mug as possible.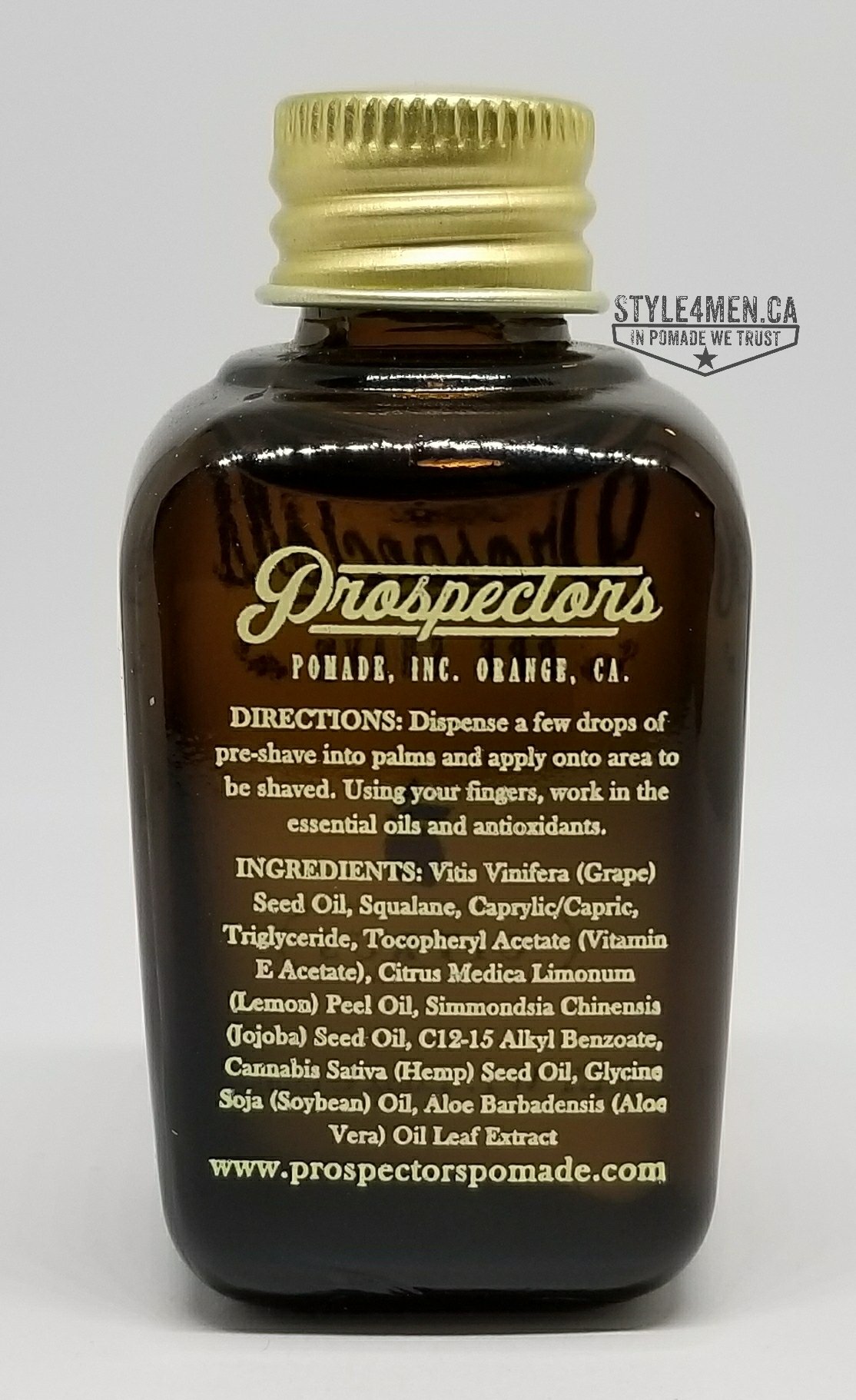 Alongside the Barbershop revival is a powerful artisanal movement pushed by the desire to return to simpler things as well as moving away from harsh chemicals.  Most of the brand-partners I have worked with essentially decided to take their skin's health concerns into their own hands. Surprise-surprise, they found the answer in the past and in many cases the answer took the shape of seed oil.
My apologies for the oh-so-long intro!  I simply want to but the product in perspective and what it can do for you.  Prospector has identified this pre-shave oil as "Citrus" scented.  It is!  But it is a very discreet aroma.  Since it is meant as a "pre-shave" there is no expectation of a lasting fragrance and the aroma does not survive the shave.
I often like to wonder off and talk about the packaging and this post will be no different.  The Prospectors bottle is totally unique.  As far as I know, they are the only ones to have such a shaped bottle.  Kudos to Prospectors for distinguishing themselves like this.  Continuing on this path, Prospectors also kept the labeling/printing very authentic by having it done directly on the bottle.  There are no clear labels used here. The bottle is made of glass and is crowned by a proper metal cap.  The tip is caped with a nipple to control the flow of oil coming out.  When you bother taking care of all the small details, it says something about you: you care and take pride in what you do.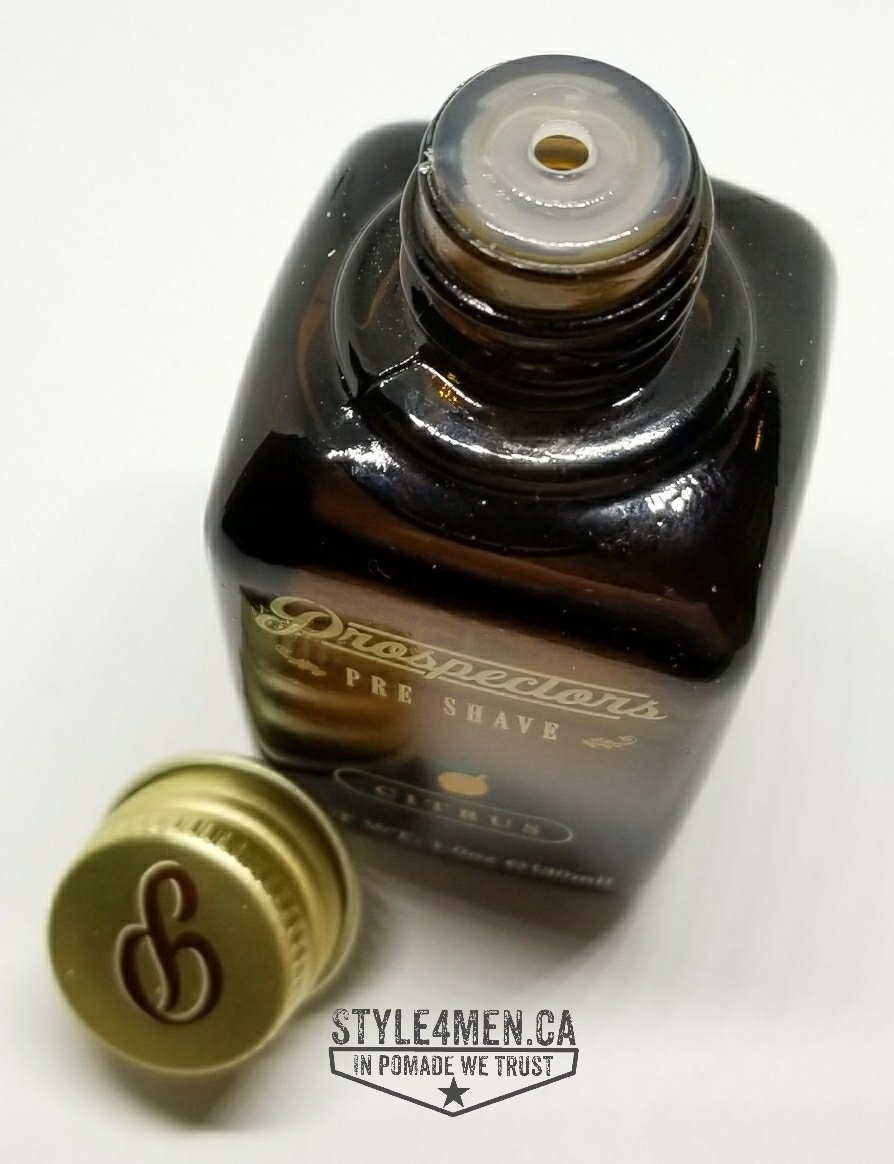 FYI – The bottle I am working with holds 30 ml (1 OZ).
TEST STAGE:
After covering my mug with a small coat of the Prospectors oil I still needed to apply a shaving cream.  Not having any Suavecito cream left and Prospectors not making one I had to turn to a third party.  This was the TABAC cream. I picked this one because it is thick, easy to work with and has given me consistent results.   I squirted a bit into my wet brush and applied the cream onto my mug.  The cream adhered well and within no time I was well covered.
For this shave I turned to my trusted Rockwell 6C with plate No. 2 loaded with a Euromax double edge blade.  A superb shave was had.  The blade moved freely against my skin encountering no resistance making for an extremely comfortable shave.  The oil and cream cohabitated like best buddies.  I will venture that the oil helps a little with the razor rinsing.  Because the whole process is more comfortable you might also be gaining in confidence which in turns speeds things up.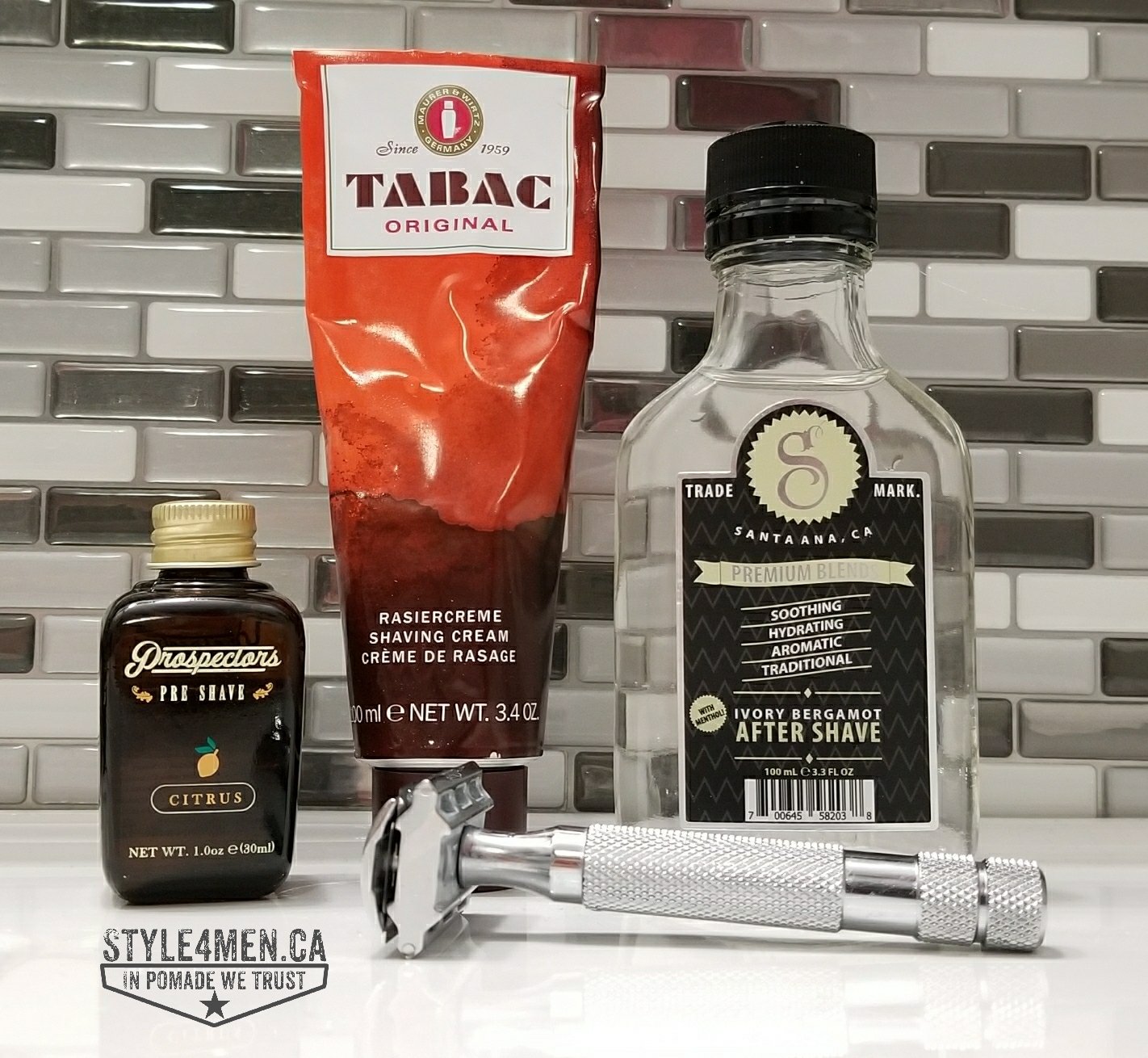 Once completed, I gave my mug a quick wipe with a cool wet towel and move onto the aftershave. For this phase and as mentioned above we are working with the Suavecito Premium Ivory Bergamot.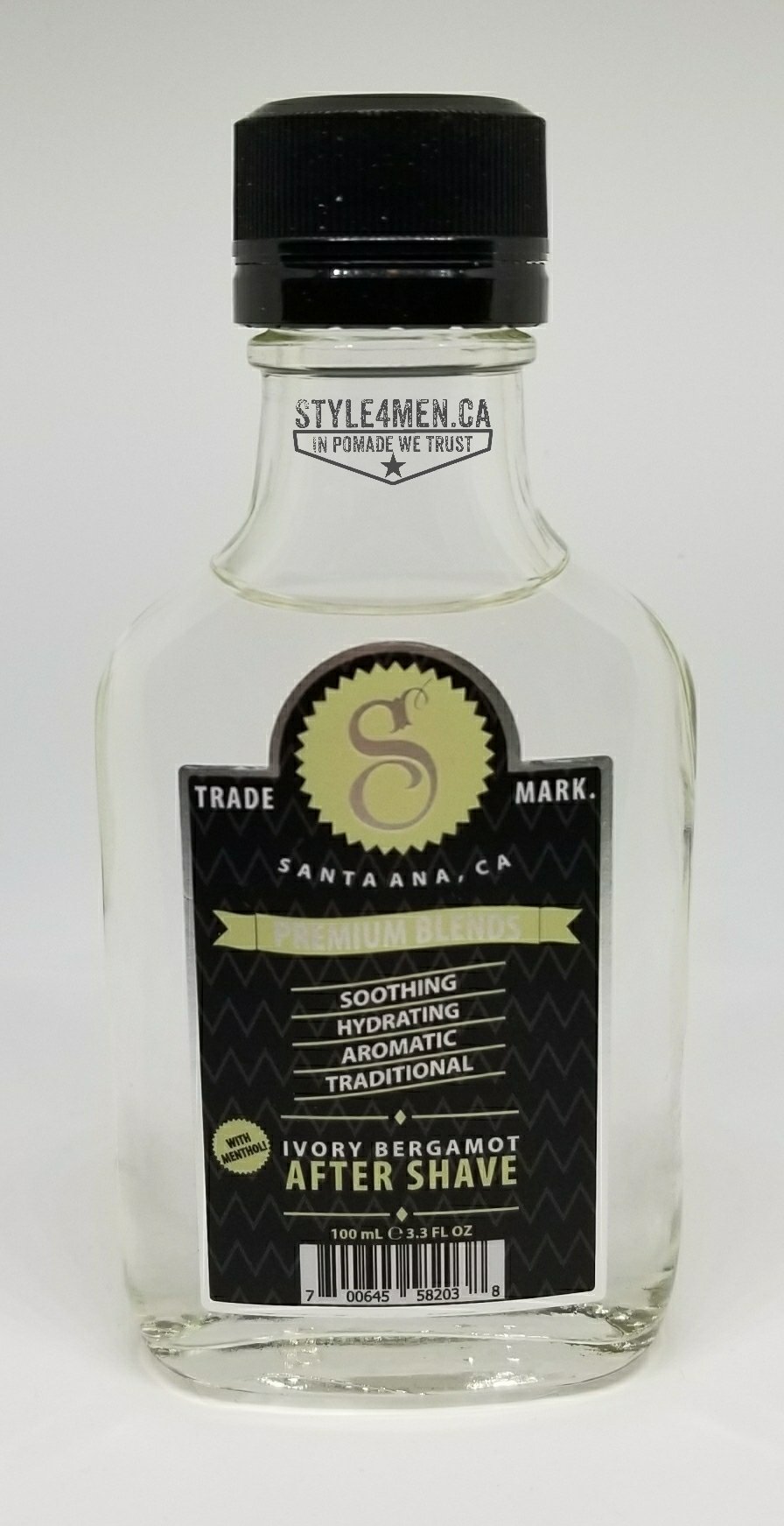 Now let's be perfectly clear this aftershave is alcohol based and as such fits into that "old-school" grouping.  But that being said, it is a multi-facet product and it shouldn't be solely defined by its alcohol foundations.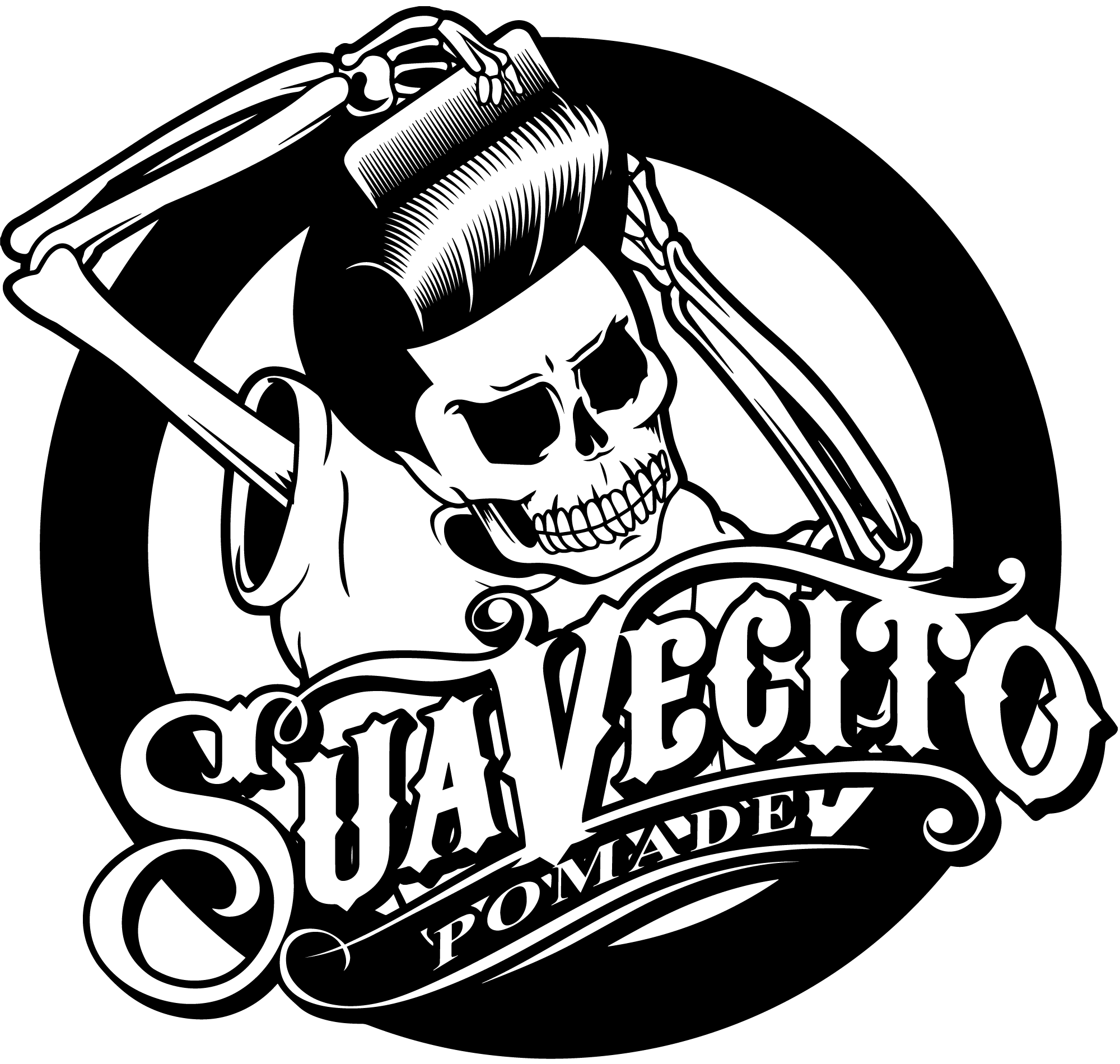 The sales pitch for these old-school aftershaves is to clean and disinfect the skin after the shave. The other major aspect of these aftershaves are their fragrances.  In fact, for the longest time the only cologne many men would have known and/or used would have been their aftershave.
The ingredient listing is very simple – Just the way we like it: Alcohol, Water, Fragrance and Menthol.  I would like to mention, that this is straight and pure alcohol, not alcohol-denat. (Denatured alcohol; where a bad tasting but otherwise neutral element is added to the alcohol.)  There are no preservative (aside from said alcohol) or stabilizers.  The first 3 ingredient are typical of a traditional aftershave splash.  What's original is the addition of menthol.  When splashed onto your mug the alcohol will give its notorious shock followed by a short lived cooling sensation.  This concoction is most pleasant and the alcohol blast is not so shocking.  The menthol then kicks in and gives a long lasting cooling sensation.  Maybe as much as 20 minutes.  Obviously the intensity diminishes proportionally over that time.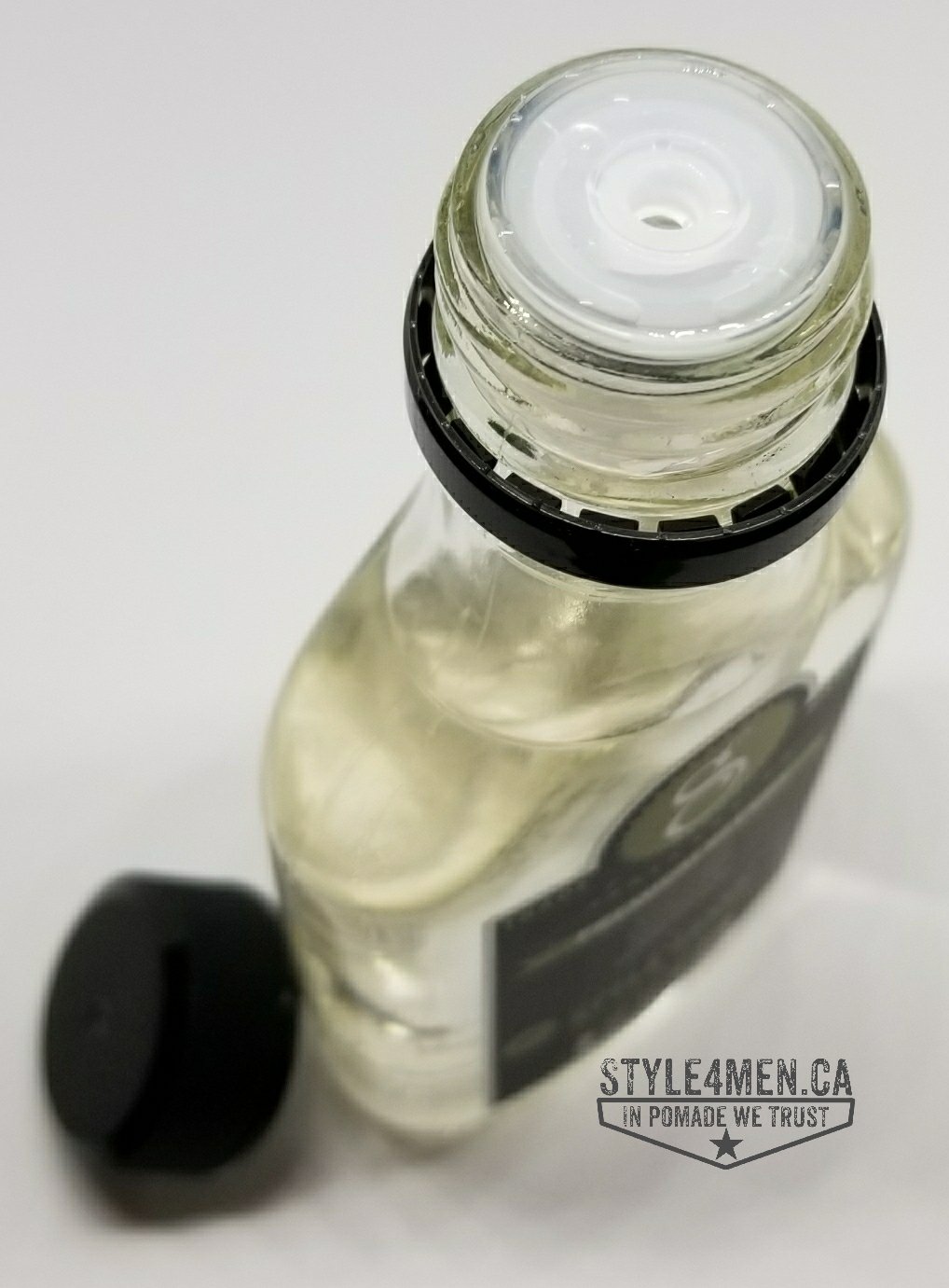 Then there is the fragrance of this splash. I am not too sure what "Ivory" should smell like, but it is certainly a cool visual representation.   Going through my essential oils to remind myself of what bergamot is…  To my nose, it is an: earthy, green, sweet, root like sent.  When combined with the "Ivory" element and pure alcohol, the result is fresh, manly and different from the main stream scents your nose might identify throughout the day.  For me, it's a winner!  Furthermore, our asthmatic Mrs. Style4men was not incommoded.  The scent last perhaps 2 hours.
As you can see in the pictures, this is an original looking bottle made out of proper glass.  In my mind a bottle has to be made out of glass.  It's just the proper way of doing things.   The bottle head has a nipple to control the liquid when poring.  The Suavecito Premium labeling is unmistakable.  Another authentic touch is that there are two sides to the label.  You will see the backside through the bottle.  Totally old-school!
So there you have it: two awesome products that will let you shave like its 1918 (#shavelikeits1918) in total style and comfort.  Click the link above to shop with our friends at Ultimate Barber Supplies.