Suavecito Shave Gel and Dark Clove After Shave – Refreshing!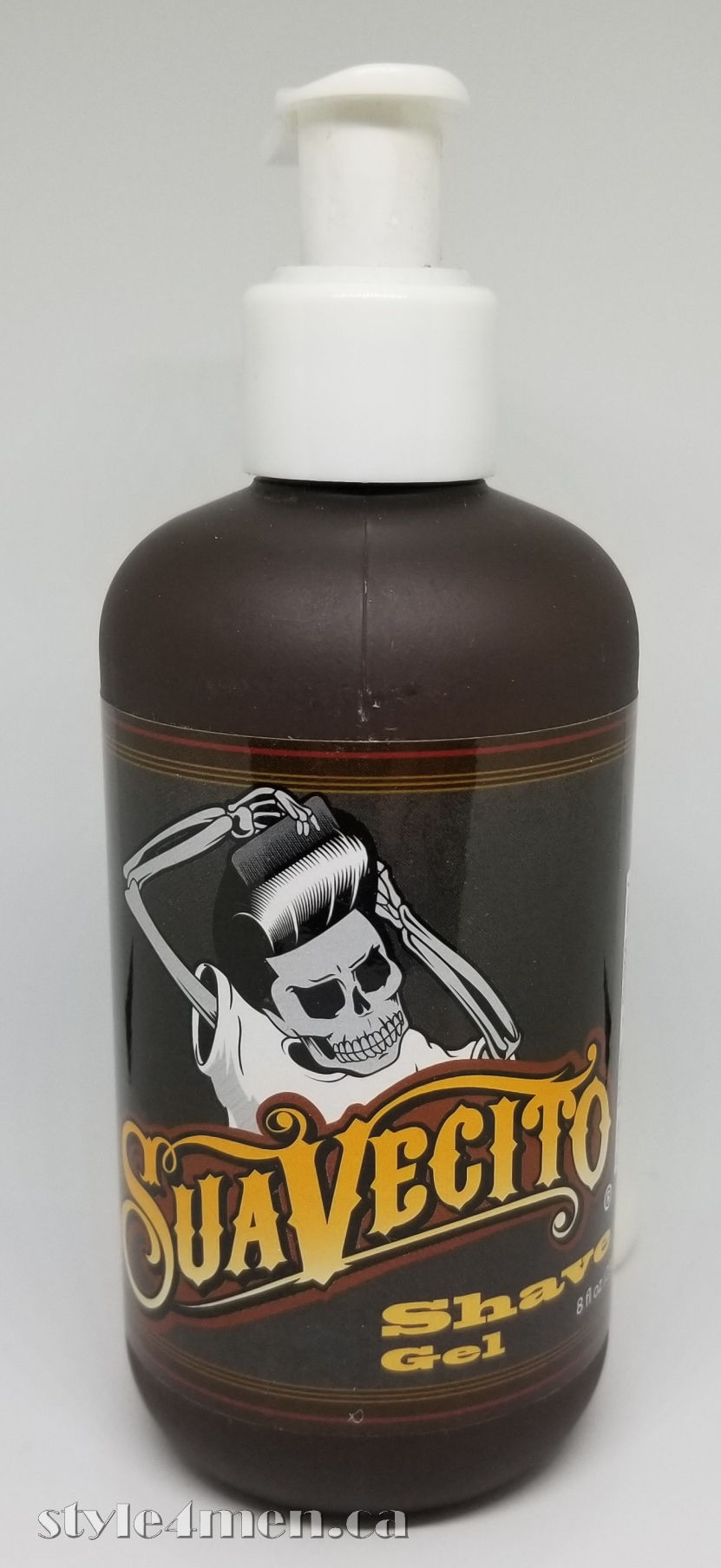 These past few weeks, I have been mostly dedicated in trying shaving and after shaves solutions.  One after shave that has been on my radar for some time is the Suavecito Premium.  Suavecito Premium launched their after shave line well over a year ago, but getting my hands on a bottle has been unfruitful.  Because this is predominately an alcohol based product, buying from the US and having it shipped to Canada is not an option.  It finally crossed my mind that my Suavecito Go-To guy Aaron from Not Your Father's Barber might be able to get his hands on some.  As it turned out, he did not have any in store but was able to order a bottle along with a bottle of their shaving gel from his supplier.  The set was in store under 4 days.  Unbeatable!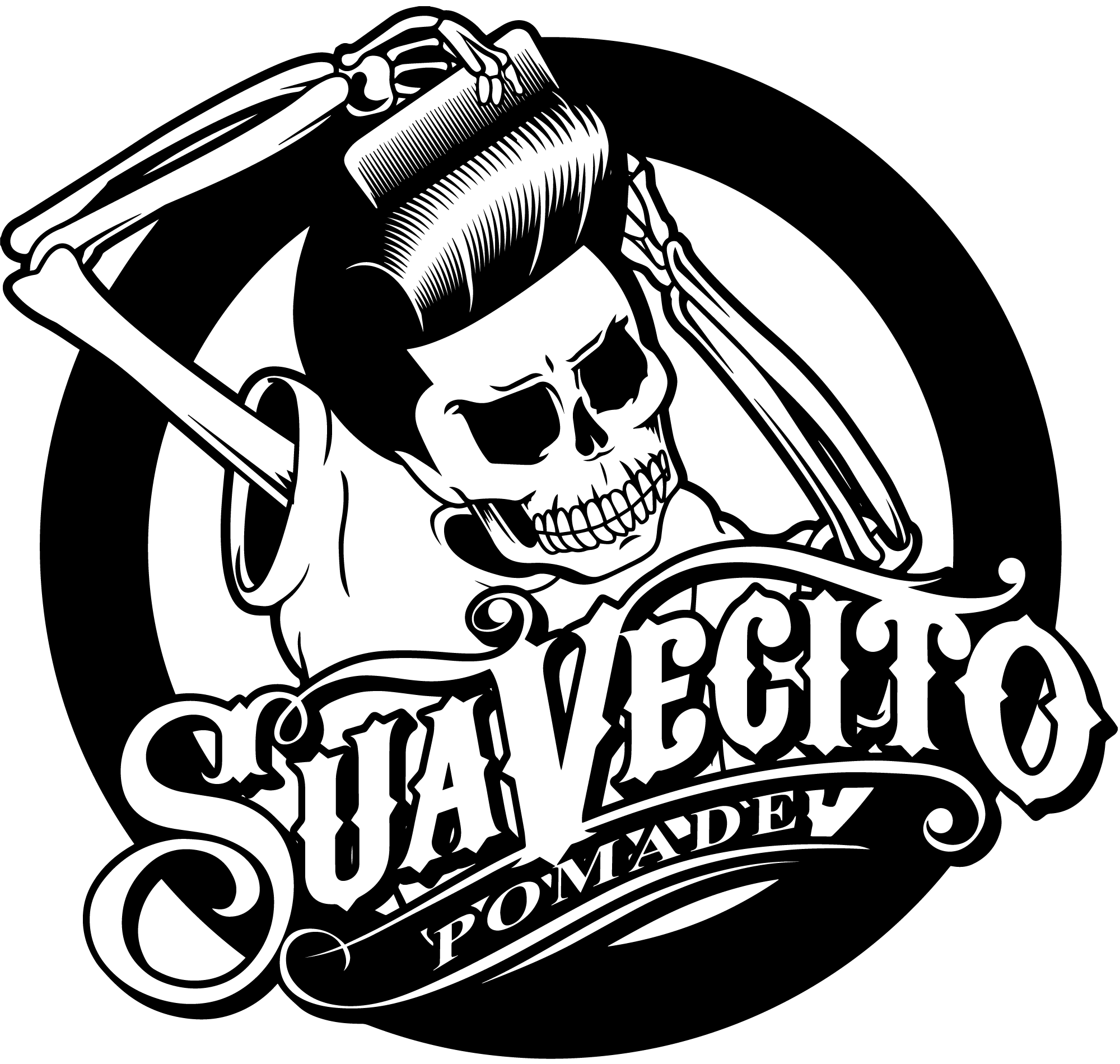 This morning was testing time for the Suavecito Shaving gel and Suavecito Premium Dark Clove after shave.  The shaving gel is a thick and viscous substance.  It sticks very well to the skin and covers equally well.  I immediately felt insulated.  I used perhaps a dollar size amount for each cheek.  Considering the thickness of the gel I also added a small touch of water to generate a bit of lather.  If you have ever used shaving gel before, you know that this is an entirely different approach.  You will need to overcome the slight confusion of no longer having visual guide that typically is the white cream or foam.  This small inconvenience makes way for an improvement in insulation and lubrication.  Gel being what it is, it seals  the surface which it is applied on.  The Suavecito gel is better than other gels I have worked with so far. The main difference is its thickness and stickiness.  This results in superb coverage and insulation.  Yes, I used what might look like a fair bit of product, but my goal is to achieve a comfortable shave and moisture retention and lubrication are my number one concerns.  This goo was perfect.
TEST STAGE: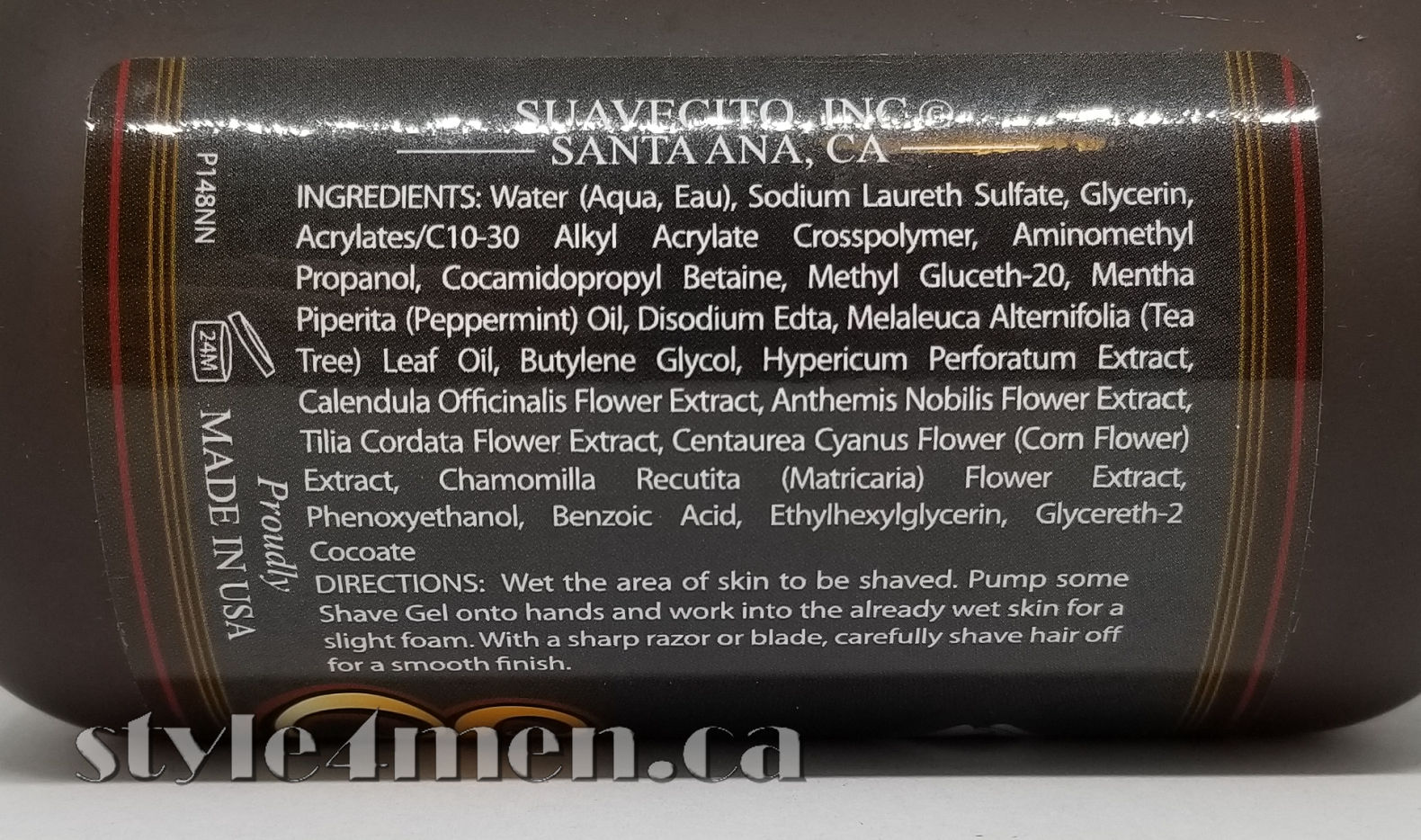 As for the shave, my blade moved ever so comfortably.  No irritation – no tugging.  Incredible smoothness!  I was somewhat expecting that rinsing the razor between passes would be an issue because of the gel's thickness.  Nope!  Be aware that the gel will produce a small cooling, tingling effect.  Tea tree and peppermint would be responsible for that – both accepted the invitation to the party.  Your nose will alert you of their presence when you use the product.  Worry not, it is completely reasonnable.  Upon application, it reminded me of a very mild pre-shave cream.  Actually come to think of it, it reminds me of the original Suavecito Shaving cream I had tried a few years back which had a very intense cooling effect.  This one is completely tamed by comparison.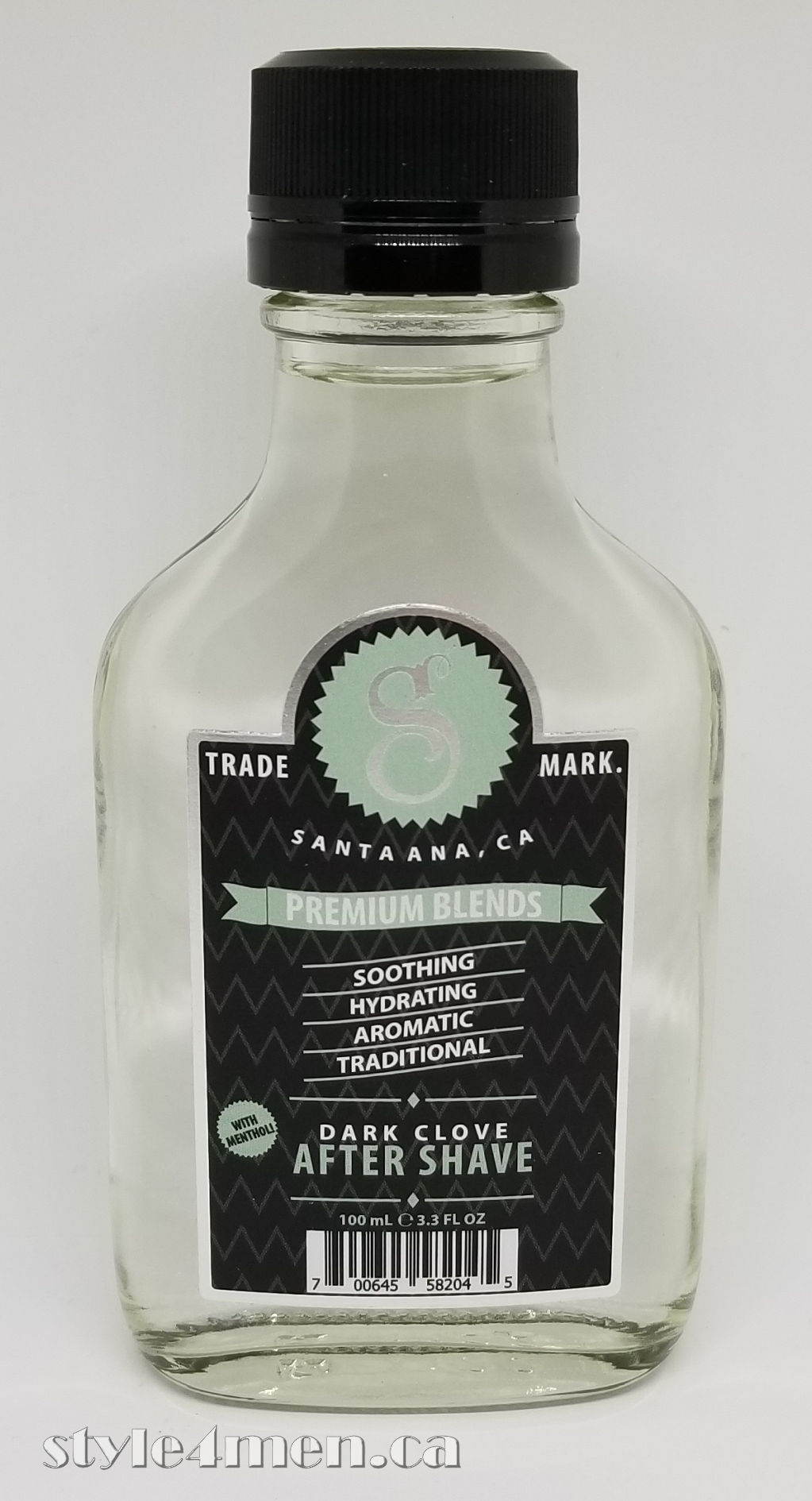 Rinsing the left over product from my mug was a bit more involved than cleaning off a shaving soap for example.  I had to give myself 2 wipes with a wet wash cloth, but no scrubbing was required.  Just two good passes.  At this point, I was impressed with the results and could almost have done without an after shave, but we all know there was going to be none of that.  Part of this test was also to try out their Dark Clove after shave.
The Suavecito Premium after shave is truly an old-school and alcohol based after shave composed of the following: alcohol, water, fragrance, menthol.  On application that alcohol cooling effect is very present, but as the alcohol evaporates, the menthol kicks in and I had that cooling effect going for a bit longer.   The inclusion of menthol in the after shave is a differentiator. Fresh and smooth.  It is quite pleasant.  I can attest that it worked well with the shaving gel.  No reaction, irritation or discomfort of any kind.  My skin was surprisingly shinny, almost glowing and felt great.   Even almost 7 hours later, my looks and feels great.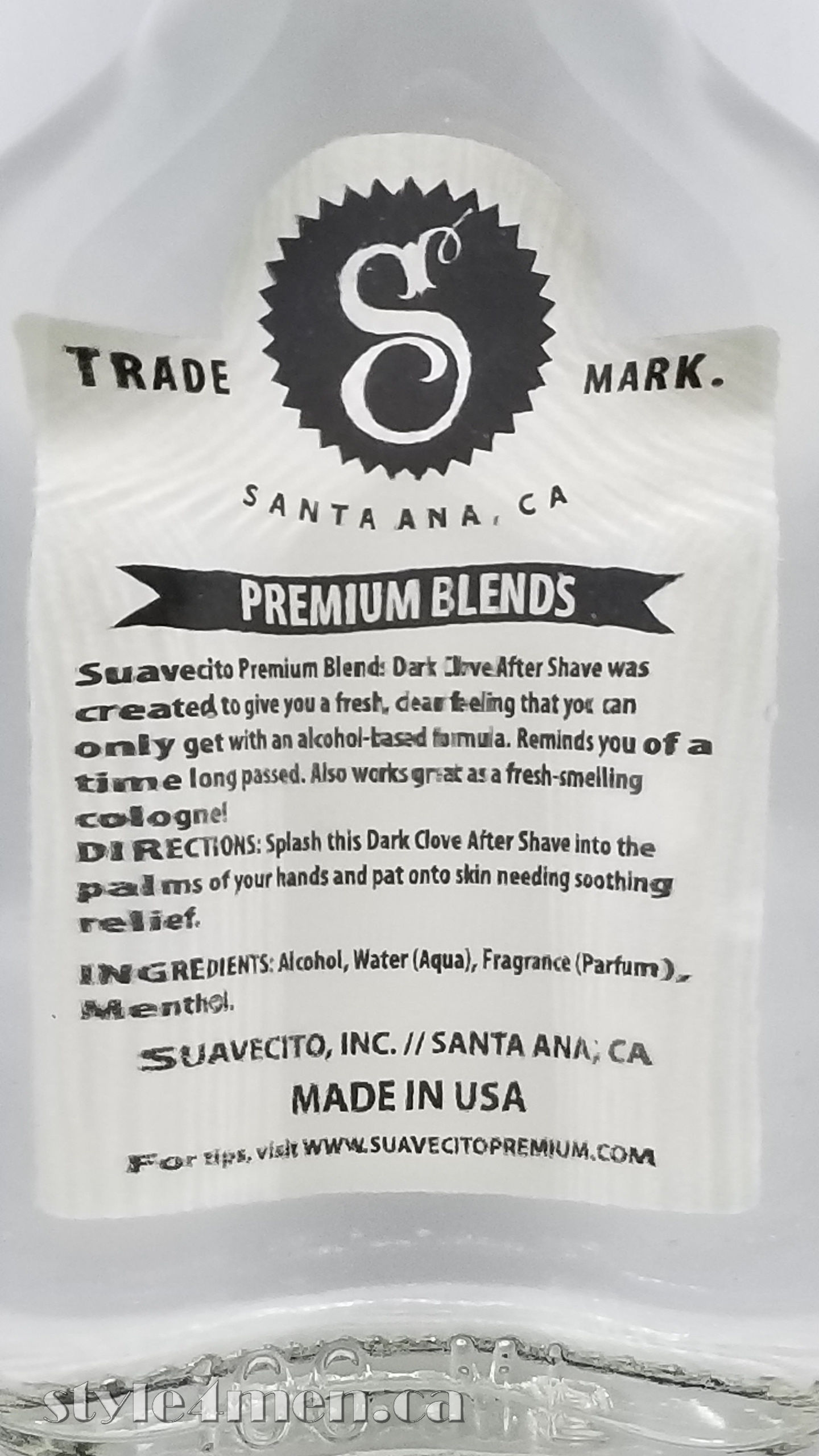 A big appeal for old-school after shaves are the very original and pleasing scents.  The Suavecito Premium line offers us a few flavors:
Whiskey Bar
Ivory Bergamot
Dark Clove
Black Amber
In all honestly, since I was only getting one bottle, this was a tough choice.  I ended opting to for the Dark Clove.  I am kinda going through a bit of a fascination with cinnamon and clove is in a neighboring space, so I got that one.  The aroma aspect of this after shave is milder than I expected.  It is very subdued.  then again, clove is a fragrant spice but not a dominating one.  So I will say that it is true to form.  Now it is also important to  take into consideration the life of a scent specially one that is delivered via this much alcohol.  The first olfactory impact is alcohol.  But alcohol evaporated quickly enough leaving behind the scent it is was meant to deliver.  In this case, our clove.  I would qualify it as: subtle and mature.  Most certainly worthy of the Suavecito Premium moniker. I should add that it was "asthmatic Style4men.ca wife" approved both for the scent and the lack of asthma attack.
Price wise, these products were around $20 a piece.  No shipping.  No currency exchange.  No duties or customs and available for pick up in under a week at Not your Father's Barber.
On the quantity or size front, both the shaving gel and after shave bottles are fairly big.  The after shave bottle is 100 ml and the shaving gel is some 236 ml.  The shaving gel bottle is presented in a very Suavecito kind of way – brown bottle with our slick pomp wearing skull dude.  The bottle is equipped with a pump making the distribution effortless and clean. The after shave bottle is packaged as per the Suavecito Premium branding.  Being in a nice clear glass bottle, it is elegant looking.  It is very much like a flask bottle.  The bottle mouth has a nipple allowing for a controlled dispensing in the palms.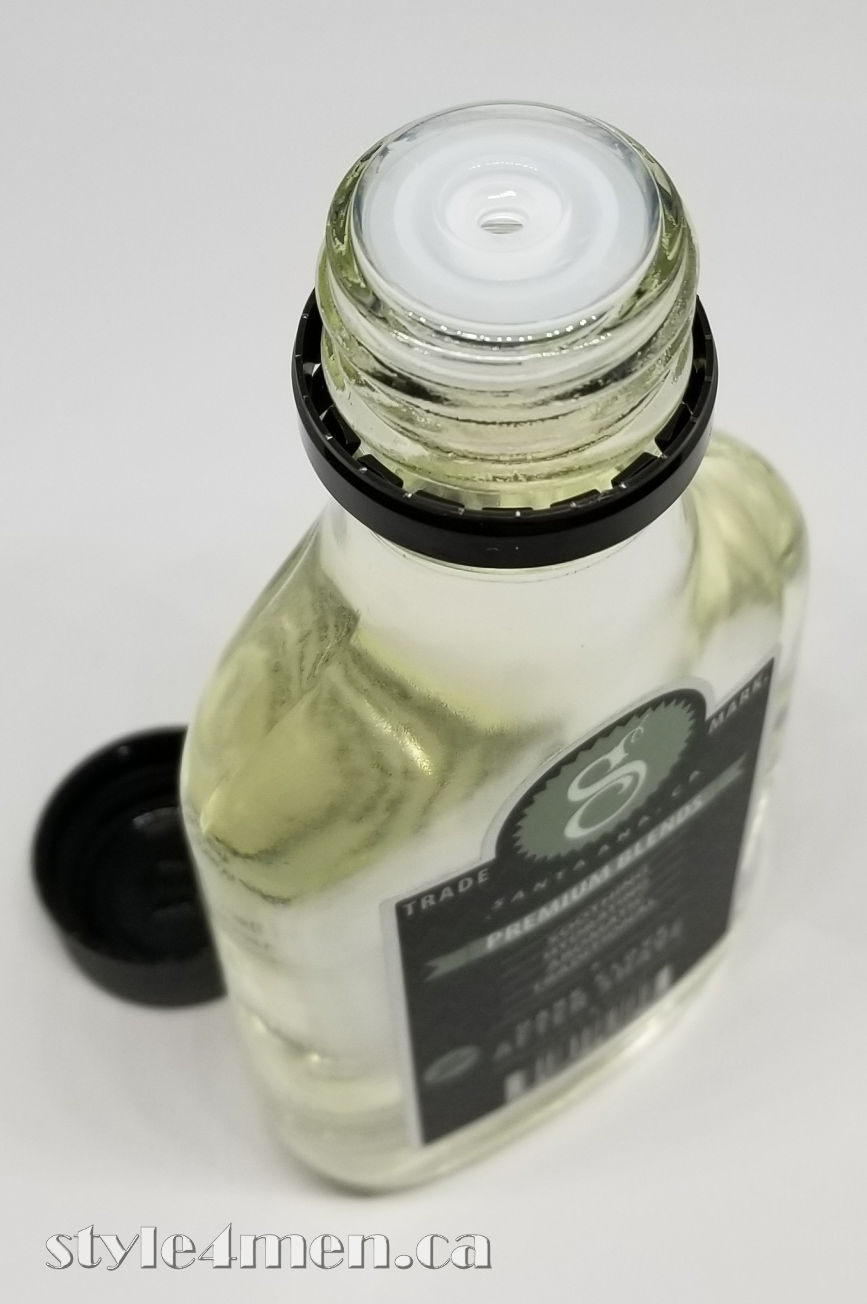 To date, Suavecito products have always been on the mark for me and these two shaving products again are very pleasing… and are totally Style4men.ca approved!  OK, as you know I am somewhat bias when it come to Suavecito, but you can't argue with such a good shave.
The overall Style4men.ca rating for these 2 companion products is:
Use these links to shop for these products: