Bluebeards Revenge Pomade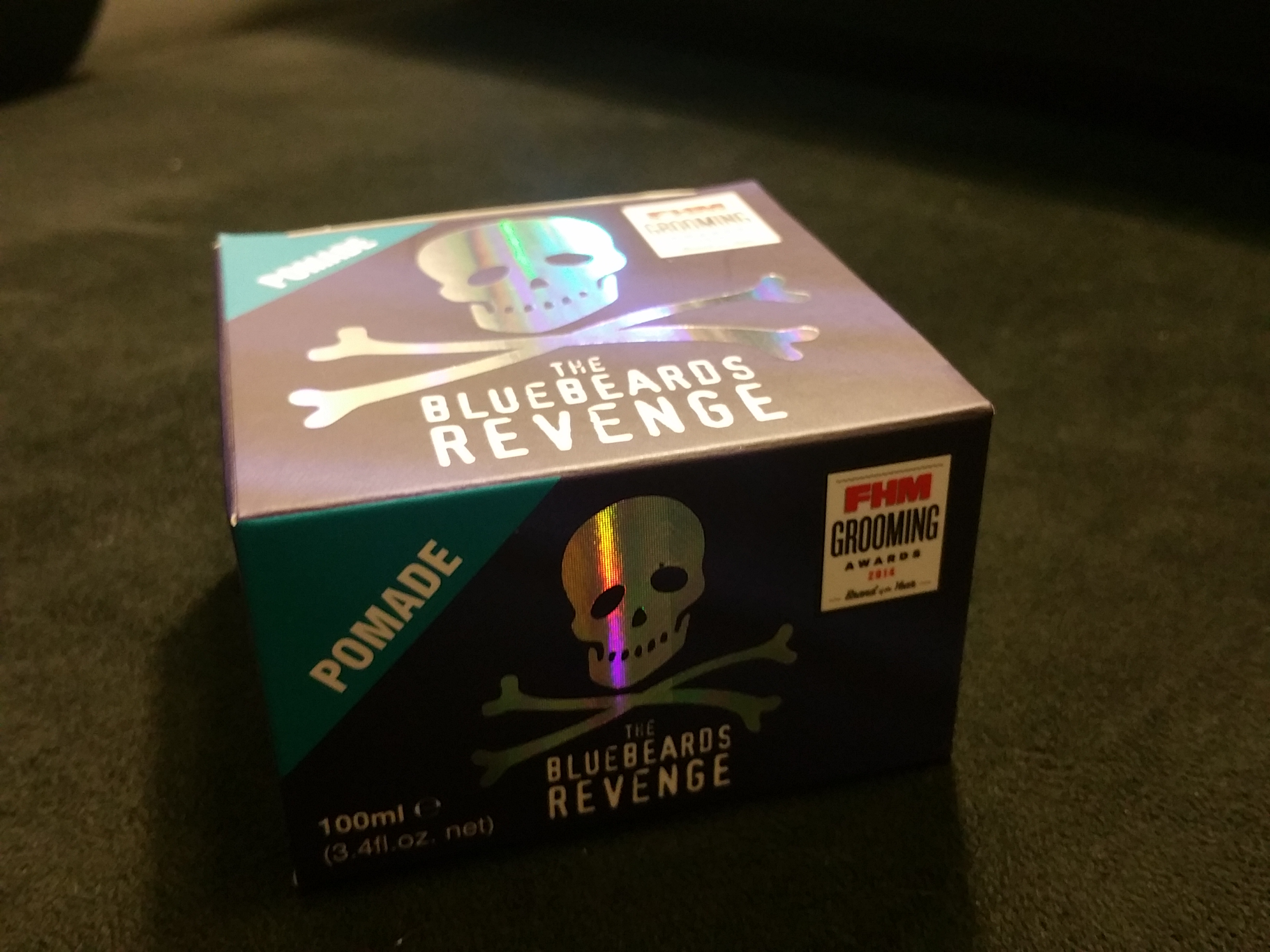 The Bluebeards Revenge pomade arrived today.  It took a total of 9 days between the order and delivery from the UK and I will admit being quite excited about this one.  Their shaving cream was the first products of theirs I tried and it is a keeper.  If their pomade is anything like the shaving cream, we are in for a treat.  The actual testing will take place tomorrow morning, but I first wanted to make an entry concerning packaging and first impressions.  As you have already understood, this is a British product and the labeling lives up to the English humour.  Read he instruction label for a chuckle. The pomade is delivered in a box which holds a plastic jar.  The jar has a metal lid which is sealed.  Once opened, the pomade gives out a refreshing, orange and musk scent.  The pomade is reddish-purple and the texture looks promising and is comparable to other good quality pomades. Can't wait to try it tomorrow morning.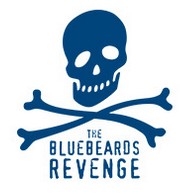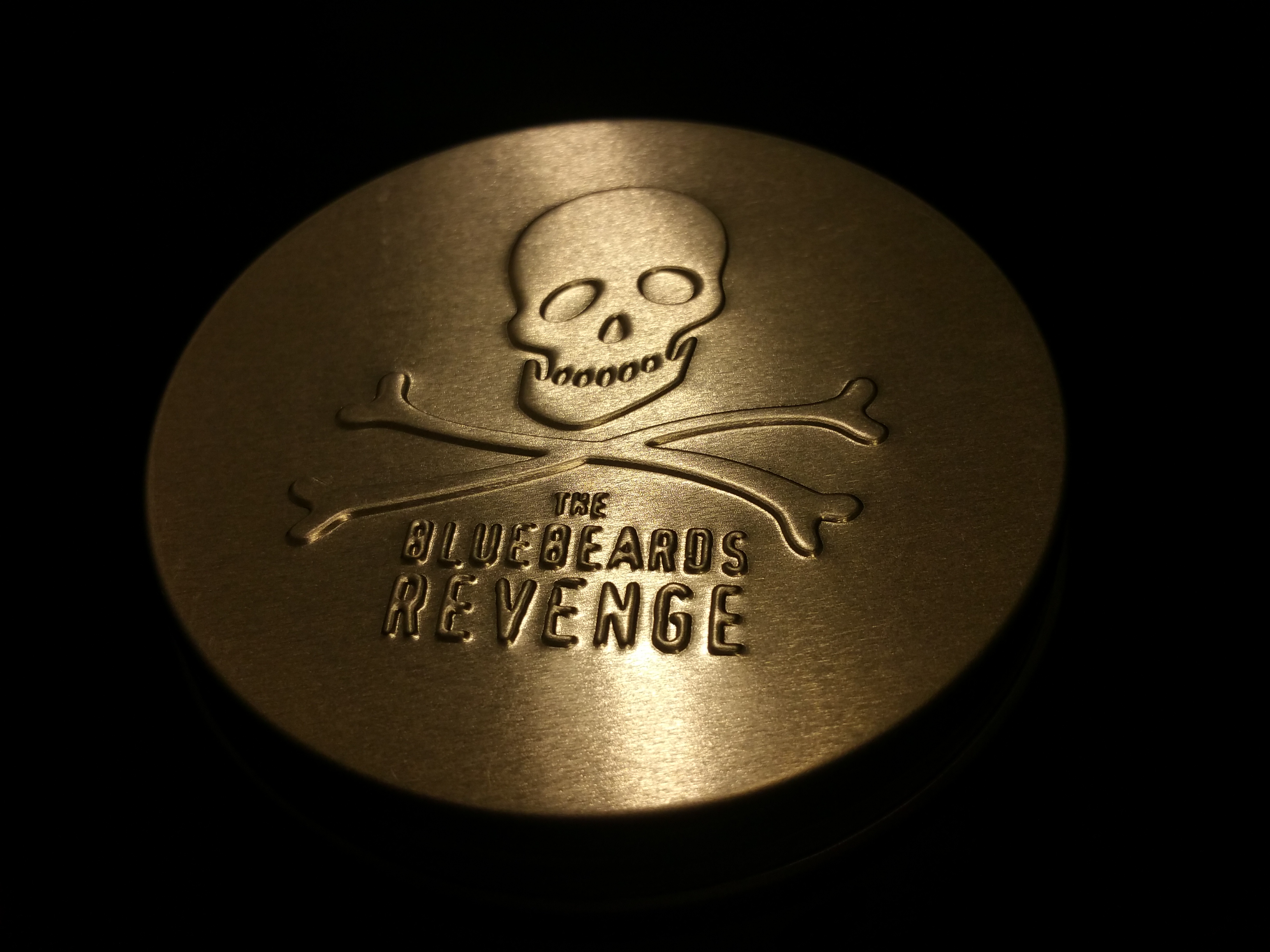 It is now tomorrow morning, and its testing time for the Bluebeards Revenge pomade.  So we continue where we left off.
Scent wise, it is fresh and manly.  Be warned that the scent emanating from the jar is rather discreet, but once applied to the hair, it is a tad more potent.  It's not like you will be leaving an odour trail, but it might not be as faith as you think.  On a scale of 1 to 5 to indicate how strong the scent is, or how easy it is to identify that there is a perfume, it's a 4/5.
The texture of the pomade is exactly how it should be.  In other words, a firm jelly.  Firm as opposed to hard.  It takes no effort whatsoever to scoop some in your fingers or even to spread it in your hand for application in the hair.  Perfect texture to work with.  It is completely in line with other quality pomades, like; Layrite, Zeus,  19 | Fifties or Railcar.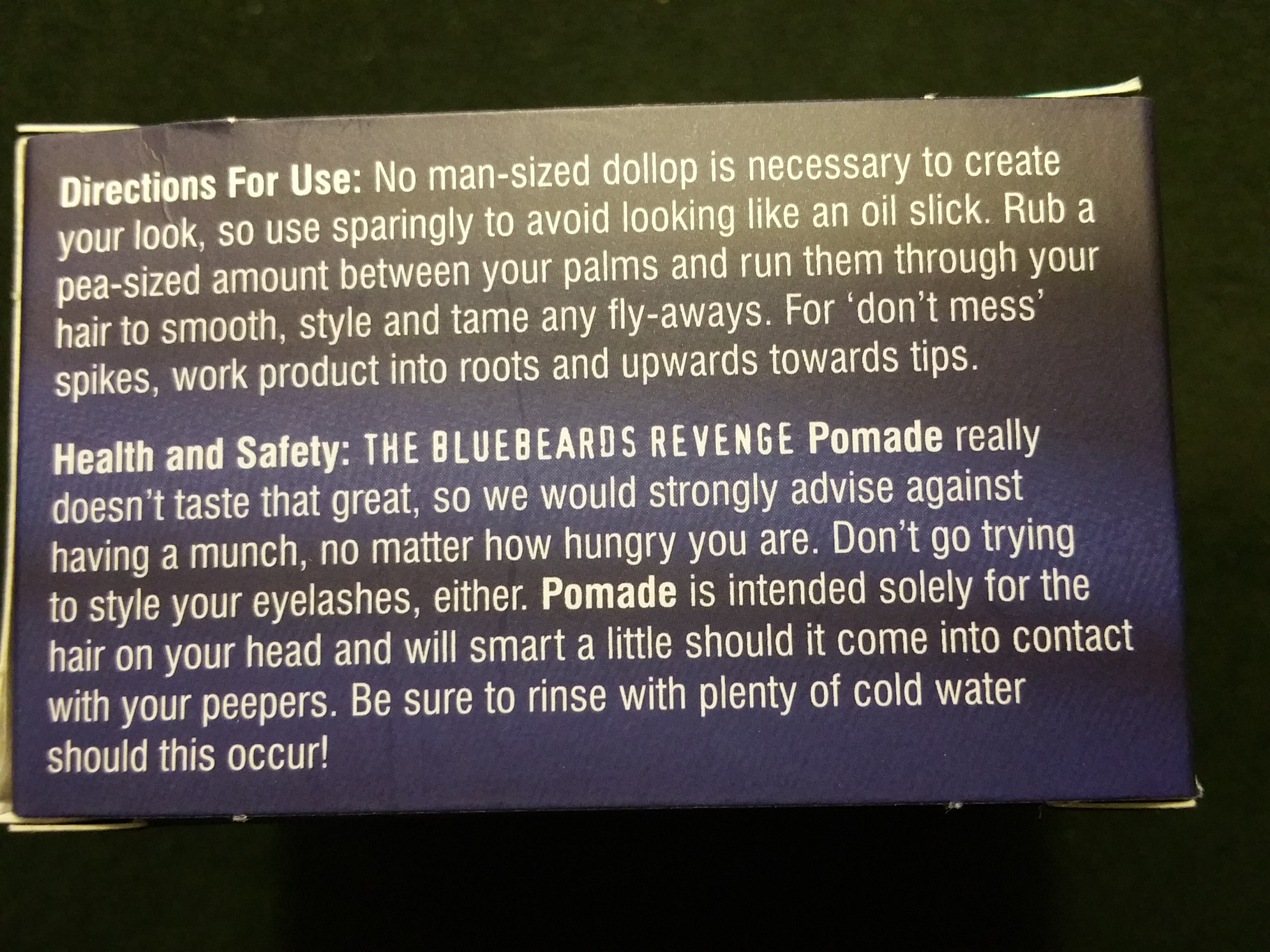 I might mention a silly little test I do when considering a pomade jar:  I give the jar a little tap on the bottom.  If the jar offers an echoing  vibration and a ever so slight ringing sound – I know I am in for something decent.  Pastes and waxes or even oil-based pomade just don't  give that distinctive vibration.  I have read on other posts, someone referring to water based pomades as "ringing gel pomades".  Granted, perhaps for other reasons, but the test remains amusing.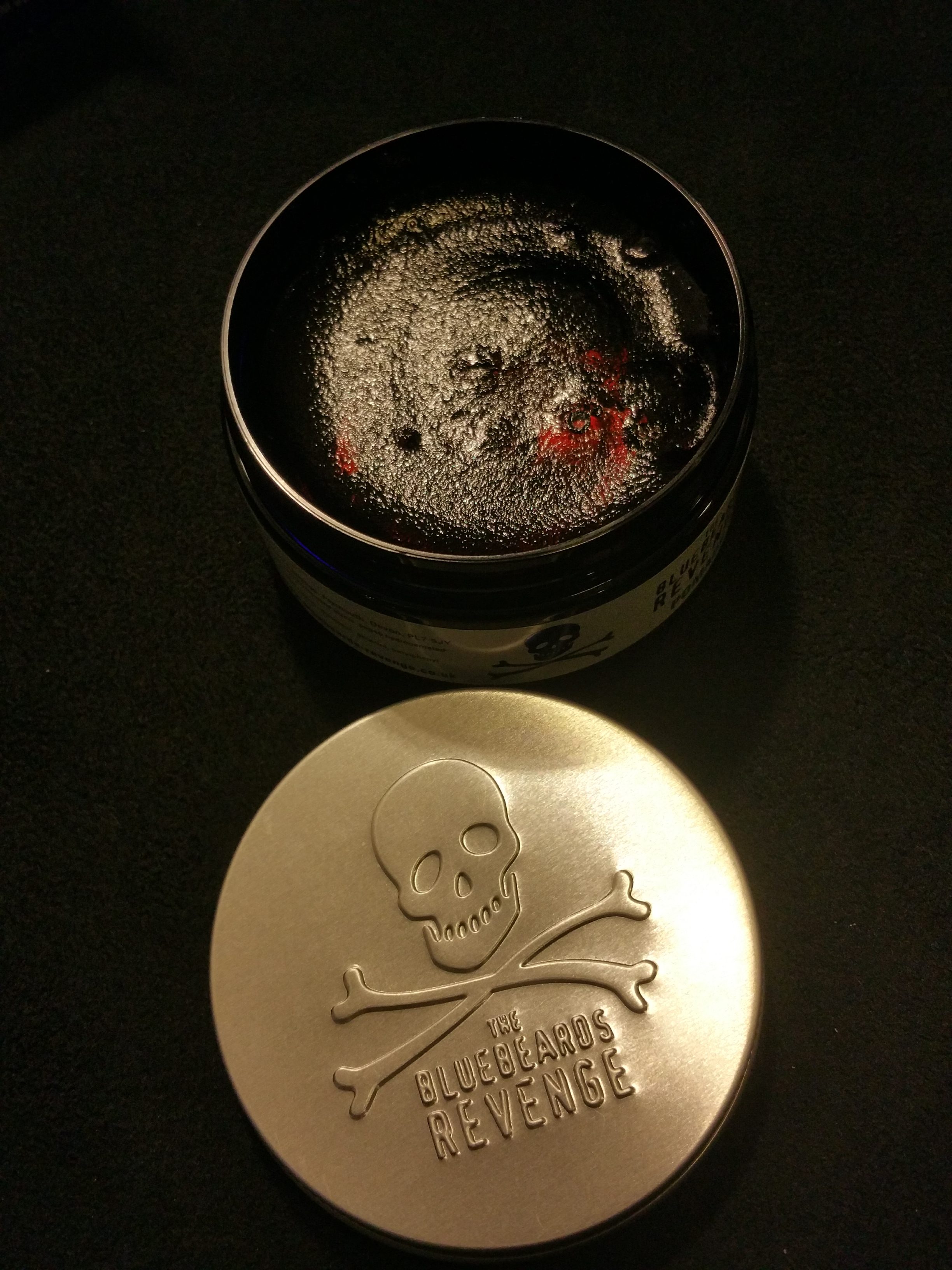 As for the styling results, it is light enough to give my bangs some good height and keep it there.  As expected, it takes very little of the product to get the desired result.  In that sense, just like other water base pomades, you are getting your money's worth.  A jar will last a good stretch.  I have short hair on the sides with longer bangs and a 100ml jar lasts me anywhere between 6-8 weeks of almost daily application.
Note that this pomade like most water based concoctions, dries in place.  The Bluebeards Revenge dries perhaps a bit more than other products.  The hair is thus firm.  But not so firm to be crispy.  This speaks to the hold you can expect.  You are getting some very decent and serious hold, while remaining nice to the touch.
Concerning shine, it offers a bit less than what I was expecting.  It is not totally mate in the hair, but it certainly not a shinning pomade.  Perhaps a 1.5 / 5.
Since it is a water based product, I am expecting that washing it out will be a breeze and that most if not all of it will come out just by rinsing my hair in the shower.  To be confirmed.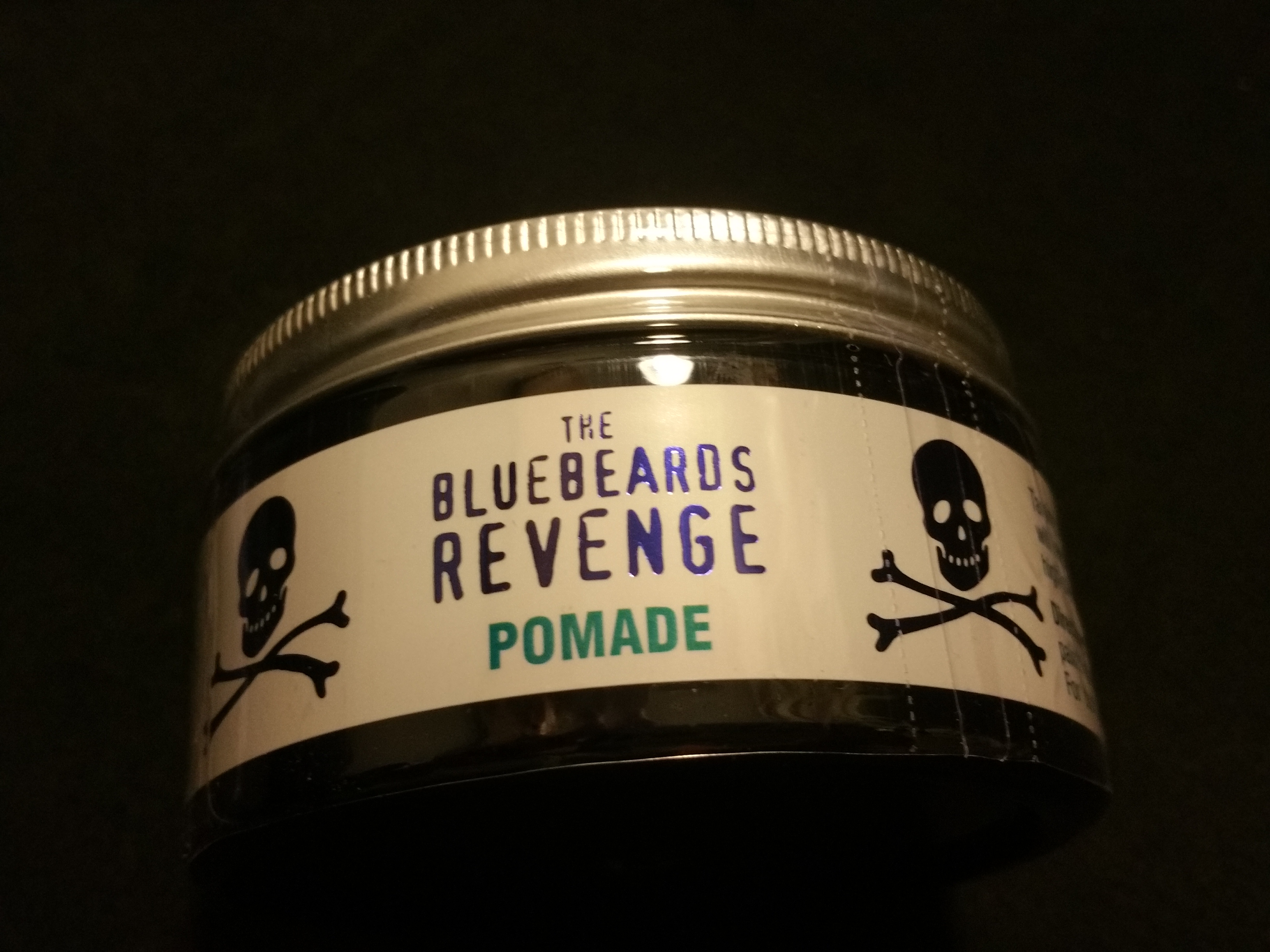 So here is the rating for this pomade:
Here is the rating on a scale of 1 to 5, where 5 is a perfect score.
Hold: 5
Shine: 3
Texture: 5
Feel in hair: 4
Facility to wash out: 5
Overall it is a 4½/5 for me.  It looses half a point because of the intensity of the perfume.  As mentioned it is a nice scent and I like it, but it is also very intense.
My jar was purchased on eBay.ca from a UK vendor called "BeautyCloud".  This is the 2nd Bluebeards Revenge product I buy from them.  Fair price, fast shipping!  It is also obviously available on Amazon in the UK.  Note that the UK site ships surprisingly fast to Canada.
FYI, The Dreadnought brand and the BlueBeards Revenge are one and the same.  Dreadnought is the Canadian and American spin off.

Use these links to shop for this product: