Quantum ST Multi-Styler – Texture Wax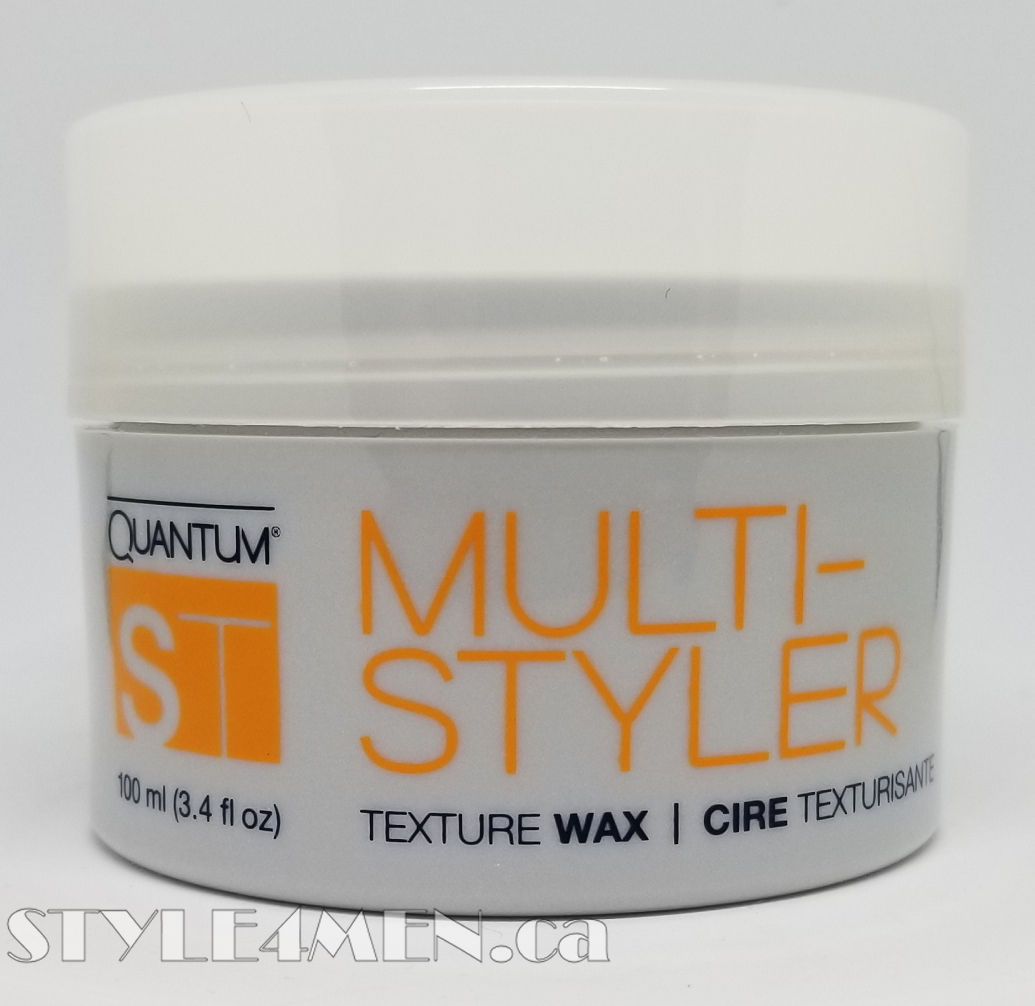 When trying out a new hair cream, I am always somewhat torn.  One one hand, creams offer volume and natural looking results.  On the other hand the hold is generally decent but nowhere near the indestructible category.   Read this as "creams" do not offer as much hold as a pomades.  But as mentioned above their volumizing qualities are very appealing to achieve a quiff let's say.  So here we are with a product I can't quite form an opinion on because it doesn't firmly offer me everything I am trying to achieve.
Price-wise, this texture wax was affordable at under $14 at OBSCO.  Quality-wise, this product does not feel cheap or poorly made.  The cream-wax is quite refined and feels very nice.  You would expect to pay more for such a product.  Note that this brand is targeted to the hair salon clientele as a house brand.  You will not be able to find the Quantum ST brand outside of hair salons.
Fragrance-wise, it is delicious smelling.  Something like a fresh cucumber with a touch of citrus and perhaps vanilla.
The jar shows a "hold level" scale and rates this product as a 4 on 5.  For my hair, the hold as been rather weak.  Like many other creams and waxes I have tried so far, the hold is not fantastic and certainly not within the pomade category, but what these products do very well is offer volume.  My hair is perhaps to long and too heavy to be a good candidate for this products.  But if you have hair under 4 inches long and want some volumizing qualities (if your hair in thinning for example) this stuff will be very interesting.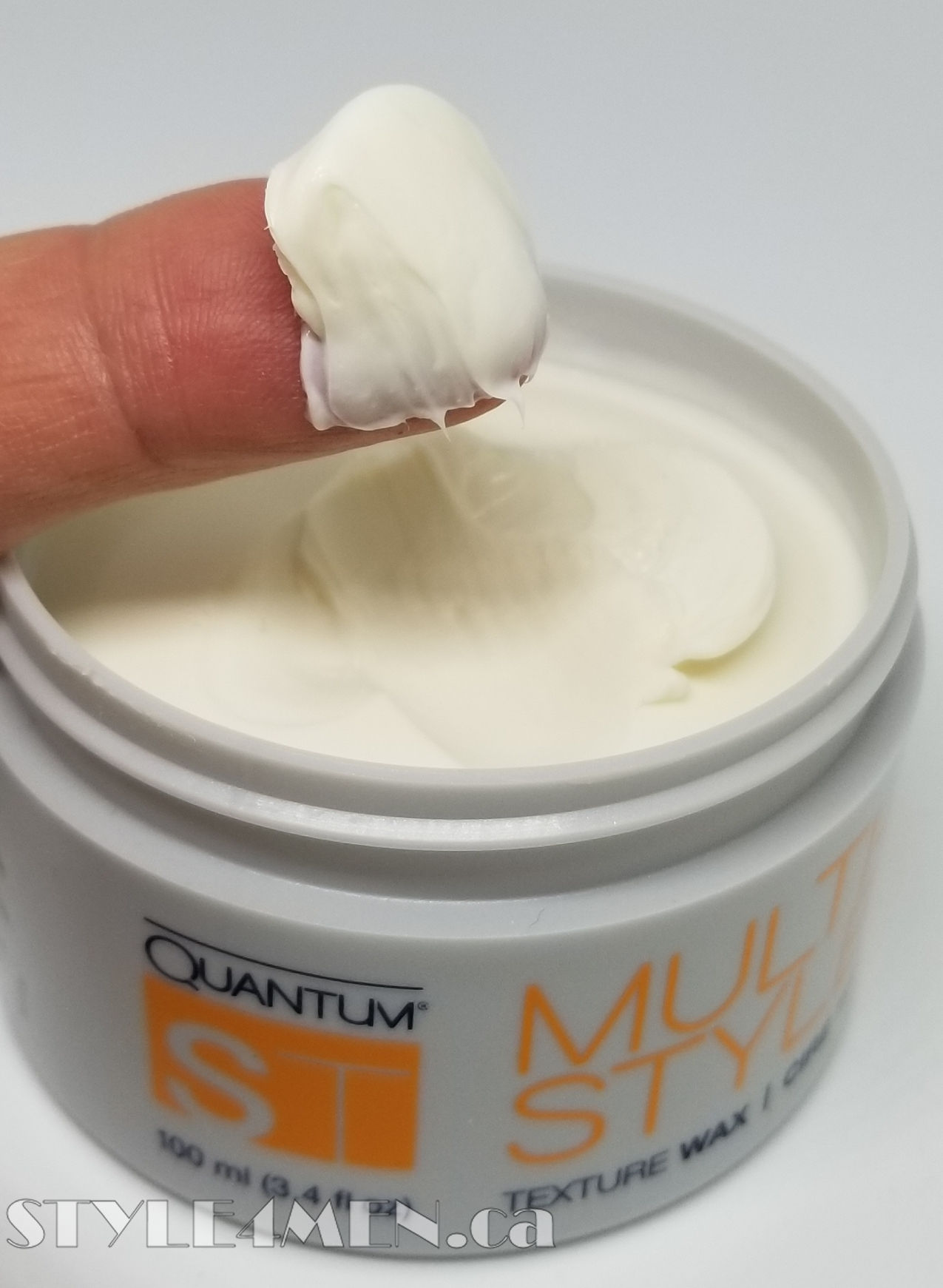 The initial styling results of this texture-wax was approved by my wife at the breakfast table.  She liked the volume, natural look and the smooth curls.  Sadly, the waxy feel and the very limited hold led me to restyle using a firm hold pomade.
This cream-wax being water-based, it is certainly no issue to wash out.  A simple rinse under the shower head does the trick.
On the quantity front, the jar is a proper 100 ml (4 oz).  Considering the very little amount of product required, this jar will last you a number of months.
The ingredient list is rather long and complex.   But, as with most other hair products meant for the Canadian market, no parabens are being used.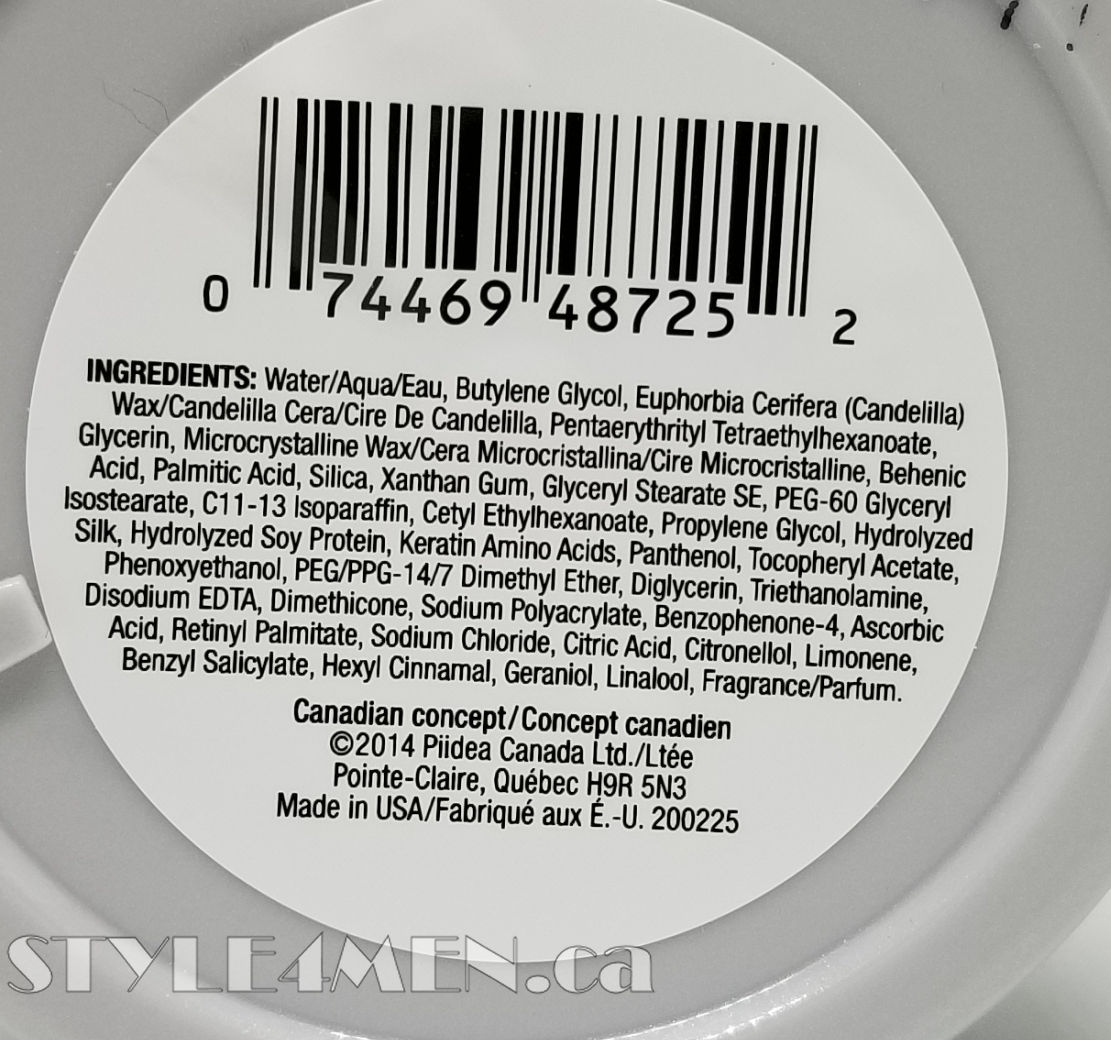 I will venture an observation here concerning how women and men differ when it comes to styling their hair.  Women are more aware of what different products do and when and how to use these different products.  They are also aware that when wanting to achieve a given hair style, it might not be the affair of just one product.  In other words, it might be a first conditioning or pre-styling product when drying their hair, then an official styling products and finally a hair spray to lock the achievement in place.  For us guys, things are different.  First off, there are less products in our cupboards because we don't know any better and because we don't care that much.  The attitude is that the stuff we are using should just do it! Products like pomades cater to that philosophy, with its one-stop-shop solution.  I will admit that this is why pomades where such an eye opener.  My point is that this texture-wax is most likely part of a bigger scheme where other products might come into play.  Using it on its own might not actually be how it was intended.
Here is the rating on a scale of 1 to 5, where 5 is a perfect score and/or the level of shine.
Hold: 3
Shine: 2 (the product identifies itself as being matte)
Texture: 3
Feel in hair: 2.5
Facility to wash out: 5
In my opinion this is a product that will do well in short hair that is easy to tame and where you want to add volume.  In my mop it was a flop!
You can find this product at OBSCO.  Don't forget to mention the STYLE4MEN discount code.