Fine Accoutrements After Shave Balm – Damn Fine!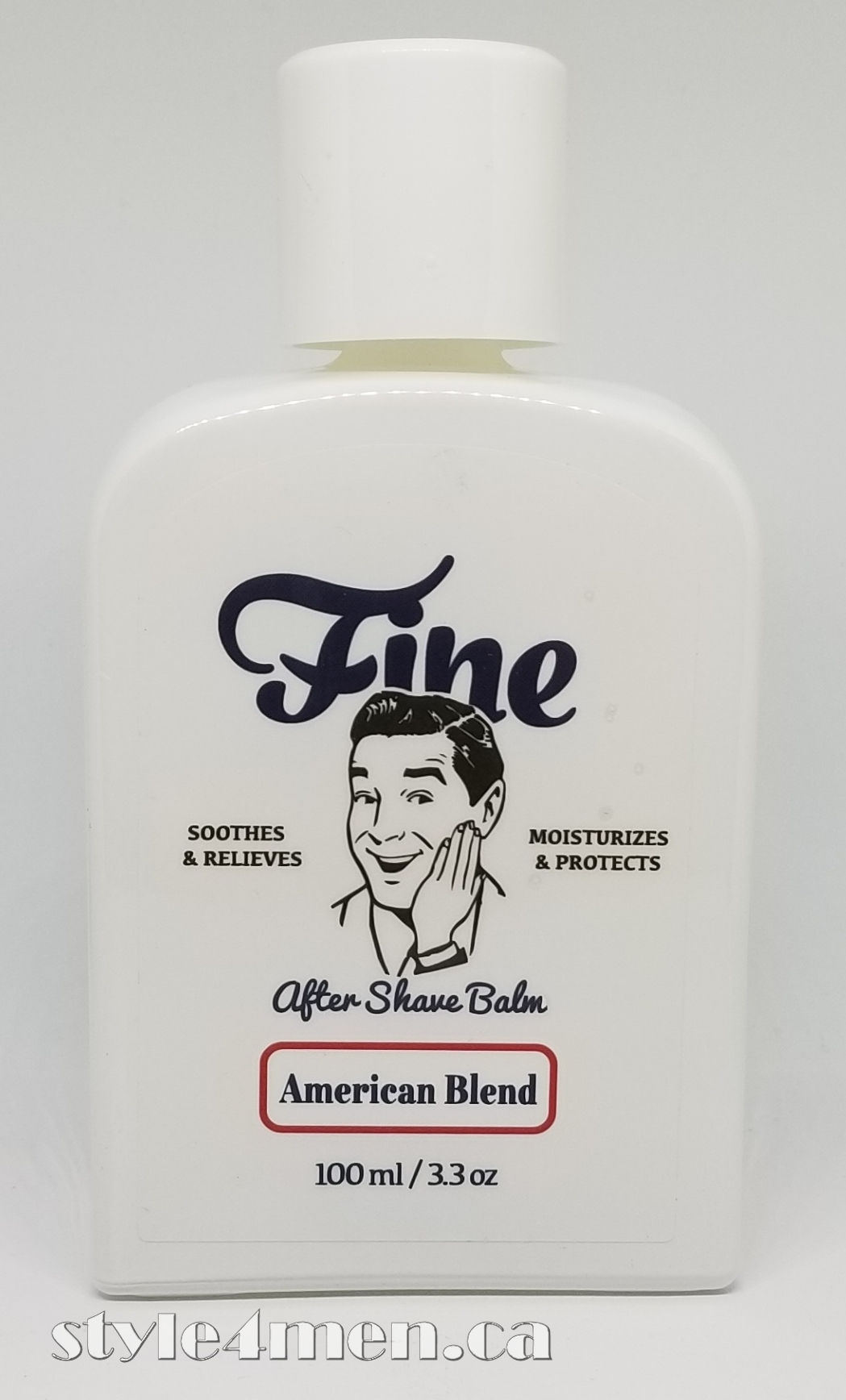 Fine Accoutrements has recently entered a new after shave space, that of the BALM!  A few months back, with the support of Mr. Fine at Fine Accoutrements (FA), I was lucky enough to try the FA shave soap and shaving brush.  The shaving brush was actually an eye opener as it was the first time I used such a smooth brush on soap.  Up until then I was using a badger hair brush and as good as it is with creams, it was nowhere near as good as a synthetic hair brush is with soap. With the current restrictions and complications involving the shipment of alcohol based products across borders, I didn't get to try the after shave line up from Fine Accoutrements.  I had to make due with other solutions.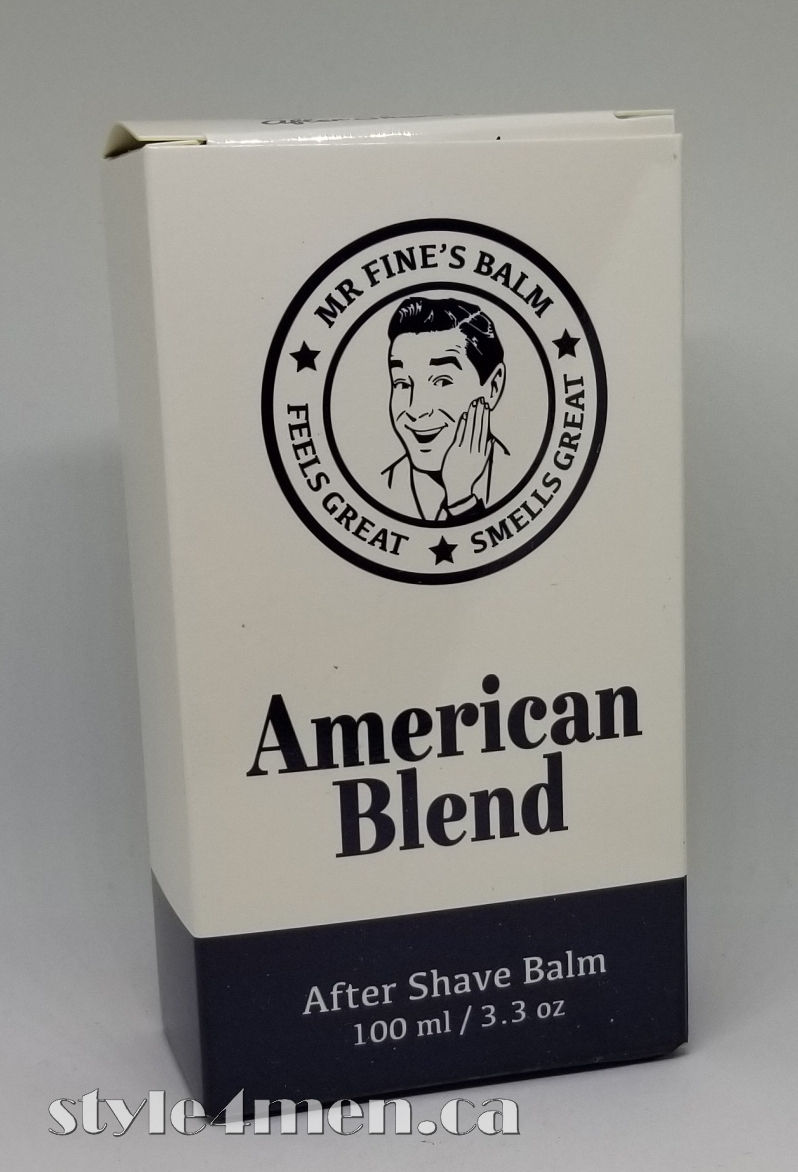 This is all about to change with Fine Accoutrements having launched an aftershave balm line.  since this is no longer an alcohol based products, there are no complications getting this after shave across the border (US to Canada).
A very special shout out and thank you goes to Mr. fine for trusting us again to review his latest addition.
What is an after shave balm? In very simple term, it is a creamy lotion that is applied after shaving that offers a number of soothing, cleansing  and moisturizing properties.
Fine Accoutrements offers 9 flavors of shaving sops and after shaves:
American Blend
Fresh Vetiver
Green Vetiver
Italian Citrus
L'Orange Noir
Lavender Pour Homme
Platinum
Santal Absolut
Snake Bite
With rocking name names like that, how could you not want all 9?!
For this new "Balm" adventure, Mr. Fine is offering the after shave in two aromas for the moment: American Blend and Platinum.  My understanding is that these are the 2 most popular scents and was therefore the logical scents to offer.
This product comes in a proper white glass bottle which is protected by a nice cardboard box.  The presentation is simple and elegant with a vintage feel to it.  At 100 ml you are getting the standard quantity for an after shave and at $20 it remains affordable and competitive.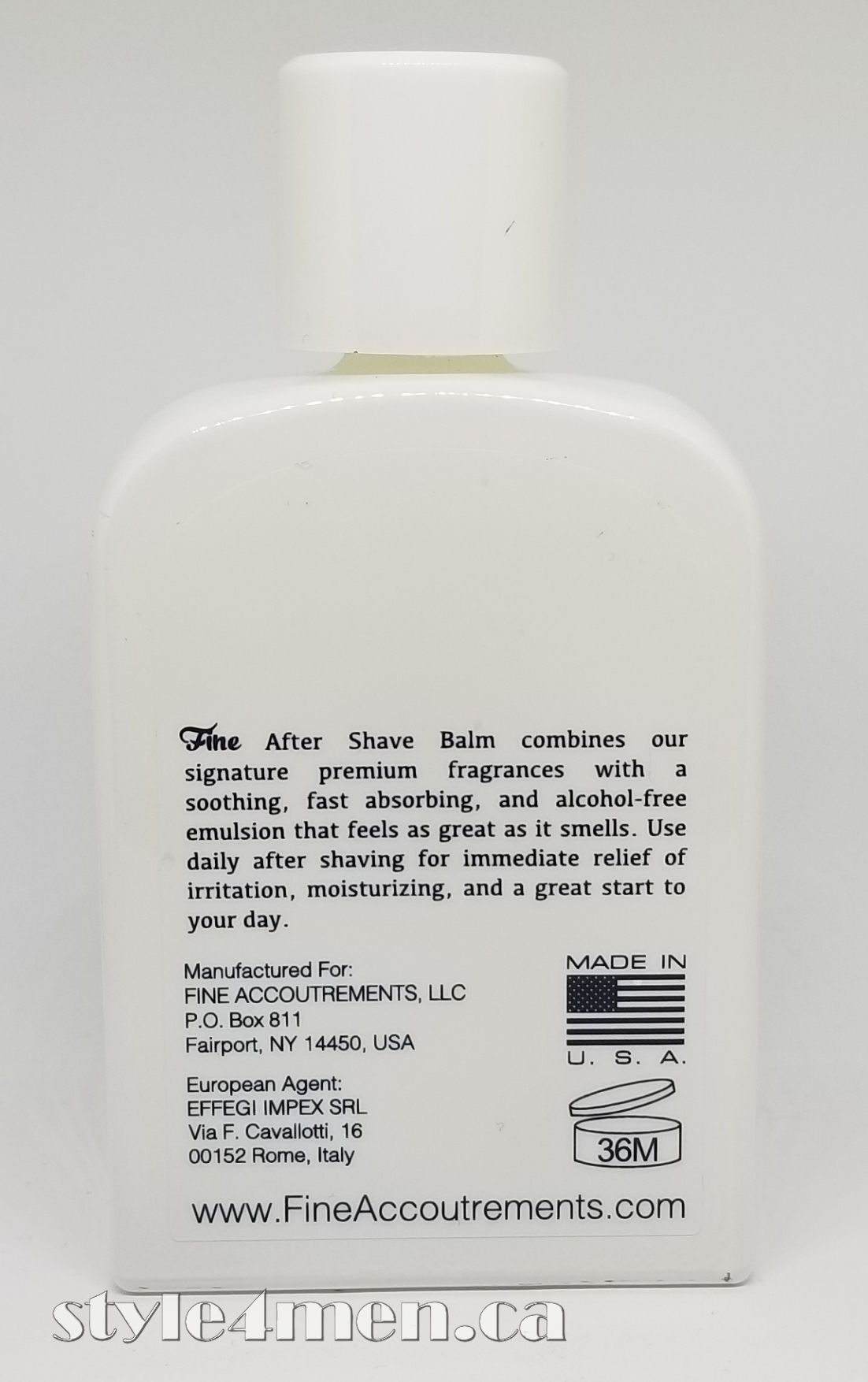 The American Blend fragrance is both intensely fresh and discreet.  The fresh scented balm comes out roaring, but it is not a poignant fragrance.  There are elements of citrus and fresh green vegetables with menthol.  It is a perfectly manly aroma.  I would compare it to a fresh spring morning. I would also say that it is well outside the current "IN" range of men's fragrance.  It is more of a classic affair. It will give you a unique and elegant scent.
Fine Accoutrements, describes the American Blend as follow: Our flagship fragrance, American Blend captures the essence of a barbershop shave. Inspired by Rive Gauche Pour Homme (2003) by Yves Saint Laurent, the scent calls to mind warm cream accompanied by tonic, leather, and chrome, leaving the wearer feeling distinctively clean and renewed.
As with all things Fine Accoutrements, products come with companions.  The American Blend Balm after shave is no different.  It has a companion shaving soap and an old-school alcohol splash after shave.  But as mentioned above, for the time being the balm is only available in 2 aromas: American Blend and Platinum.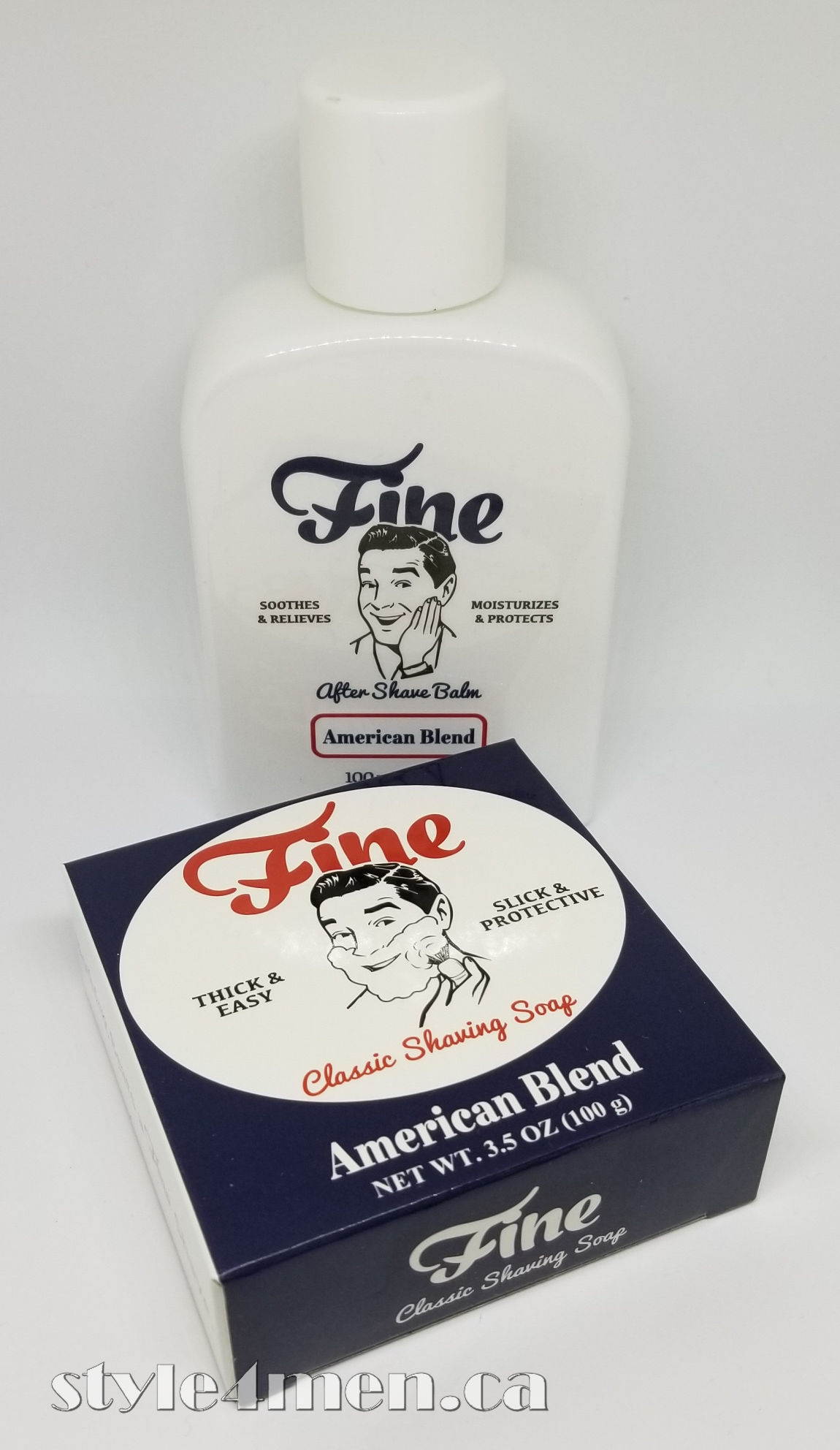 On the ingredient list printed on the box, you will find a number of usual suspects that make up after shaves.  One ingredient caught me off guard; Chamomille.  As a soothing tea, OK.  As an ingredient in my after shave?!  Here is what came up when looking it up: Chamomile can soothe insect bites, chicken pox, wounds, burns bruises, sunburns, rashes and inflamed skin.  Reference: NatureHelps.me   As a partner to witch hazel, chamomille makes perfect sense.  Witch hazel has similar and potent skin appeasement benefits.  I classify witch hazel as a skin care Rock Star.
Menthol is perhaps the one active ingredient you will notice the most.  If you are wet shaver that swears by after shave splashes, you might not be looking for or considering balms.  Here is why this balm might change your mind.  After days, weeks or months of alcohol splashing your skin might be dryer than dry and in need of some hydration.  The Fine Accoutrements balm will take care of that.  But you are accustomed to that refreshing jolt of alcohol and don't want no sissy stuff.  Mr. Fine taught of that too and added a very active dose of menthol in the balm so you won't feel let down.  The refreshing feeling is there and it doesn't give up.  It dies off in a very gradual way, but even almost 2 hours after application I could still feel a little humph!
TEST STAGE:
How much to use?  Moderation is always the right way to go.  I poured myself about the size of a nickel.  Spread it in my palms and gently rubbed it on my cheeks and neck.  The balm was absorbed quickly leaving my skin feeling refreshed and moisturized.  The balm does not leave an oily or greasy residue.  It's a clean experience.
There aren't that many comparable after shave balms out there.  The only other product that comes to mind is the Italian Proraso line.  For as much as I enjoy Proraso, the new balm from Fine Accoutrements will give you that extra menthol humph along with some witch hazel soothing.
In closing, this after shave balm gave my mug a similar feeling to an old-school splash but with a much needed moisturizing treatment.  My face felt noticeably good for the bulk of the day.
The overall Style4men.ca rating of the Fine Accoutrements after shave balm is:
Mr. Fine, you did it again!
You can shop for this after shave balm via these links: