MANSOAP Aftershave – Naturally Smooth

A few weeks back I was visiting my friends at Not Your Father's Barber in the Ottawa Byward market.  While  browsing some of the new products the shop was carrying, I noticed this rather stylish tall aluminum bottle.  Aaron mentioned that this was a nice aftershave produced by some local guys.  No need to say more and I bought a bottle.
This morning was the second consecutive day I used this non-alcohol based aftershave splash from ManSoap.  As indicated above, ManSoap is a local company to the Ottawa-Gatineau region.

The driving force behind this brand is the desire to offer products that are natural and healthy. After struggling with their children acne issues, they came to realize that the products they were using were in fact worsening the situation.  It then became a situation of taking things in their own hands.  The ManSoap branding came as distinguisher from the mostly women dominated market, to clearly state that this was for men.  Note that I am mostly summarizing their "About Us" page here as I have yet to have a sit down with the masterminds behind the brand.
As the label indicates, this is an aftershave "splash".  Historically, a "splash" has been an alcohol based liquid with the inevitable sting caused by the said alcohol.  As we now know, alcohol although it does disinfect and has protected the human race from countless ailments, it does kills everything; good and bad.  Thus not necessarily the best thing for an aftershave when your skin need some restoration from the shaving process.  This "splash" takes a different approach by not using alcohol and using  some strong natural players.  No. 1 is Witch Hazel and No. 2 is aloe vera.  Touch down!  The whole ingredient line up is rather short (just the way we like it) at 4 participants.
Continuing on the "splash" aspect of this aftershave, now-a-days there are less and less "liquid" aftershaves.  That is essentially because of the stigma caused by the "alcohol based" aftershaves of the days past.  In fact, the only other non-alcohol based aftershave that is liquid, that I have tried as part of the Style4men adventure, was the one from ZIRH.  Using a liquid aftershave is a different experience.  If you don't like the oily feel of creams, this splash might be for you.
Being a liquid, it feels more like using a toner.  A toner cleans the skin and refreshes it.  It is generally the middle step after the shave and before the aftershave cream.  The ManSoap splash goes further by doing a toner like job, but also leaving your skin with some umpft and feeling great.  You are not rubbing it in and you won't feel greasy.  It's a simple process, poor some in your hand and slap it on to your mug.  Done!  It's dries nice and fast, but it doesn't dry your face.  This is something that surprised me a bit.  It also acted a bit like cool water after the shave and helped in closing up the pores.  Since it felt like it evaporated quickly I was assuming that I would have dry skin, but no.  My skin felt appeased, refreshed, smooth and stayed comfortable for the the bulk of the day.

TEST STAGE 1:
TEST STAGE 2:
I always like to talk about the packaging and the one by ManSoap is solid.  A nice aluminum bottle (100% recyclable) with a slick black label.  Personally, I am loving this return to metal containers in men's grooming products.  The bottle indicates that shaking the bottle before usage is recommended, but the cap on my bottle would need a bit of a thicker washer as a few drops of the aftershave made their way out in the shaking process.  Nothing messy, just be aware.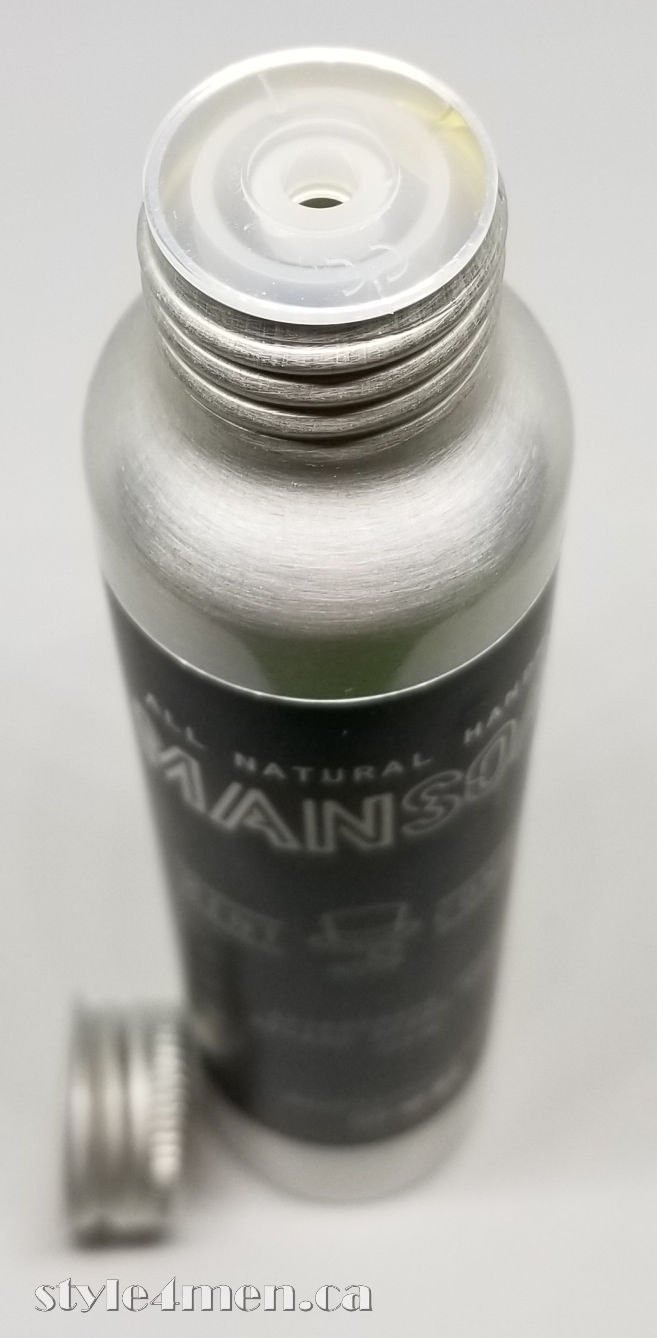 When I picked up my bottle at Not Your Father's Barber, I did not notice that ManSoap made different scents.  It is possible that the Barber shop only had this one.  I don't remember.  That being said, my bottle is the "Mint Condition" (I love the pun) and ManSoap also makes two other fragrances: True Grit and Sixth Gear.  I have yet to sample those two.  The Mint Condition is a minty fresh morning fragrance.  Very pleasant.  Even though it initially has a good and refreshing fragrance, this scent will not last like a cologne might.  Within about an hour the fragrance had faded.  In my mind that is a perfect scenario for my morning routine as I shave coming out of the shower and then head off to breakfast.  I finish getting dressed and get ready for business after.  This type of aftershave lets me enjoy its scent during this morning phase but let's me be free to move on to another fragrance for the rest of my day.
In closing, the ManSoap splash is smooth and fresh on the skin.  The witch hazel and aloe vera restored and nourished my skin.  I would be hard pressed to say if I prefer a cream to this liquid.  The initial contact is obviously completely different, but the end result is very similar.  I am also glad to report that I suffered no irritation, itchiness or redness!  This product completely agreed with my mug!
You can find this product here: